The Atlantic Daily: Solitary-Confinement Reforms, Protests in France, a Growing Water Crisis
President Obama announced new executive actions, taxi drivers rallied against their Uber counterparts, U.S. companies helped a beleaguered Michigan town, and more.
What We're Following: A Shift in U.S. Prison Policy
President Obama issued several executive actions related to criminal-justice reform of the country's federal prison system, including a ban on solitary confinement for juvenile offenders and a call for wardens to increase the amount of time inmates spend outside their cells. The measures come after the most successful year yet for solitary-reform advocates that saw significant reductions in the use of isolation in several states. The U.S. currently holds more inmates in restrictive housing than any other democratic country in the world.
Demonstrations-Turned-Traffic-Jams: Hundreds of taxi cabs and demonstrators blocked traffic in several French cities in protest of Uber and other "non-traditional" car services, arguing that drivers of such companies hold unfair advantages. Police responded by firing tear gas at protesters, some of whom set fire to car tires. Uber is no stranger to backlash from cab drivers: Last year alone, protests against the American company took place on six different continents.
The Private Sector's Response to Flint: A coalition of some of America's biggest companies promised to deliver 6.5 million bottles of water to the Michigan city in order to provide clean drinking water for 10,000 schoolchildren through the end of this year. The Flint crisis is above all a human tragedy: The negative effects of the lead discovered in the city's water supply can be lifelong and irreversible. But it also represents a failure by government—one that has now created a gap for private-sector philanthropy to fill.
---
Snapshot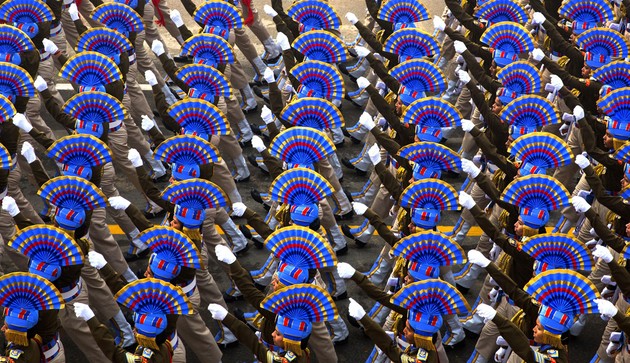 ---
Quoted
"If I wanted to do it for the compensation, I would be better off using that time to flip burgers or go wash windows." —Johan Rooryck, who edits academic journals
"If the data was accurate it'd be something to celebrate, but we know it's not accurate."—Lisa Maatz, a lobbyist for women's rights in education, on zero reports of rape at many American colleges
"Is today's toddler with a tablet going to be tomorrow's curmudgeon in the face of a brain-machine interface? I suspect that that will be the case." —Chris Lucas, who studies computer science and learning
---
Evening Read
Tiffany Stanley on the history—and disappearance—of black funeral homes:
Funeral directors … played a key role in the civil-rights movement. Not only did they care for those who died in lynchings, protests, and other conflicts, but they also staged large-scale funerals—for Emmett Till, Medgar Evers, and others—that galvanized Americans to the civil-rights cause. They provided bail money when activists were jailed, and offered their premises for meetings. Hearses and funeral-home cars became a way to ferry civil-rights leaders, including Martin Luther King Jr., around the South inconspicuously. On the night that King was assassinated, a funeral-home worker, acting as his chauffeur, was one of the last people to see him alive.

But those in the industry, both black and white, also faced scrutiny for their perceived profiteering. In 1963, the British writer Jessica Mitford published a muckraking volume The American Way of Death, which sharply criticized the excesses of the then-$1.6 billion dollar funeral business. … Mitford's findings prompted an examination of the industry. But black funeral directors reacted somewhat dismissively to the book, according to [historian Suzanne E.] Smith. She paraphrases their thinking like this: "Nobody is going to tell us we can't have an elaborate funeral. We are the ones came when the lynching happened and we picked up the bodies off the ground. We have an elaborate funeral because that's our tradition and that's our way of honoring people."
---
News Quiz
1. When the __________ was first invented, some believed its existence would persuade world leaders to settle conflicts through diplomacy rather than war.
(See answer or scroll to the bottom.)
2. Their less-than-stellar vision makes lions see zebras as __________, not black and white.
(See answer or scroll to the bottom.)
3. The number of __________ living in the United States has fallen to its lowest level in a decade.
(See answer or scroll to the bottom.)
---
Reader Response
This reader supports the therapists who want to bring back the use of psychedelic drugs for mental health:
Psychedelics really need to be reclassified in the U.S. It's preposterous that completely non-addictive (even anti-addictive, if several studies are to be considered), demonstrably safe molecules, some with thousands of years of human use and almost no directly attributable deaths, should be classified as Schedule 1 drugs. Especially something like psilocybin or LSD, both of which have been shown in numerous studies to have a number of medical and psychiatric benefits with very little risk to most people.

The bottom line is that no one should spend even an hour in prison or a dime in penalty for making a personal choice to use a substance to alter their own consciousness. No other person—certainly no government—can claim any right to tell you what you can do with it. If anything at all can be called yours, it's your consciousness.
Another reader speaks from personal experience:
I had clinically diagnosed PTSD—woke up sweating and screaming several nights a week for years. One guided session with LSD and I was cured. No further symptoms, and it's been years.

These drugs are called criminal. The real criminal activity is depriving millions of vets, rape victims, and others in desperate need of the opportunity for healing.
Read the full note here.
---
Verbs
Denmark's controversial refugee law approved, Godfather actor remembered, rare white giraffe spotted, Alaskan archaeological sites melted, "Doomsday Clock" checked.
---
Answers: machine gun, gray, undocumented immigrants
---