The Atlantic Daily: Brewing Blizzard, Russian Murder Plot, Refugee Debate in Congress
The East Coast braced itself for a big snowstorm, a British judge linked Vladimir Putin to the killing of a former Russian spy, legislation on refugees failed in the Senate, and more.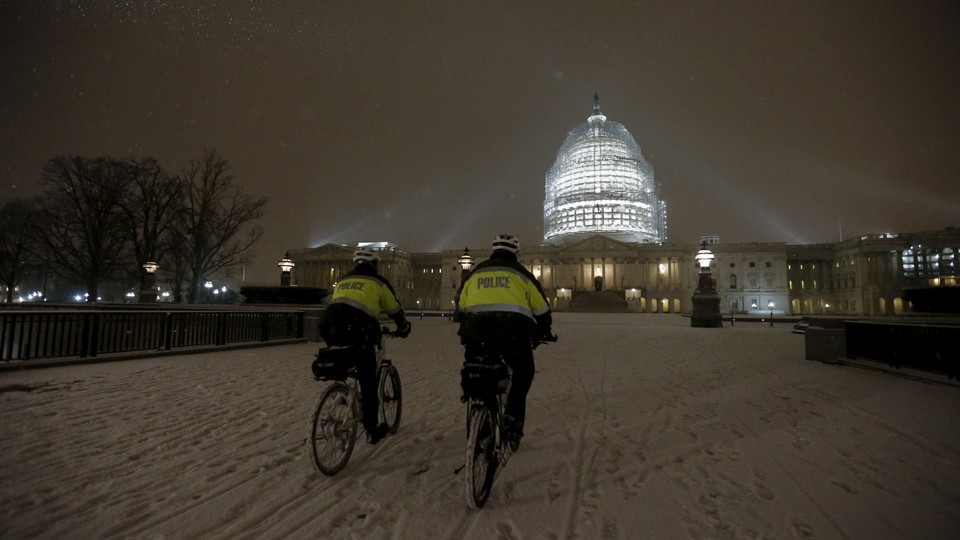 What We're Following: The Snowstorm Swirling Toward the East Coast
Forecasters say a rare, "potentially crippling" storm is expected to bring powerful winds and up to two feet of snow to parts of the Mid-Atlantic this weekend, which could result in flooding in coastal regions. The storm has the makings of the "Big One" and so far appears "textbook," according to the winter-weather expert who literally wrote the textbook on northeast snowstorms. Several governors have declared states of emergencies, hundreds of flights have been canceled, and city crews are scrambling to salt roads.
A Russian Implication: A British inquiry into the 2006 death of Alexander Litvinenko found that the killing of the former KGB agent was "probably approved" by Russian President Vladimir Putin and the head of Russia's intelligence agency. Litvinenko signed a statement two days before his death that alleged Putin had ordered his murder, but this report is the first public official statement linking the president to the crime. Moscow has long denied extradition requests for the two Russian agents who British prosecutors say poisoned Litvinenko with polonium-laced tea.
The Congressional Question of Refugees: Legislation passed by the Republican-controlled U.S. House of Representatives that would greatly limit Syrian and Iraqi refugees from entering the country hit a wall in the Senate, as Republicans couldn't muster up enough bipartisan support for the bill. Senate Democrats wouldn't vote to move the legislation forward unless senators were permitted to vote on four amendments—one of which would have forced lawmakers to do the uncomfortable and go on record about whether they support Donald Trump's proposal to ban all Muslims from the U.S.
---
Snapshot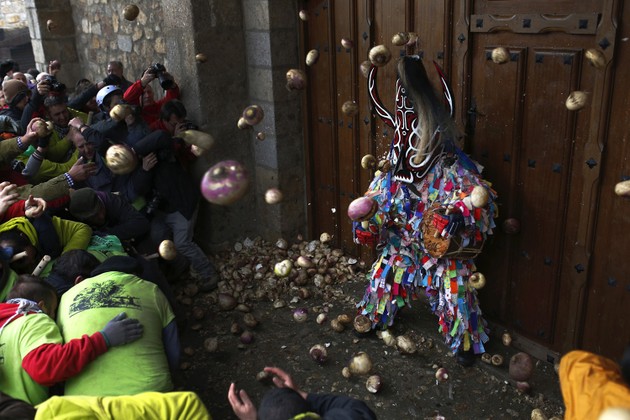 ---
Quoted
"'How accurate are your forecasts?' We don't know!" —Paul Kocin, a meteorologist and expert on northeast snowstorms
"Until recent decades … a lot of people associated seat belts with reckless driving like stunt drivers." —Roger White, who studies the history of vehicles
"The main cause of all the revolutions in the world, historically, is when the people are hungry. And the people are hungry now." —Susana Prieto Terrazas, the lawyer for factory workers in Ciudad Juarez who say they were fired for trying to unionize
---
Evening Read
Adrienne Green on the cost of balancing academia and racism:
Amid the protests of the last several months, the conversation about racism on campuses has prompted debates about free speech, political correctness, and the utility of students being uncomfortable. But do students of color face a more tangible risk than their white peers? Is navigating these complex environments challenging their mental-emotional well-being?

"Weathering the cumulative effects of living in a society characterized by white dominance and privilege produces a kind of physical and mental wear-and-tear that contributes to a host of psychological and physical ailments," explains Ebony McGee, an assistant professor of diversity and urban schooling at Vanderbilt and co-author of a recent study on black students and mental health, in a post on the university's research blog. The study, whose analysis is based on critical race theory, explores how racism affects the ability of high-achieving black students to have healthy mental attitudes toward their work and college experiences. "We have documented alarming occurrences of anxiety, stress, depression and thoughts of suicide, as well as a host of physical ailments like hair loss, diabetes and heart disease," she writes.  
---
News Quiz
1. The NFL has hired its first full-time __________.
(See answer or scroll to the bottom.)
2. Research suggests that voles have the capacity to feel __________.
(See answer or scroll to the bottom.)
3. The rumored ninth planet could give humans a __________ in future interstellar travel.
(See answer or scroll to the bottom.)
---
Reader Response
What was your first experience with guns? One reader remembers a trip to the shooting range "when I was maybe four years old":
Now, this range was an outdoor range, and it was just a bit windy. In the course of watching the others shoot, one of the cotton balls fell out of my ear and went blowing down the shooting range. I—of course—chased it.

Picture it, if you will: five or six people shooting downrange and a four-year-old running out in the middle of the range. … Forty years later, I can still remember the cotton ball rolling along the ground, me stooped over running after it, being short enough to run beneath the bullets.
But this reader's first memory is a more comforting one:
I was four years old when I announced that I wanted a BB gun.

"What would you do with a BB gun?" Pappy asked. "They're no good for anything but making noise. A real man uses a real gun."

Ten minutes later, we were in the backyard near the barn. I listened
attentively as he explained how to aim the .22 rifle he had in his hand. …

Was he crazy to teach a four year old about guns? Maybe.

But years later, as my father and I taught my (considerably older than
four-year-old) daughters how to shoot safely, my mind went back to that day long ago when my grandfather made a real human connection with a four year old over a gun.
See more readers' stories, and share your own, here.
---
Verbs
Welsh dragon-robber identified, chess forbidden, cost of building a Star Destroyer estimated, extinct tree frog resurfaces.
---
Answers: female coach, empathy, gravity assist
---