The Atlantic Daily: After the Snowstorm, Democratic Presidential Race, Super Bowl Teams
The East Coast emerged from a historic blizzard, Hillary Clinton and Bernie Sanders got ready for Iowa, football fans started salivating, and more.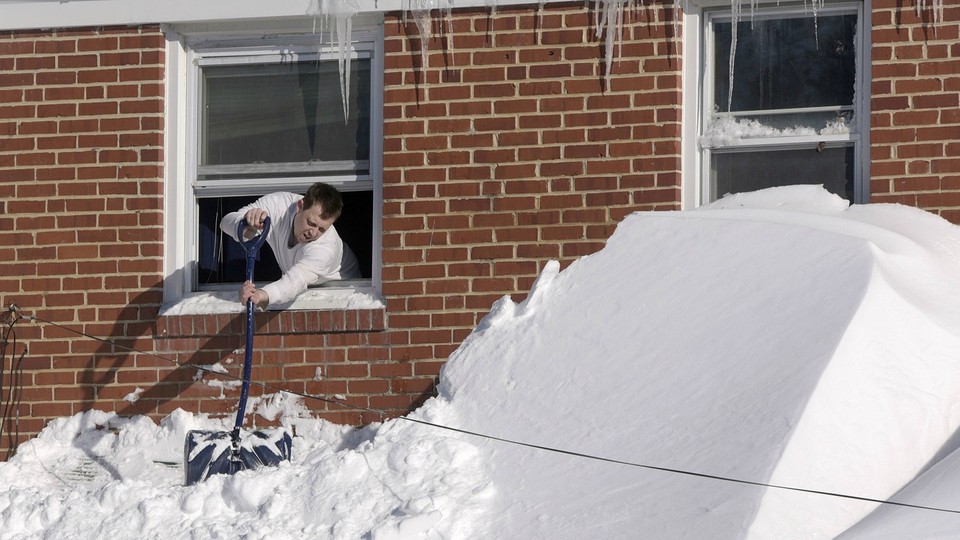 What We're Following: The East Coast Digs Out
Millions of people emerged from their homes after a weekend-long blizzard that dumped a foot of snow in at least 14 states and more than two feet in some areas. The blizzard was the second-biggest snowstorm in New York City history, with 26.8 inches measured in Central Park by the end of Saturday. Commuters faced limited rail service and icy driving conditions. Federal government offices in Washington were closed, as were plenty of schools. At least 31 people have died as a result of the storm.
The Looming Iowa Caucuses: The showdown is a week away, and both Hillary Clinton and Bernie Sanders are doing what they can to embrace President Obama and lay claim to his mantle. The candidates are seeking to connect with different elements of his legacy, and their strategies seem to point toward a split between the Democratic base and Democratic officials—one that echoes the Republican Party's own.
The Stadium Is Set: In the pantheon of cherished American institutions, one of the only things greater than the sports cliché is the Super Bowl spectacle. Fortunately, this year's match-up between the Carolina Panthers and the Denver Broncos offers more space for both to flourish than in recent years. Fun fact: Super Bowl 50 is the first big game to not be referred to by its Roman numeral since the fourth Super Bowl.
---
Snapshot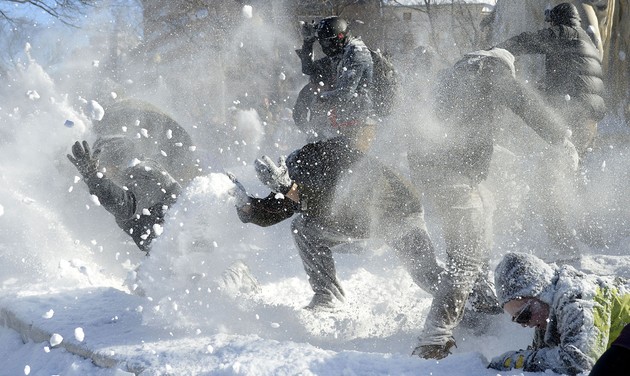 ---
Quoted
"When you live in Juarez, you know your status. You just say, 'Okay, I'm going to wait two or three hours in line.'" —Valeria Padilla, a college student who crosses the U.S.-Mexico border every day to get to school
"A political nerd's dream honeymoon" —how Justin Chappell describes his reporting trip on the Iowa campaign trail with his husband Ben Spangenberg
"Their default option if they don't want to mate with it, or raise it, is to kick it. They're like ninja eagles on stilts." —Steve Portugal, who studies birds of prey
---
Evening Read
Molly Ball reports on the Ted Cruz campaign from Barnstead, New Hampshire:
Cruz stands on the brink of a goal that the GOP's grassroots activists have spent decades trying to achieve. These are not the elephant-brooch Republicans who populate party meetings. They are the seething fringe of Tea Party rallies and talk radio, of antigovernment email lists and small-town committees for individual rights. If Cruz succeeds in riding them to the nomination, it will mean more than one man's candidacy; it will mean the right wing has succeeded in completing its hostile takeover of the Republican Party. …

For Cruz, it is all going almost exactly according to plan. The campaign is his vindication. What the dim bulbs in Washington can't see is that he did it all on purpose, and now he is a hero to the many Americans who also hate the establishment. (Hilariously, a plurality of Republican primary voters say Cruz is the candidate who would best be able to work with Congress if elected.) Ted Cruz set out to win the establishment's hatred. He turned it to his advantage. And now, the establishment may not be able to stop him.
---
News Quiz
1. The process by which two astronomers recently predicted the existence of Planet Nine resembles that which led to the discovery of __________.
(See answer or scroll to the bottom.)
2. __________ became the latest U.S. state to expand Medicaid.
(See answer or scroll to the bottom.)
3. Research suggests that __________ teachers are at risk of burning out.
(See answer or scroll to the bottom.)
---
Reader Response
Nolan Hack, a Black Lives Matter activist who also campaigns for social justice for Native Americans, writes:
I'm actually not Native. I'm black. But I am fighting for Native people (as well as my own) because their voice is so small and they are constantly silenced.

I've always considered myself to be well versed as far as U.S. and Native history but until recently I didn't know how much I didn't know. I knew America inflicted a genocide on Native people but I had no idea how devastating that genocide was.

One in 3 Native women are raped in their lifetime. Native kids have PTSD rates as high as Iraq and Afghanistan war veterans.

Native children are kidnapped from their homes and placed in the care of white families. Sometimes the kids never see their birth parents again.

As a black man I have been aware of what this nation is still doing to my people. The death by cop situation tears me up inside. But what's crazy is Native people are killed by cops on average more than we are.
Read the full note here.
---
Verbs
Donald Rumsfeld's solitaire app released, Bernie Sanders's very own ice cream flavor introduced, genetically modified macaques bred, penguin diaries created, D.C. panda's snow adventures captured.
---
Answers: NEPTUNE, LOUISIANA, INTROVERTED
---