The Atlantic Daily: Obama and Gun Violence, Sexual Assaults in Cologne, Standoff in Oregon
The president announced new measures intended to tighten gun regulation, German officials searched for suspects in unprecedented sex crimes, armed protesters continued to occupy a wildlife refuge, and more.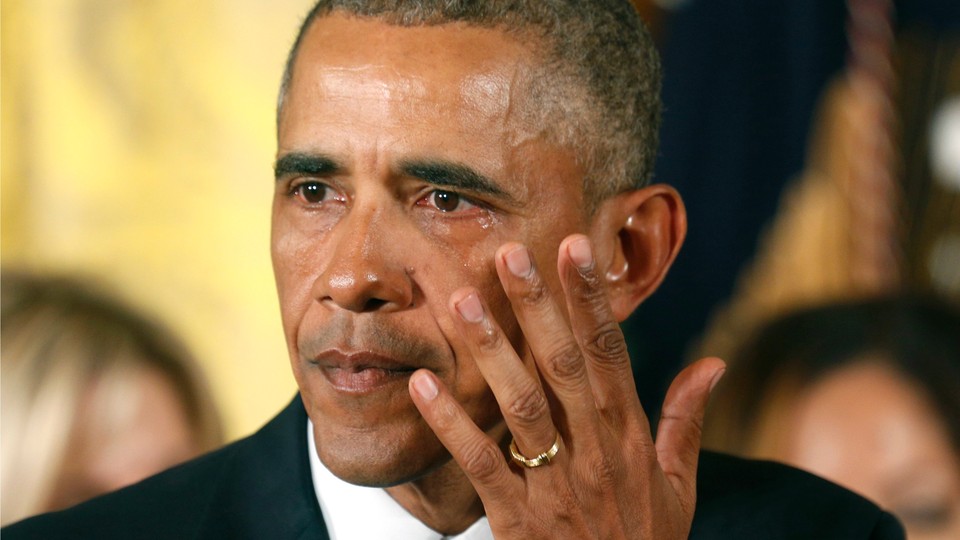 What We're Following: An Emotional Speech
The president announced new measures intended to curb gun violence across the country, pausing at one point to wipe away tears as he spoke of the deaths of 20 schoolchildren in Connecticut in 2012. Obama said his administration would clarify existing law that requires licensed gun sellers to carry out background checks, as well as hire more FBI agents to conduct checks, improve the process by which states submit mental-health records to the national background system, and fund research of gun-safety technology.
Chaos in Cologne: Outrage is growing in Germany over the reported sexual assaults of dozens of women in the city of Cologne on New Year's Eve. Police have blamed the attacks on as many as 1,000 men of "Arab or North African" background, leading some to draw links between the perpetrators and the hundreds of thousands of migrants and refugees who entered the country last year. German Chancellor Angela Merkel said the perpetrators must be punished "regardless of their origin or background."
An Occupation in Oregon: Armed protesters remain holed up at the headquarters of a national wildlife refuge in Oregon, where they say they'll stay until the local community asks them to leave. The group, led by the brothers Bundy, is protesting the prison sentence handed to a pair of Oregon ranchers, who were convicted of setting fire to public lands they had leased from the government to graze cattle.
---
Snapshot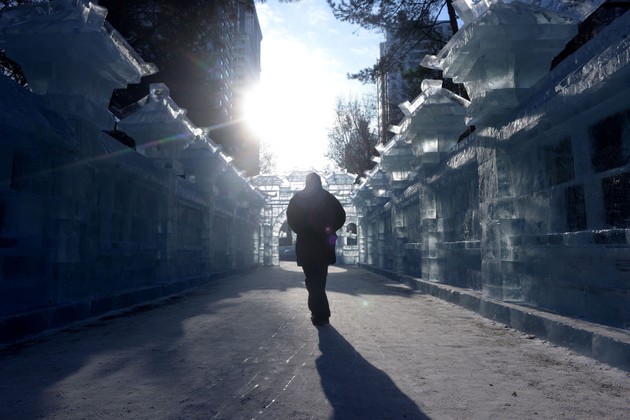 ---
Quoted
"If a person has a choice between living in fear and violence and even a temporary moment of safety in the U.S., they're going to pick safety." —Ali Noorani, who runs a nonprofit that advocates for immigrants
"No community has ever put themselves out of poverty without addressing sanitation." —Brian Arbogast, a sanitation technology expert
"There are all kinds of discussions about the endgame. Do we save face? Do we avoid appearing heavy-handed? Do we want to get in a shootout with a bunch of ranchers from Nevada?" —Steve Ijames, a retired police officer and expert on use of force, on how police should respond to the Oregon standoff
---
Evening Read
Julie Beck asks: When do you really become an adult?
For each of life's stages, according to the 20th-century education researcher Robert Havighurst, there is a list of "developmental tasks" to be accomplished. Unlike the individualistic criteria people report today, his developmental tasks for adulthood were very concrete: Finding a mate, learning to live with a partner, starting a family, raising children, beginning an occupation, running a home. These are the traditional adult roles, the components of what I've been calling "Leave it to Beaver adulthood," the things Millennials are all-too-often criticized for not doing and not valuing. …

Havighurst developed his theory during the '40s and '50s, and in his selection of these tasks, he was truly a product of his time. The economic boom that came after World War II made Leave It to Beaver adulthood more attainable than it had ever been. Even for very young adults. There were enough jobs available for young men, [historian Steven] Mintz writes, that they sometimes didn't need a high-school diploma to get a job that could support a family. …

But this was a historical anomaly. ... The past wasn't populated by uber-responsible adults who roamed the moors wearing three-piece suits, looking over their spectacles and saying "Hm, yes, quite," at some tax returns until today's youths killed them off through laziness and slang.
---
News Quiz
1. The country of __________ has recalled its representative from Iran, a day after Bahrain and Sudan cut diplomatic ties with Tehran.
(See answer or scroll to the bottom.)
2. The first sound ever—ever!—was the sound of __________.
(See answer or scroll to the bottom.)
3. The U.S. government owns half of the land in ____ western states—but almost no one lives there.
(See answer or scroll to the bottom.)
---
Reader Response
Bert Clere of North Carolina responds to a recent story on San Diego's Republican mayor:
I was struck by how poorly Kevin Faulconer would do if he tried to run in a GOP primary in the South. It's not just the social liberalism; the social liberalism is part of a cultural thing. All politics is cultural, and you appeal to your electorate by having a cultural affinity with them. Faulconer sounds like a perfect cultural fit for San Diego precisely because he went out of his way to show his cultural difference from most Red State Republicans.  

On the opposite side, Louisiana just became the only current state in the Deep South to elect a Democratic governor. Like Faulconer, John Bel Edwards went out of his way to demonstrate his cultural affinity with his region in contrast to his national party. Edwards proudly claimed the mantle of military man and pro-life good 'ol boy. Yet, as Dillon pointed out of Faulconer, Edwards is much more in tune with his constituents when it comes to economic issues. One of the first things Edwards is doing is to boldly defend the SNAP program in a state where such things are usually considered a liability within the GOP. Yet Edwards wouldn't be doing it if he didn't feel he had the political capital to do so.   

These two men are most certainly anomalies in the current U.S. political alignment. But what if they are the first signs of a future realignment?
Read the full comment, and more perspectives, here.
---
Verbs
Charlie Hebdo shooting victims honored, British debate over Donald Trump expected, new Greenland rivers formed, Twitter's 140-character limit reconsidered.
---
Answers: KUWAIT, THE BIG BANG, 11
---