The Atlantic Daily: The Aftermath in Istanbul, Iranian Waters and U.S. Sailors, Obama's Last Year
Officials said the victims of the suicide bombing were all Germans, diplomacy scored a win in the Gulf, the president's final State of the Union was dissected, and more.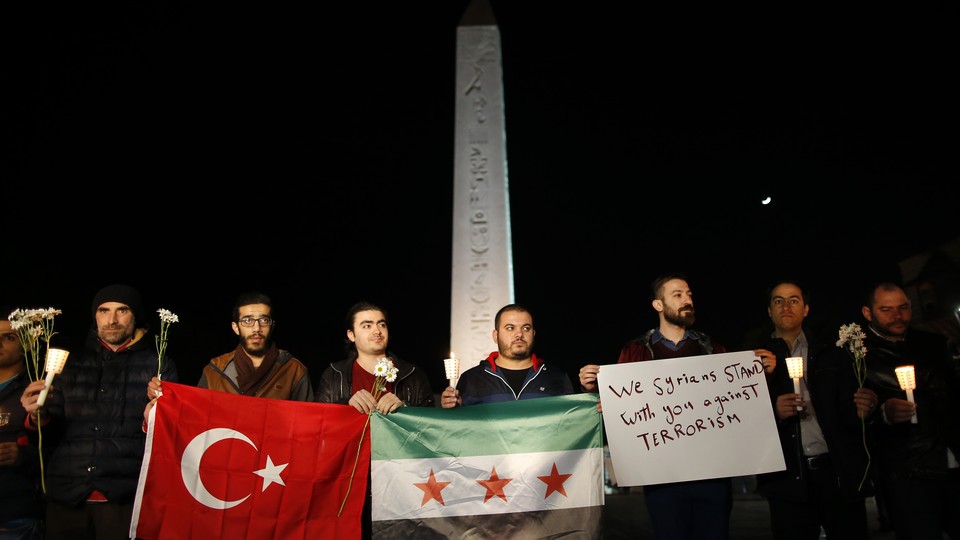 What We're Following: The Day After a Suicide Attack
Officials said that all 10 people killed in the suicide bombing in Istanbul's historic Sultanahmet district were Germans. The wounded included nine Germans, a Norwegian, and a Peruvian. Turkish authorities identified the attacker, a 28-year-old Saudi national who had applied for asylum in Turkey, by his fingertips, found at the site of the explosion.
The Goings-On in the Gulf: U.S. and Iranian officials hailed the diplomacy that resulted in Iran's release of 10 U.S. Navy sailors and their two vessels, which on Tuesday inadvertently strayed into Iranian waters while en route to Kuwait. The incident was seen as a test case for newly improved U.S.-Iranian relations, and it seems to have gone well: U.S. Secretary of State John Kerry lauded Iran for its cooperation, while his Iranian counterpart, Mohammed Javad Zarif, suggested all parties use the incident as a teaching moment.
Obama's Final State of the Union: Did you miss it last night? Catch up here on the president's speech, in which he eschewed the standard laundry list of policy ideas in favor of a broader look at the future—the start, as White House staff described it, of Obama framing his own legacy for historians.
---
Snapshot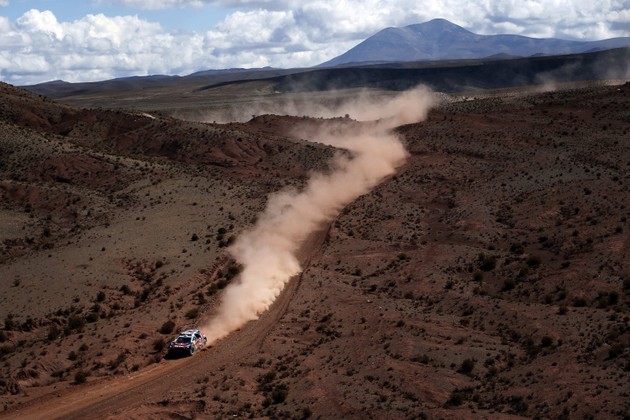 ---
Quoted
"U.S. elections are like Real Housewives without throwing wine or slapping each other in the face."—Yin Hao, who broadcasts U.S. election news to a Chinese audience
"If it had a sunflower, it meant the man was friendly, and if it had a moon instead of the sunflower, then he was an aggressive type." —Gerhard Strasser, who studies the history of cryptology, on the encoded passports used in 18th-century France
"Personally I don't think college is for everyone. We get pushed into going to college blindly, without a plan." —Jessica Valoris, who mentors inner-city high school students
---
Evening Read
James Parker profiles Marc Maron, host of the podcast WTF:
Maron started doing WTF in 2009, and its format is very simple: Somebody comes over, and he talks with them. More precisely, he asks them questions about themselves, and then he listens to what they say. It's a radical act, with radical consequences, not the least of which are the regeneration of Maron's career (a book, a TV show on IFC) and the huge popularity and broadening cultural reach of the podcast itself. Recent guests have included Keith Richards, Ed Asner, Patricia Arquette, and the transgender punk rocker Laura Jane Grace. In June, WTF blipped into the national news cycle when President Obama motorcaded up to Maron's garage and cannily availed himself of its freewheeling vibe. …

Have you ever interviewed anybody? It's not easy—especially if, like me, you are prone to finding yourself more interesting than whomever it is you're talking with. (Sometimes I think I see that syndrome on Charlie Rose's face—his ego chafing against its chains as he piously debriefs some State Department snooze merchant about his new book.) The secret of WTF is that Maron is a recovering monologuist: a hectoring, aggressive comedian and one-way verbalizer who has turned himself—through humiliation and self-examination—into a rather exquisite instrument of reception.
---
News Quiz
1. Your chances of getting killed by  __________ are better than your chances of winning the $1.5 billion Powerball jackpot.
(See answer or scroll to the bottom.)
2. Research shows that over generations, mice deprived of __________ permanently lose some species of gut microbes.
(See answer or scroll to the bottom.)
3. The city of __________ has already exceeded its pollution limits for 2016.
(See answer or scroll to the bottom.)
---
Reader Response
As the Democratic presidential race heats up, a Hillary Clinton supporter writes:
Your reader wrote: "Clinton appeals to a smaller and smaller segment of the Democratic electorate. She is BORING." This, I think, is the crux of why I'm wary of Sanders and will be voting for Clinton. Maybe she's boring. Maybe she's stiff in public and lacks her husband's ability to pirouette through the electorate. But I think she'll be competent and effective in a way that I've seen no indication that Sanders can be. …

Sanders, right now, is riding a wave of unrealistic expectations. People want him to come in and "fix everything"—though without a clear explanation of what precisely is broken, and how it can be fixed. When I look at America, I see a country that's done pretty dang well, except for the glaring problems of median wage stagnation and income inequality.

But Bernie Sanders can't fix that. It's a society-wide problem. I'm glad Bernie's putting the issue on the table, but there's no presidential initiative that's going to unionize the American workforce, or make shareholders not like profits, or end technological advancement, or make foreign workers more expensive. And if there are, he certainly hasn't explained them. In fact, he's given me very little reason to believe he's capable of delivering anything he promises.  
Read the full note, and more perspectives, here.
---
Verbs
Michigan town's water crisis damage-controlled, Al Jazeera America shuttered, 19th-century shipwrecks discovered, Friends reunion confirmed, a falafel house divided.
---
Answers: ASTEROID, FIBER, LONDON
---