The Atlantic Daily: Deadly Attack in Istanbul, Germany and Refugees, Crisis in Madaya
A suicide bomber killed 10 people in Turkey, German officials moved to tighten rules on deportations, relief agencies provided much-needed aid to a Syrian town, and more.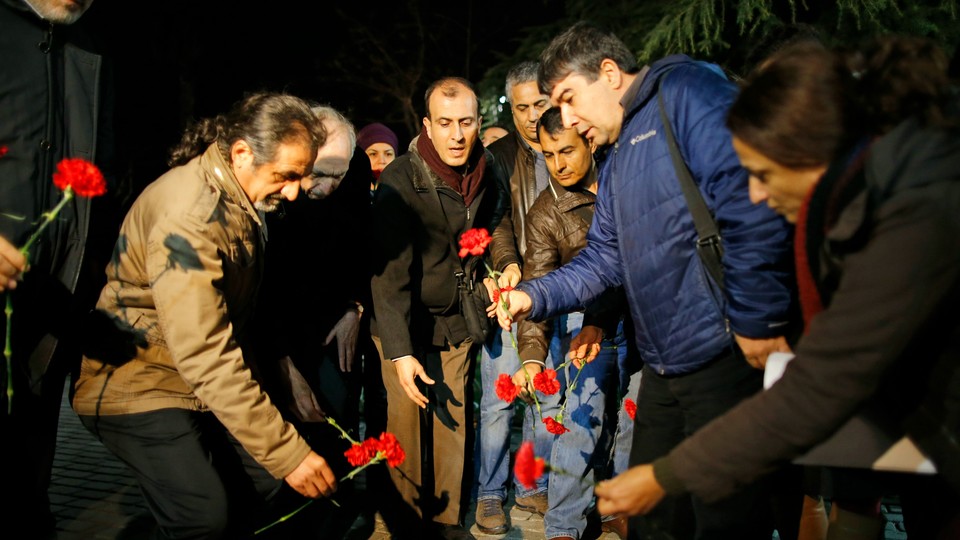 What We're Following: The Suicide Bombing in Turkey
At least 10 people were killed and 15 others were injured when a suicide attacker detonated his bomb in a tourist area of Istanbul. Most of the victims were Germans. Turkish officials have blamed the attack on the Islamic State, which was suspected in suicide bombings in Ankara in October that killed more than 100 people and wounded hundreds more.
The Reaction to Cologne: In response to the alleged sexual assaults of women by men of mainly immigrant backgrounds on New Year's Eve, German Chancellor Angela Merkel proposed legislative changes that would make it easier to deport asylum-seekers convicted of committing crimes in Germany. Right now, many refugees who commit crimes in Germany are not subject to deportation because the danger they face in their home countries is perceived as greater than the reason to deport them.
Help for a Syrian Town: International relief agencies delivered aid to Madaya, where as many as 28 people are reported to have died of starvation and which last received food and supplies six months ago, thanks to a blockade by government forces and their allies in the Shiite militia group Hezbollah. A United Nations official says that 400 people need to be evacuated immediately from Madaya or they will die.
What's on TV Tonight: Join us at theatlantic.com as we liveblog President Obama's final State of the Union address.
---
Snapshot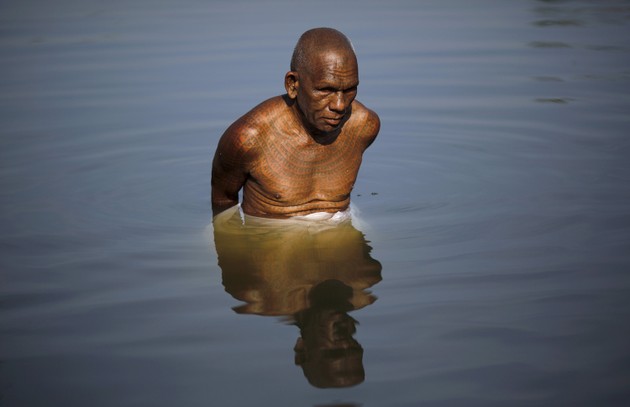 ---
Quoted
"You start overruling things, what happens to the country thinking of us as a kind of stability in a world that is tough because it changes a lot?" —Stephen Breyer, a justice of the United States Supreme Court
"The bottom line is, where's the beef?" —Jennifer Poulakidas, a lobbyist for public universities, on federal funding for STEM research
"I did date a psychopath once." —Maria Konnikova, author of a new book about con artists
---
Evening Read
Ta-Nehisi Coates on Bill Cosby and his enablers:
Two weeks ago, the comedian Eddie Griffin was asked about the torrent of sexual assault accusations made against Bill Cosby. "Did he rape these bitches?" asked Griffin. "All of them said the same thing—'We went to the room.' Why would you go to the room of a known married man?" …

Close observers of the long struggle against white supremacy will find Griffin's formulation familiar. There is, off the top, a ruthless unacquaintance with the facts. … But the narrative of cunning "bitches" arriving at the hotel room of a married man has a kind of resonance that drugging women on the set of a family-friendly television show does not. Similarly, the narrative of thuggish black boys in hoodies has a kind of resonance that child-murder does not. In fact, there is no real difference in claiming that a woman in an married man's hotel room forgoes the right to her body, and asserting that a black boy wearing a hoodie forgoes the right to his. Brutality is brutality, and it always rests on a bed of lies.
---
News Quiz
1. One way to make a better mosquito repellent? Block the insect's ability to __________.
(See answer or scroll to the bottom.)
2. A scientist has developed a technique that allows __________ to grow more than 25 times faster than normal.
(See answer or scroll to the bottom.)
3. One seat in the First Lady's box at the State of the Union speech will remain empty to represent victims of __________.
(See answer or scroll to the bottom.)
---
Reader Response
Readers remember David Bowie as a pioneer in music:
There are some artists so iconic that you can't imagine them not being there anymore. I am always in awe of the creativity of the most talented musicians, and creativity just flowed out of Bowie. All of his personas, stories, and styles were pulled off so well. So many musicians can be a master of one style or rest on their tried and true formula, but Bowie never seemed content to repeat past successes.
...and in society:
His androgynous stage presence broke the ground for so many acts that followed and helped ease the fears of homosexuality. Without Bowie opening the door, I wonder how long it would have taken to sway attitudes to where we are today.
Read more memories and responses here.
---
Verbs
Hillary Clinton's Iowa lead disappears, Volkswagen rebuffed, the science of a great keyboard explained, an Ohio police department trolled.
---
Answers: SMELL, CORAL, GUN VIOLENCE
---