The Atlantic Daily: A Trump-Free Debate, Peace Talks in Geneva, Chinese Mine Rescue
Seven GOP candidates square off without the elephant in the room, Syrian factions meet in Switzerland, two miners in Shandong are saved, and more.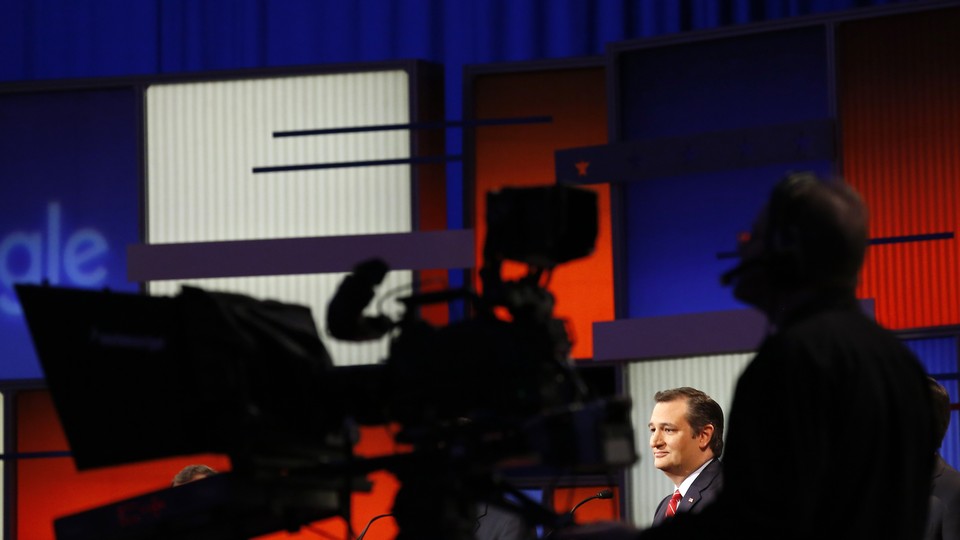 What We're Following: The Elite Eight Seven
Thursday's GOP debate in Des Moines took place without Donald Trump, giving a glimpse into the Republican race that could have been. His opponents tangled over immigration, vied to denounce Hillary Clinton, and promised to strike ISIS hard. But it may not have been enough for any of the candidates to change their fate, with the Iowa caucus just days away.
Giving Peace a Chance: The United Nations-led Syrian peace talks began Friday in Geneva after some initial confusion over who would actually be attending. The "proximity talks," the first movement toward negotiations in two years, will involve the Syrian government and opposition groups meeting separately with the UN envoy Staffan de Mistura.
Subterranean Survival: Four Chinese miners were rescued on Friday after spending 36 days underground. The four men were the only survivors from a group of 29 mineworkers who were trapped during a Christmas Day shaft collapse. The owner of the mine, Ma Congbo, committed suicide shortly after the accident.
---
Snapshot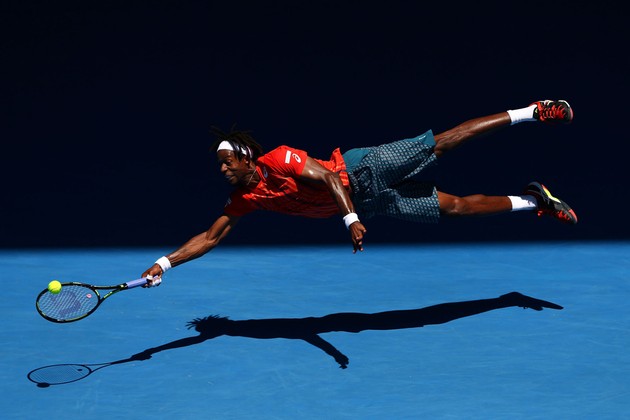 ---
Quoted
"You can almost feel him before you see him."—Ed Stewart, who runs an animal sanctuary, on Nicholas the 12,000-pound elephant
"At the beginning, even the notion of circadian rhythms was considered to be astrology."—Francis Lévi, an oncologist and expert in time-based medicine
"Call us old-fashioned, but we love it when our guests are able … to savor each dish in real time without the distraction of attempting to document the meal simultaneously."—Anne Marler, co-owner of a top-rated restaurant that bans taking photos of your food
---
Evening Read
Roc Morin on the Western volunteers fighting ISIS:
Two months before that day in December, [Christopher] Smith had been a brick mason living in Vermont with a fiancée. That was all over now. "I took the wrong bus to Miami," he joked. In fact, the American had flown to Sulaymaniyah, Kurdistan, on a one-way ticket. With his military papers in hand, the veteran had walked into the Ministry of Peshmerga Affairs and enlisted. …

The American spoke of ISIS atrocities, the stories that had troubled his sleep back home: the beheadings and crucifixions, the slave markets, the rape camps—an evil that overwhelmed his senses. It was the reason he had come to fight, and like many of the volunteers I met, he was not here just to kill Daesh (a derogatory term for ISIS)—he was here to send Daesh to hell. The foreigners hunted wild boar to supplement their rice rations and made sure that every round fired in anger was coated in the animal's unholy blood.

Hell is real here. The black inferno rages just beneath our feet, my translator warned. Everything is known from scripture. The flames have been measured, he insisted, and they are 69 times more painful than terrestrial flames. There were always two wars going on—the one we could see, and the one we could not.
---
What You're Wondering
This week, we launched a new video series as part of our 2016 Distilled election coverage to demystify some of the wonkier parts of the political process. Our goal for this is to give voters the tools and insight they need to have a firmer grasp on how the next several months will unfold (rather than making our editors and reporters join the hordes of talking heads offering hot takes).
In our first episode, we break down the Iowa caucuses. Help us brainstorm future episodes: What else can we untangle? What are the cryptic election terms and processes you wish you understood better? Tell us using this short online form, or shoot us an email at hello@theatlantic.com.
---
News Quiz
1. The gender wage gap is ______ percentage points larger in the U.S. than in other industrialized countries.
(Click here or scroll down for the answer.)
2. Airport runways could soon de-ice themselves using __________.
(Click here or scroll down for the answer.)
3. Neurologists suspect that the brain's internal clock lies somewhere in the __________.
(Click here or scroll down for the answer.)
---
Reader Response
This reader, from a liberal city on the West Coast, was 15 when a man came up behind her with a gun:
He pushed that gun in my back and shoved me through alleys for half an hour. He raped me.

It's important to note, in this story, that the gun never went off. The gun may not have been loaded. The gun may have even been a fake. All it needed to do was convince me that he could kill me at any moment. Guns do that better than anything. This crime was reported—even prosecuted—but the man went free. He can buy a gun whenever he wants to.

This crime doesn't show up in gun violence statistics. Those only cover shootings. I think it's important to remember, in our conversation about firearms, how much damage they can do without ever being fired.
Read her whole story here.
---
Verbs
Hundreds of manholes explode, interstellar gas cloud approaches, Cecil Rhodes statue stands, Trump insults catalogued.
---
Answers: 2.5, conductive concrete, hippocampus
---