The Atlantic Daily: El Chapo's Arrest, Two Refugee Indictments, Stronger Jobs Numbers
Mexico recaptured the notorious Sinaloa cartel leader, federal prosecutors filed charges against two Iraqi refugees, U.S. employment leapt upward in December, and more.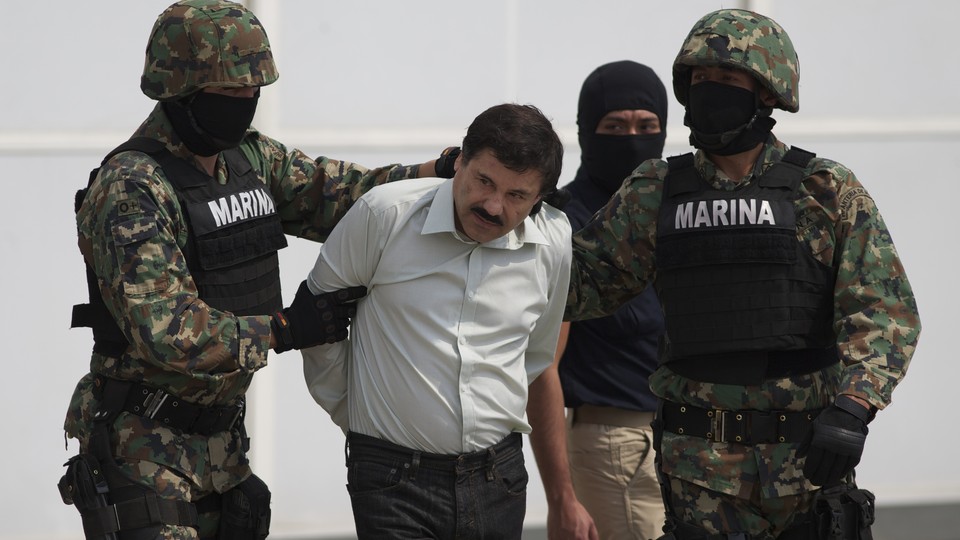 What We're Following: A Major Arrest in Mexico (Again)
Joaquín "El Chapo" Guzmán, the notorious Mexican drug lord, has been re-captured, Mexican President Enrique Peña Nieto announced on Friday. Guzmán, who heads the Sinaloa cartel, escaped from a maximum-security Mexican prison last July in a major blow to the Mexican government's efforts to end the country's drug wars.
Two Arrests in America: Federal prosecutors unsealed separate indictments against two Iraqi refugees, one in Texas and another in California, on terrorism-related charges on Thursday. The two indictments offer new ammunition to critics of the Obama administration's plans to accept increased numbers of refugees fleeing violence in Iraq and Syria.
Jobs, Cash, Hope: The U.S. economy added more than 292,000 jobs in December, while the unemployment rate remained at 5 percent, according to Labor Department figures released Friday. The numbers exceeded economists' modest projections and helped rank 2015 among the best years for U.S. job creation since 1999.
---
Snapshot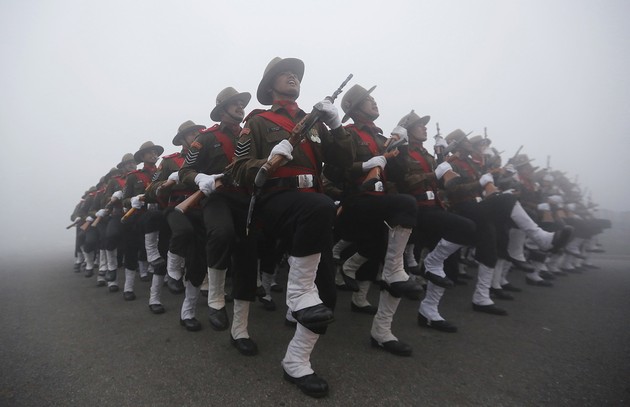 ---
Quoted
"In my explorations of public toilets, I have concluded that they must have been pretty dirty places … Surely, not someplace one would want to spend much time," —Ann Olga Koloski-Ostrow, who studies ancient Roman sewers.
"Getting past the Senate Democrats has always been the issue, and finally, we cracked the code,"—Paul Ryan, Speaker of the House, on the first bill passed by Congress in 2016.
"The assumption of prison sexual abuse has become so entrenched in American culture that it is assumed to be part of the punishment, but it's not. You get sentenced to jail and prison, not to be raped and abused behind bars," —Carmen Daugherty, who advocates for incarcerated minors.
---
Evening Read
Peter Beinart on why America is moving left:
The more I examined the evidence, the more I realized that the current moment looks like a mirror image of the late '60s and early '70s. The resemblances are clear, but their political significance has been turned upside down. There is a backlash against the liberalism of the Obama era. But it is louder than it is strong. Instead of turning right, the country as a whole is still moving to the left.

That doesn't mean the Republicans won't retain strength in the nation's statehouses and in Congress. It doesn't mean a Republican won't sooner or later claim the White House. It means that on domestic policy—foreign policy is following a different trajectory, as it often does—the terms of the national debate will continue tilting to the left. The next Democratic president will be more liberal than Barack Obama. The next Republican president will be more liberal than George W. Bush.

In the late '60s and '70s, amid left-wing militancy and racial strife, a liberal era ended. Today, amid left-wing militancy and racial strife, a liberal era is only just beginning.
---
News Quiz
1. In 2013, ____________ spent $233 billion on clothing and footwear—more than Japan and Italy combined.
(Click here or scroll down for the answer.)
2. Forty-two percent of OkCupid users said they could date someone in ____________.
(Click here or scroll down for the answer.)
3. Up to 70 percent of global Internet traffic travels through ____________.
(Click here or scroll down for the answer.)
---
Reader Response
A reader who identifies herself as "a female black professional" writes:
I do tend to think that the focus on preserving affirmative action in college admissions distracts from the more fundamental problem, which is that the majority of failing public elementary and secondary schools in the U.S. are composed of minority (black and Hispanic) students.

I grew up in a school district that was very weak, and so my mother insisted that I attend the local parochial school. The school district continued to decline until many years later it was officially stripped of its accreditation. … I have sometimes wondered what my own prospects would have been had my parents not been able to afford even the modest tuition we paid, and had I not commuted to a high school that boasts of a 100 percent college admissions rate, instead of going to a school in the worst district in the state. Even if I would have made it through anyway, I know that I would have been significantly less prepared to compete for college admission and to do well once admitted.  
Read the full note, and more perspectives, here.
---
Verbs
Affluenza Mom arraigned, Shrimp Boy convicted, Mega Mao destroyed.
---
Answers: MUSLIMS, a polyamorous relationship, northern virginia.
---