The Atlantic Daily: Aftermath of Cologne Assaults, China's Stock-Market Turmoil, Saudi-Iran Tensions
German officials vowed to hold perpetrators of a string of attacks accountable, fears about the health of the world's largest economy abounded, relations between two Middle Eastern nations continued to deteriorate, and more.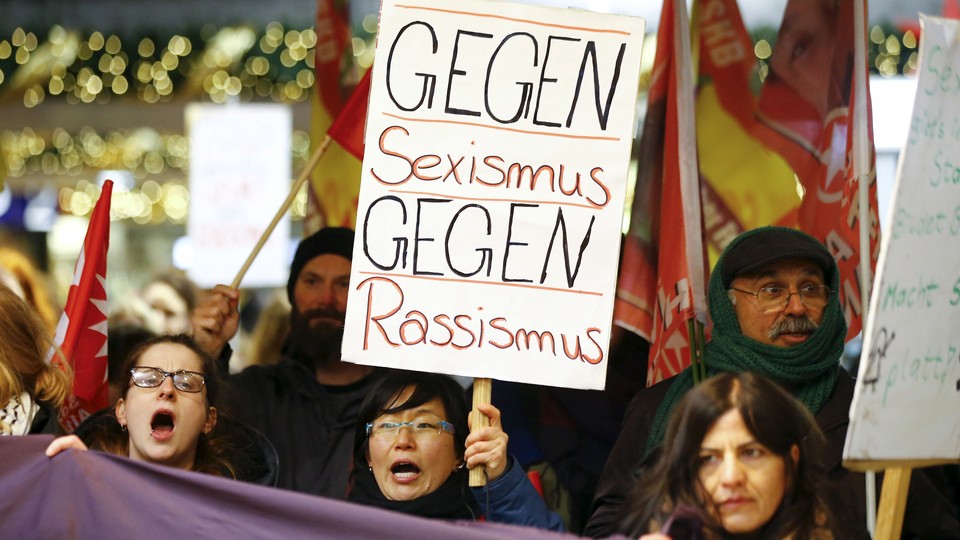 What We're Following: The Growing Outrage in Germany
German officials have vowed to find and prosecute the men behind the sexual assaults in Cologne on New Year's Eve "no matter where they come from"—an apparent attempt to respond to the connection that some have made between the perpetrators, who were described as being of Arab or North African descent, and the influx of asylum-seekers that Germany welcomed last year. Meanwhile, the mayor of Cologne drew more criticism for advising women to protect themselves from sexual assault by keeping strangers at "arm's length."
A Nosedive in China: Chinese stocks plunged 7 percent, raising more fears about the health of what by some measures is the world's largest economy. As a result, markets across Asia and Europe slid, and U.S. stocks, which have already seen their worst three-day opening since the recession in 2008, look set to extend that losing streak.
The Saudi-Iran Feud: The diplomatic fallout of Saudi Arabia's execution of a respected Shiite Muslim cleric continued, with Iran accusing Saudi warplanes of bombing its embassy in Sanaa, the capital of Yemen, where Saudis and Iranians are involved on opposite sides in that country's civil war. In recent days, Saudi Arabia, Bahrain, and Sudan have all cut ties with Iran.
---
Snapshot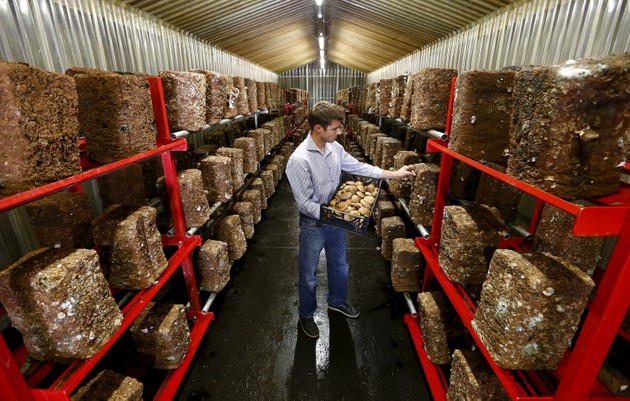 ---
Quoted
"There's no way that instant noodles are traditional."—Bela Gil, who hosts a popular Brazilian cooking show
"It's a misunderstanding of how power politics works in the Middle East to ascribe authority or control to any power to control events on the ground."—Frederic Wehrey, who studies identity politics in the Persian Gulf
"I think it's a question of setting expectations. If you answer email within five minutes of receiving it, people start expecting that." —Raymond Tomlinson, who sent the first email in 1971, and now does not own a cellphone
---
Evening Read
Molly Ball on the Working Families Party:
At a recent private dinner in Manhattan, a small group of leftists plotted to take over America.

The group, a dozen community organizers and activists from all over the country, had convened at a sushi restaurant in the Flatiron District with the leaders of the New York-based Working Families Party. They were heads of organizations from Boston to Albuquerque, with names like National People's Action and Community Labor United. And they were there to hear why their states should form their own chapters of the insurgent party, in order to capitalize on the country's rising liberal tide and push the national conversation leftward.

The party's deputy director, Jon Green, a pale, bespectacled 42-year-old, made the pitch. "In 2010, we saw the Tea Party yank the entire political discourse way to the right," he said. The Tea Party was powerful, he said, because it was boldly ideological; it recruited and groomed candidates; and it created a strong national brand. "Our view is that there isn't anything analogous to that on the left, and there ought to be."
---
What We're Listening To
The Atlantic is now on Spotify. Check out what we're jamming to here.
---
News Quiz
1. A new disease afflicting __________ suggests contagious tumors might be more common than originally thought.
(See answer or scroll to the bottom.)
2. Is the Baseball Hall of Fame shifting its attitude toward __________?
(See answer or scroll to the bottom.)
3. Seventeen workers trapped in a __________ in New York have been rescued.
(See answer or scroll to the bottom.)
---
Reader Response
When do you become an adult? One reader remembers the moment:
I was writing out a grocery list with my husband. I was six months pregnant, though I didn't own a home or even a car.  "Wow, I feel like such an adult right now." It was definitely an epiphany moment.

I think the moment you realize you are an adult is the moment you had always imagined it to be. Or what you saw as a child—all the adult-like things people did. How cool it seemed. Well, here we are, discussing our vegetable preferences, and it isn't half bad.
For another reader, the realization was more dramatic:
I was born on January 30, 1967, but I didn't become an adult until July 23, 1999, when my wife took our child and left me in the middle of the night. Reading the note she left on the kitchen counter was the first of many things I did as a grown up, including therapy, numerous reconciliations and split ups, single fatherhood, middle-aged online dating, achieving licensure as a professional engineer, running for elected office, remarrying and adopting a child from Haiti, becoming a published author, and admitting all these things to The Atlantic.
Read more stories here.
---
Verbs
Lawsuit over NYPD surveillance of Muslims settled, Florida manatee's "endangered" species label lost, thousands of Californians evacuated, sunspots explained.
---
Answers: doping, tasmanian devils, salt mine
---