The Atlantic Daily: San Bernardino Investigation, Trump and Netanyahu, ISIS and Ramadi
The FBI said the husband-and-wife team behind the California shooting was "radicalized" two years ago, two political figures readied themselves for a big meeting, the White House entertained the idea of sending more troops to Iraq, and more.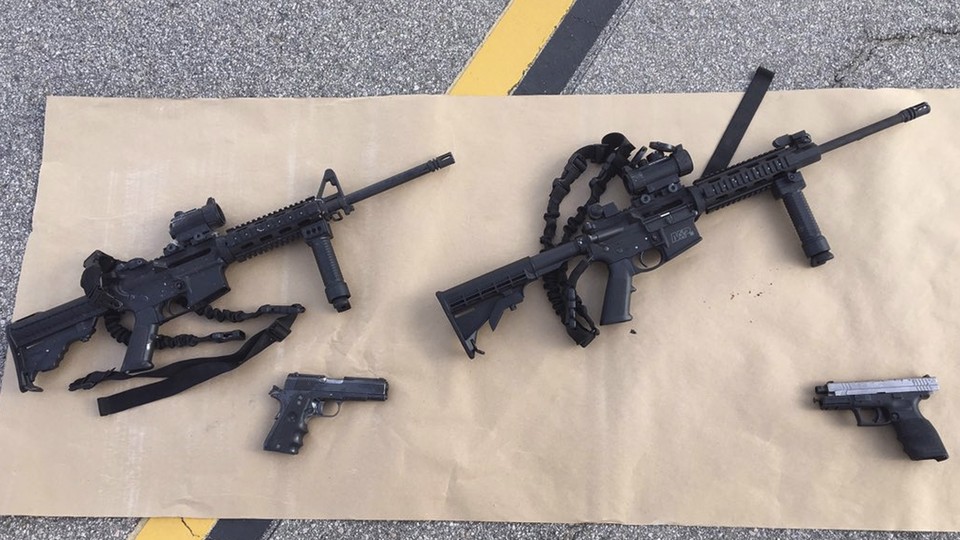 What We're Following: The Long Radicalization of Two Killers
It has been one week since the shooting rampage in San Bernardino, California, that claimed 14 lives and wounded 21. The FBI is working to piece together a portrait of the husband and wife who carried out the attack, which they say was inspired by foreign terrorist organization. The latest: Investigators have determined that Syed Rizwan Farook and Tashfeen Malik spoke of "jihad and martyrdom" online as early as 2013, months before Malik arrived in the U.S. to marry Farook.
This Meeting: At the end of this month, Republican presidential frontrunner Donald Trump will travel to Israel to meet with Prime Minister Benjamin Netanyahu. A visit to Israel is akin to a rite of passage for any serious presidential candidate, but this one will likely be more awkward than most: Netanyahu has rejected Trump's recent remarks about Muslims, saying that Israel "respects all religions" Trump announced this week he believes all Muslims should be banned from entering the United States in the wake of the San Bernardino shooting.
The Fight for Ramadi: U.S.-backed Iraqi forces have made some progress in recent months in the attempt to recapture the Iraqi city of Ramadi, which has been under the Islamic State's control since spring. But U.S. Defense Secretary Ash Carter believes that battle is taking "frustratingly long," and said that the Obama administration is prepared to send advisers and helicopters to aid Iraqi forces—if Iraq wants them.
---
Snapshot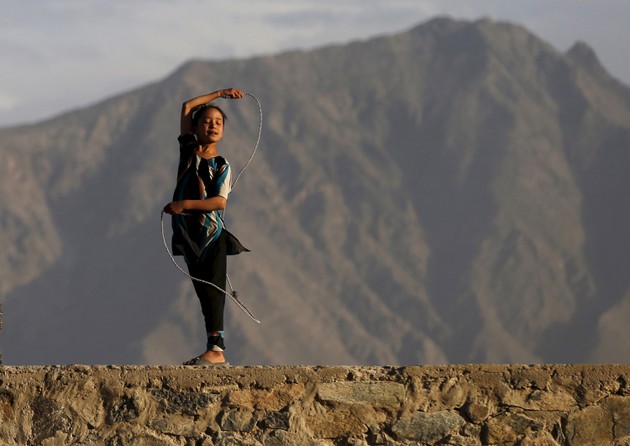 ---
Quoted
A Victoria's Secret model, on her preparations for the brand's annual runway show: "It feels like we're training for the Olympics."
Nancy Brennan, a bird biologist, on a cat she taught to stop hunting birds: "He had never missed a dawn hunting until he had been wearing my contraption for about a year. He was just like, 'Oh, forget it.'" (Now, the cat has "started sleeping in.")
Dan Romer, a researcher, on the myth of holiday suicides: "The point is not to make it sound like everyone's considering it. ... People might be isolated or lonely, but that's no reason to tell them that other people in their situation are killing themselves."
---
Evening Read
Emma Green on how American Jews ruined Hanukkah:
Dreidl is a terrible game that requires no strategy and practically no skill. Somehow, the world's entire gelt supply seems to have been manufactured in 1993. … The story of Hanukkah doesn't even appear in the Torah. … It is both theologically thin and celebratory of violent nationalism. For most of Jewish history, the holiday has been of little consequence. "Hanukkah is … a minor holiday that America has elevated into something much more," said Josh Plaut, the head rabbi at the Reform Metropolitan Synagogue in New York City. "Jews have been part of that magnification of Hanukkah. It suits our purposes." …

No doubt, Hanukkah is an incredibly important part of the story of Jews in America. Why, then, is this holiday—the most public Jewish celebration in the United States—so silly?
---
News Quiz
1. The mayor of __________ apologized for the fatal police shooting of a black teenager by police officers last year.
(See answer or scroll to the bottom.)
2. As many as 120 students in Boston fell ill after eating at __________. Not good.
(See answer or scroll to the bottom.)
3. A new survey finds that one in __________ Americans reports being online "almost constantly."
(See answer or scroll to the bottom.)
---
Reader Response
A college student pushes back against critics of campus protests:
If I have a particularly negative experience with an employee of a store, I should not be told their manager that by vocalizing my negative shopping experience that I am violating his right to life, liberty, and the pursuit of happiness. Similarly, if I repeatedly call the attention of university administration to troubling practices or prevailing attitudes that impede my access to a positive academic experience, I should not be met with a dismissive "Well you need to stop censoring Johnny's right to freedom of speech…" …

As a university, you can no longer actively recruit people of color to attend your university, while bragging about it to shareholders, while shirking the responsibilities that come with treating those students as members of the community. If you misunderstand the cultures of your students of color, learn, and if you lack the resources to support these students, acquire.
Read the full comment, and more perspectives, here.
---
Verbs
The late founder of North Face remembered, first U.S. shipment in months to the International Space Station arrived, original inspiration for SantaCon revealed, Donald Trump petitioned,, countries that ban immigrants based only on religion, mapped.
---
Answers: chicago, chipotle, five
---