The Atlantic Daily: Obama's Year in Review, Congress's Spending Bill, Sanders Campaign Drama
The president gave his final press conference of the year, lawmakers passed government funding legislation, the presidential candidate tangled with the Democratic National Committee, and more.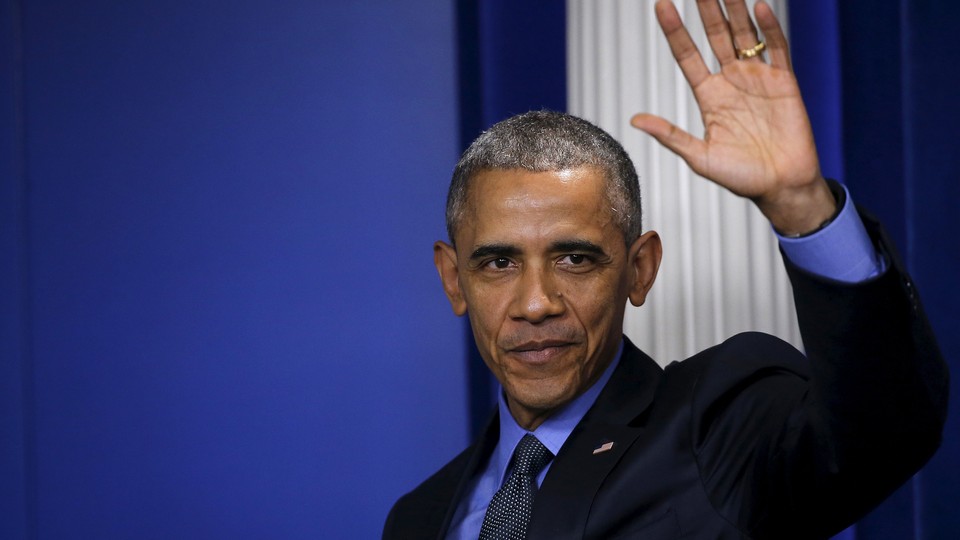 What We're Following: Obama Reflects on 2015
President Obama convened reporters at the White House for his annual end-of-the-year press conference on Friday. During the question-and-answer session, he expressed hope about sentencing reform for the upcoming year, defended his strategy to defeat ISIS, praised the bipartisan spending deal in Congress, and said he was optimistic overall for 2016. He also shared his most immediate priority as he exited the briefing room, telling reporters, "I have to get to Star Wars."
Austerity No More: In a series of overwhelmingly bipartisan votes on Friday, the House and Senate gave final approval to an enormous package of new spending and tax breaks that will fund the federal government for the rest of the fiscal year and add hundreds of billions of dollars to the deficit over the next decade. The deal effectively ends the era of austerity that dominated Washington politics since the Great Recession began.
Bernie's DNC Battle: Bernie Sanders' presidential campaign accused the Democratic National Committee of "actively attempting to undermine our campaign" on Friday after the committee severed the campaign's access to key voter data. The DNC accused Sanders's campaign of improperly accessing Hillary Clinton's personal campaign data through its systems, while the Sanders camp laid the blame on the DNC and a third-party vendor.
The Rest of This Year: The newsletter is going on holiday break. See you in 2016!
---
Snapshot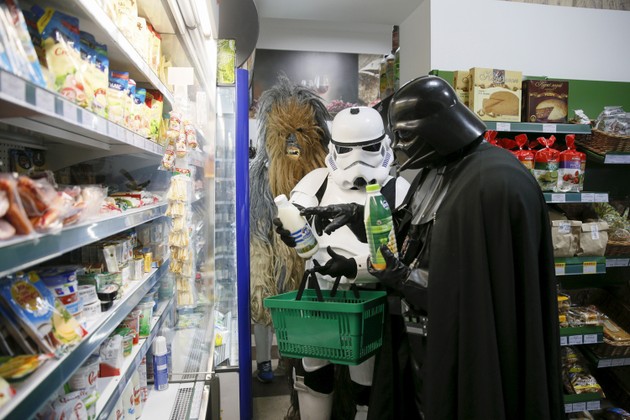 ---
Quoted
"We're sweeping across the Earth's surface, taking a scan of the surface of the Earth." —Kevin Bullock, who works with satellite imagery, on how a newly released photo of Colorado was created
"We don't have adequate staff. We don't have adequate equipment. We don't have adequate knowledge." —Cheryl Phillips, who advocates for older adults, on nursing homes' ability to care for obese patients
"Pinning a kid to the ground until they stop fighting and start crying, it's barbaric if you think about it." —Sean Hennessey, who works at a residential school for children with behavioral disorders, on the disciplinary practice of restraint
---
Evening Read
Tim Tyson wonders: Can honest history allow for hope?
Sure, as the poet Seamus Heaney said, sometimes "hope and history rhyme," and all that. But the poet also said in the previous lines, "History says don't hope on this side of the grave / But then, once in a lifetime / The longed for tidal wave / Of justice can rise up," and that right there tells you that the poet, though he hears history's lecture, is nevertheless smoking moonbeams. Anytime a writer uses the metaphors of meteorology to describe human history, he or she simply has no idea what happened.

In human history, tides don't rise and fall, floods don't sweep the land, prairie fires don't spread. People, usually people working in a tradition of struggle, are sometimes able to organize and mobilize enough people, and those people are able to educate themselves enough through their own experience to make a movement that changes things for the better, for a time, in a place—and these are history's high points. But they are not the weather. The weather, if relevant, is often bad news, and the best weather won't help if people don't manage to raise a sail. Human striving is not pointless, as a rule, but even necessary and noble campaigns don't often go as intended.
---
Who You're Shopping For
Everyone's got someone on their list who's hard to shop for. Last week, we asked Atlantic readers to send us descriptions of their tricky recipients, and our writers and editors brainstormed some ideas. Check out our holiday gift guide for some last-minute inspiration.
---
News Quiz
1. Former White House cabinet member __________ gave an interview that didn't make the White House look too good.
(See answer or scroll to the bottom.)
2. A new analysis shows that female __________ are earning slightly more than men in the same position.
(See answer or scroll to the bottom.)
3. There seems to be a bromance brewing between Donald Trump and __________.
(See answer or scroll to the bottom.)
---
Reader Response
A reader who saw Star Wars for the first time in 1979, at the age of 6, recalls:
As an adult, I can look back and see my life bifurcating at that point: before Star Wars and after Star Wars. It sounds hyperbolic, but much of who I am and what I like can probably be traced back to that first viewing. Before Star Wars, I was a typical six-year-old girl who liked Strawberry Shortcake and puppies. After Star Wars, I wore my hair in side buns and wanted a blaster just like the one Han Solo carried. Every stick became a lightsaber I wielded like Luke, sure that if I just practiced and wished hard enough, I too could learn to use the Force.  …

No matter how good or bad The Force Awakens is, I will enjoy it. Thirty-six years later, I get to sit in a darkened theater, watch the scroll of words on a black star field, and see an adventure unfold. Maybe I can capture a small spark of the feelings I had back then.
Read her full story here, and more readers' memories here.
---
Verbs
Vegan mayo validated, microbeads banned, miracle recognized.
---
Answers: CHUCK HAGEL, CHIEF FINANCIAL OFFICERS, VLADIMIR PUTIN
---