The Atlantic Daily: Terror Threats and U.S. Schools, Fifth GOP Debate, Freddie Gray Trial
The nation's second-largest public school system closed over a potential threat, nine Republicans readied themselves for another night in the spotlight, Baltimore jurors remained deadlocked, and more.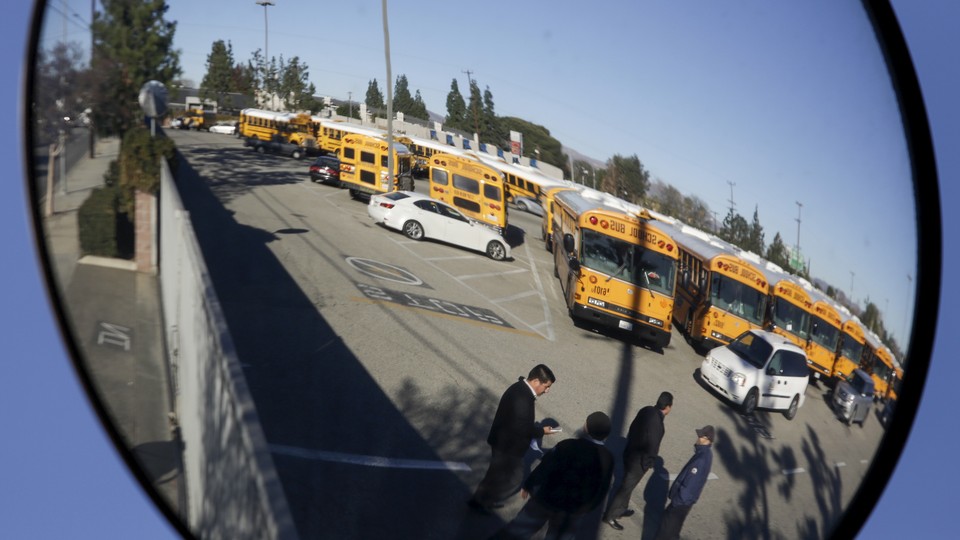 What We're Following: A Tale of Two Cities
The public school systems of Los Angeles and New York both received an email message threatening violence this morning. Los Angeles officials, citing the recent rampage in nearby San Bernardino, shut down its more than 900 schools, ranging from kindergarten to 12th grade, for the day. New York officials, on the other hand, determined the message was not a credible threat, and dismissed it as a hoax. Los Angeles officials defended their decision, while their New York counterparts warned against overreacting.
What Feels Like the 500th Debate: Nine Republican candidates will squeeze onto a Las Vegas debate stage tonight, but the lights seem to be shining brightest on two of them: Donald Trump and Ted Cruz. Trump is, well, Trump, while Cruz has surged in the polls in Iowa this week. Plot twist: They're vying for the same set of conservative voters. Follow along with our live blog.
The Latest in Baltimore: The jury in the case of a police officer charged in the death of 25-year-old Freddie Gray is deadlocked after hours of deliberation. Officer William Porter is the first of six officers to stand trial in Gray's death in police custody last year, and could face 25 years if convicted of manslaughter and other charges. As the jurors weigh his fate, Baltimore police and community activists prepare for what might come after the verdict.
---
Snapshot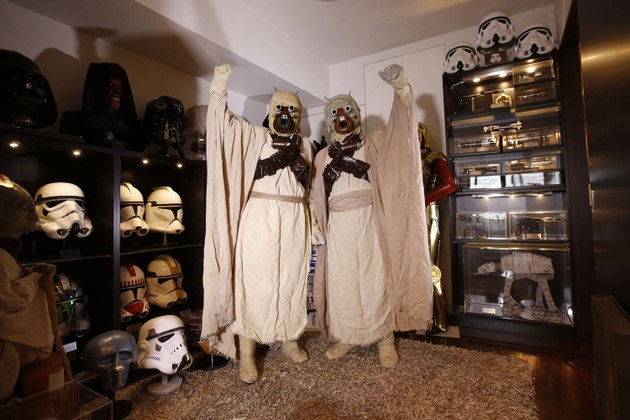 ---
Quoted
Carmen Smith, who has diabetes, on buying insulin without a prescription: "It's not like we go in our trench coat and a top hat, saying, 'Uh, I need the insulin.' The clerks usually don't know it's a big secret."
Nancy Pelosi, the House Democratic leader: "Evidently, the Republican deficit hawks are an endangered species now."
Ronald Mason, who designed a scholarship program aimed at boosting the number of black male teachers: "We take these young men who were expected to go to jail or graduate at only a 20 percent clip. And they're succeeding."
---
Evening Read
Olga Khazan on the link between childhood sexual abuse and adult obesity:
One Maryland woman who was a victim of incest at the hands of her father, uncle, and cousin would sometimes go for days without eating as a teen. Now that she's in her 50s, the pattern has reversed, and she finds herself prone to binges. When at the airport, for example, she beelines for snack shops, buys two to three bags of M&Ms and a pack of Cheez-Its, and downs it all.

"I'm telling myself the whole time, 'Why am I doing this?'" she said. "We still always carry this guilt around."

Trauma that occurs during critical periods in the brain's development can change its neurobiology, making it less responsive to rewards. This anhedonia—a deficit of positive emotions—more than doubles the likelihood that abused children will become clinically depressed adults. It also increases their risk of addiction. With their brains unable to produce a natural high, many adult victims of child abuse chase happiness in food. It's this tendency, when combined with what many described as a desire to become less noticeable, that makes this group especially vulnerable to obesity.
---
Who You're Shopping For
Who's the hardest person on your holiday gift list to shop for? The Atlantic asked readers to send us descriptions of their tricky recipients, and our staffers brainstormed some custom ideas. We're doling out that last-minute inspiration all week here. First up: The twentysomething new girlfriend, the teenage nephew, and the chic younger sister.
---
News Quiz
1. Corporal punishment remains legal in _____ U.S. states.
(See answer or scroll to the bottom.)
2. A man in Thailand faces up to 37 years in jail for insulting the king's __________.
(See answer or scroll to the bottom.)
3. This week, Washington, D.C., had its hottest December 12th since ________.
(See answer or scroll to the bottom.)
---
Reader Response
A reader whose daughter killed herself while taking antidepressants shares her story in response to the discussion on teen suicides:
Because I recognized immediately that my daughter's death was the result of agitated and highly disturbed behavior brought on by medication adjustments in the last days of her life, I became a student of psychopharmacological safety and effectiveness. What I learned was highly disturbing. …

While I realize it would be reductionist to say that the suicides going on in Palo Alto are solely the result of adverse reactions to medication—not simply antidepressants, but also stimulants and other treatments that may have been started in childhood—this is still an issue that should be seriously considered. It is no secret that stimulants are now being promoted as a cognitive performance enhancer and Silicon Valley is a prime market for these drugs. But how many people also know that they are a segue to other psychotropic drugs, since stimulants often lead to depression and/or mania? How many children are being labeled "bipolar" or "clinically depressed" because of their response to treatments they are receiving rather than any underlying condition?
Read the full comment, and more perspectives, here.
---
Verbs
Romania's parliament stormed, menopause investigated, Leonardo DiCaprio's near-death experiences shared, shetland pony sweatered, the strange obsession over luxury candles sniffed out.
---
---