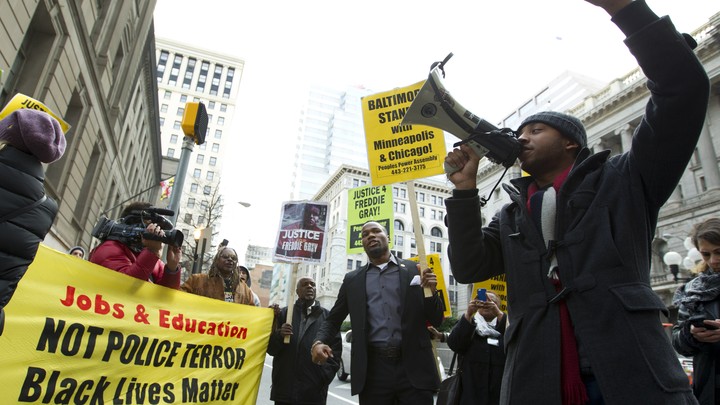 What We're Following: A Hung Jury in Baltimore
A judge in Baltimore declared a mistrial in the case of William Porter, one of six officers charged in the death of Freddie Gray, the 25-year-old black man whose death in police custody last year sparked riots in Baltimore. After more than 15 hours of deliberation, jurors said they could not reach an agreement on any of the four charges against Porter. City prosecutors say they will try the officer again, but this development puts the trials—and fates—of the other five cops charged in Gray's death on shaky ground.
Congress's New Spending Bill: Negotiators struck a major agreement on taxes and federal funding late last night. Here's what's inside: An end to the 40-year-old ban on the exporting of U.S. crude oil; delays in the collection of two unpopular Obamacare taxes; a major increase in research funding for the NIH; a permanent extension of benefits to treat first responders poisoned by the toxic air above Ground Zero after 9/11; and more.
The End of an Era: The U.S. Federal Reserve voted unanimously to raise interest rates for the first time since the recession, a decision that Fed chair Janet Yellen has said signals that the economy is improving. The target range for the federal funds rate will move from between 0 percent and 0.25 percent to between 0.25 percent and 0.50 percent. Although this is considered "lift-off" from near-zero rates, these interest rates are still low by historical standards.
---
Snapshot
---
Quoted
Gary Cook, who studies energy policy: "The Internet is the single biggest thing we're going to build as a species."
Daniel MacArthur, who studies genetics: "Every single one of us is walking around with hundreds of genetic changes that look like they should cause disease, but actually don't."
What Kim Henke, who advocates against fear of Islam at her child's school, has been accused of: "Working for Obama, working for George Soros. I'm also a solstice-worshipper—that's one I've gotten, too."
---
Evening Read
Joel Baden and Candida Moss ask: Can Hobby Lobby buy the Bible?
In November 2017, the Museum of the Bible will open in Washington, D.C., two blocks from the National Mall. Like many of the city's other museums, it is designed to attract hordes of visitors each year, and it will be vast—eight stories tall, and covering 430,000 square feet. Despite its location and size, however, it isn't a government institution. It's private, backed by the family of David Green, a wealthy businessman from Oklahoma City, better known as the founder of the Hobby Lobby retail chain, and it will house artifacts from the family's stunning collection of biblical manuscripts, Torah scrolls, Dead Sea Scrolls, and cuneiform texts. The Greens' collection is one of the largest private collections of such artifacts in the world, comprising some 40,000 objects—many of which, remarkably, were unknown to scholars and the general public before the Greens acquired them. And the Greens made their first purchase only six years ago.

That's a startling pace of acquisition, especially given the fraught and specialized market for biblical antiquities, and it raises difficult questions about how the Green family has acquired its artifacts, and why.
---
News Quiz
1. The Supreme Court of __________ upheld an 1898 law that requires married couples to have the same last name.
(See answer or scroll to the bottom.)
2. A new report found that the 28 executions carried out in the United States in 2015 were the fewest since __________.
(See answer or scroll to the bottom.)
3. For the first time, more __________ in the U.S. smoke marijuana daily than cigarettes.
(See answer or scroll to the bottom.)
---
Reader Response
A high-school senior in St. Louis can relate to the extreme stress among the teens featured in our December cover story:
It's a common joke among my friends about how often we cry. (Though we almost certainly never let the others see.) It feels that a single mistake can end one's future. I took a lit class sophomore year, and the teacher taught a lesson on cause and effect. She wrote this down: "Cause: You don't study for your math test. Effect: ?"

We were to fill in the effect. Most of the students filled out standard answers (You fail the test, your parents get mad, you get detention) but my friends and I, the high-achieving AP students plunked into a required course, differed. Almost uniformly, we wrote, "You fail the test. You get a poor grade in the class. Your GPA lowers. You don't get into college. You work minimum wage the rest of your life."

This twisted script of cause and effect is rote to us, innate, and unquestionable. A single mistake ruins your life. Academia is horrifically high-stakes to us, and the pressure is awful.
Read the full comment, and many more responses, here.
---
Verbs
The mystery of the San Bernardino shooters' social-media activity deepened, Star Wars: The Force Awakens reviewed, 1939 recording of the inventor of basketball unearthed, bank robbery suspect hilariously captured.
---
Answers: japan, 1991, high-school seniors
---
We want to hear what you think about this article. Submit a letter to the editor or write to letters@theatlantic.com.