The Atlantic Daily: Canada and Syrian Refugees, U.S. and Gun Laws, Britain and Trump
The first of thousands of asylum-seekers traveled to Canadian cities, Connecticut's governor announced a new firearms measure, Britons boycotted the U.S. Republican presidential frontrunner, and more.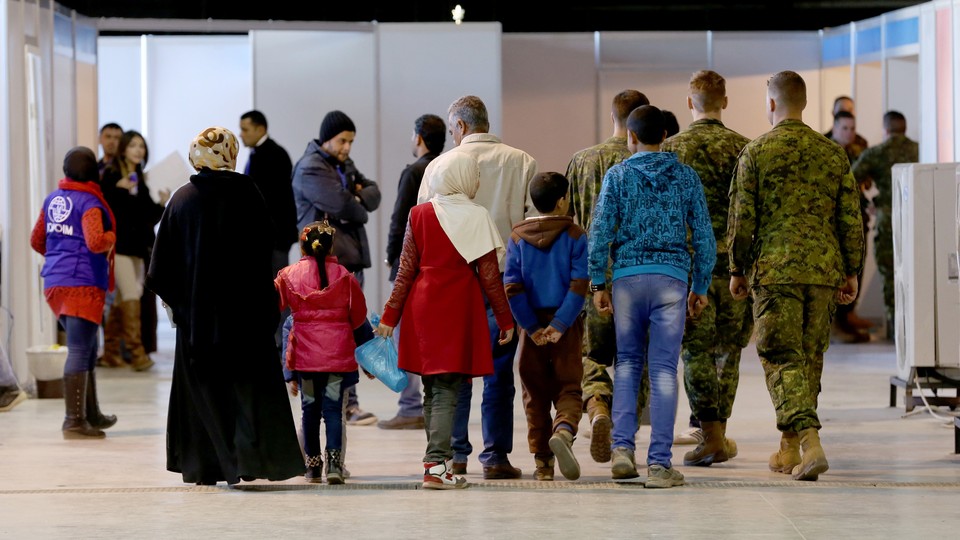 What We're Following: A Journey to Canada
A group of 164 Syrian asylum-seekers left a refugee center in Beirut today on a Canadian government plane, bound for Toronto. The refugees are part of newly elected Prime Minister Justin Trudeau's plan to resettle 25,000 Syrians in Canada by February. Trudeau's position is a reversal from the stance taken by his predecessor, Stephen Harper, who had declined to accept more refugees from the war-torn country.
Shift in U.S. Gun Policy: Connecticut's governor announced he would sign an executive order that would ban people on federal "watch lists"—like the no-fly list—from buying firearms in his state, which already has some of the strictest gun laws in the country. Meanwhile, in Washington, Obama administration officials are finalizing executive action that would expand background checks on gun purchases.
This Response to Trump: More than 475,000 people in the United Kingdom have responded in kind to the Republican presidential frontrunner's call for banning Muslims from entering the U.S. by calling for a blanket ban of their own—on all Donald Trumps entering the U.K. The petition has garnered more than four times the necessary signatures to be considered for debate in the British Parliament.
---
Snapshot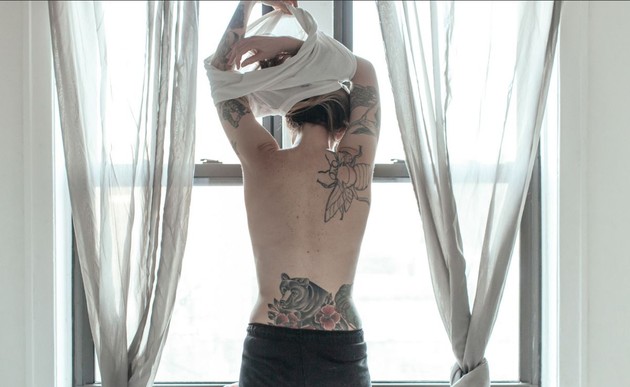 ---
Quoted
Tina Collier, a Donald Trump supporter: "I really am worried that if he keeps saying some of what he's been saying he might drive people away."
Steven Allison, a biology professor: "Dead animals are big, concentrated blobs of protein and fat, and these microbes are lurking in the soil ready to start eating our bodies when we die."
Chris Urmson, who designs self-driving cars, on the early response to elevators: "You couldn't possibly imagine relinquishing your life to this thing. So it was people's job to sit in the elevator and press the button for you—because it was so complicated."
---
Evening Read
Megan Garber on what we talk about when we talk about "demagogues":
As an insult, certainly—as an implicit invalidation of one's political rhetoric—"demagogue" is a very good word. It's slightly gentler than "fascist" and slightly more dignified than "buffoon"; it's extremely opinionated, and yet carries itself with the gravitas of informed objectivity. Uttered aloud—that evocative agog— it forces one's mouth to gape appropriately. And while Trump is certainly not the only contemporary politician to be dismissed under its auspices ("Demagoguery 101," Charles Krauthammer wrote of President Obama and his policies), no figure has so clearly deserved the word since Huey Long and Joe McCarthy and Pat Buchanan riled the former century. So deep has the impact of Trump's fist-pounding rhetoric been that, at this point, there's a metonymic circularity to the whole thing. The Economist recently published an article titled "The Art of the Demagogue." It did not need to clarify who it was about.

But what, actually, are people accusing Trump of when they accuse him of demagoguery? It's not simply Biffery or buffoonery or baboonery; it's something more contextualized. More systemic. More dangerous. To call Trump a "demagogue" is to do two things at once: to dismiss him as a political candidate and amplify him as a political threat. That is appropriate, because the key thing about demagogues, historically, is that they have been people who, by way of their very popularity, threaten the populace. They undermine the stability of a "by the people" form of government particularly by turning "the people" against each other. They represent a danger not just to electoral outcomes or political parties, but to democracy itself.
---
News Quiz
1. The newly released second season of the popular crime podcast Serial features the case of __________.
(See answer or scroll to the bottom.)
2. Google wants to deliver Internet service to remote areas of the world using __________.
(See answer or scroll to the bottom.)
3. In Canada, one seawall—a type of water infrastructure—doubles as __________.
(See answer or scroll to the bottom.)
---
Reader Response
As the Supreme Court considers affirmative action, a reader joins the debate:
I am a black student who went to an Ivy League School for undergrad and now applying to graduate school. I am very split about affirmative action. On one hand, I hate it. I am never recognized for any of my accomplishments, never given the respect I feel is due because of affirmative action. When I got into my Ivy League undergrad (and unlike Abigail Fisher, I was actually in the top 10 percent of my class when I was applying to college). I took the second hardest course load in my school, had a 2250 SAT, and pretty much knocked the Verbal section out of the park by getting a cool 800.

But the same classmates I went to school with, spoke to, and beat in competitions grumbled behind my back: "It was affirmative action."  ... Affirmative action seemed to tarnish my achievements like a black mark.  ...

On the same hand, I do not want to see AA go. Why? Because our college system is not fair. At my Ivy, I met some very dumb people who were legacy admits (why should you go to school because your father or mother went there?), development admits (mom and dad gave the school money), prep students who play obscure sports (polo, squash, sailing, horseback riding, etc.) and mediocre sons of professors, famous people, or CEOs. Yet there is no outcry over that.
Read the full comment here.
---
Verbs
Chocolate bar-involved punching attack reported, hoverboard-riding store thief caught, history of bathroom signage explored.
---
Answers: BOWE BERGDAHL, BALLOONS, PUBLIC ART
---