The Atlantic Daily: Russian Jetliner Crash, Nepal Bus Accident, Election Day
Investigators continued their investigation into the plane crash in Egypt, dozens were killed when a bus went off the road in Nepal, U.S. voters headed to the polls, and more.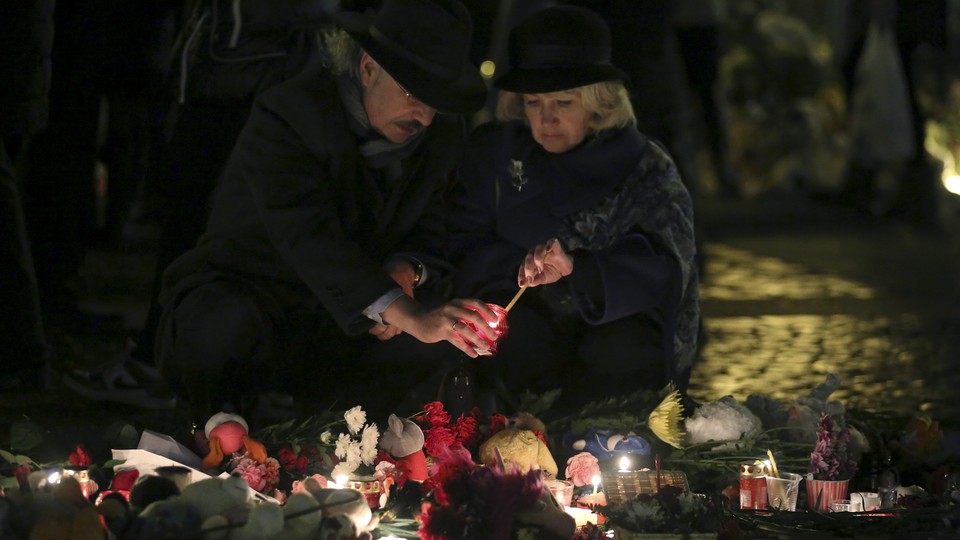 What We're Following: The Mystery of Metrojet Flight 9268
The remains of the victims of Saturday's Russian plane crash in Egypt have been transported from Cairo to St. Petersburg, and Russian families have begun identifying passengers. Russian and Egyptian investigators have started to examine the commercial jet's black boxes, the devices that record flight data and audio from inside the pilot's cockpit. Their contents may help determine the cause of the crash, which killed all 224 people on board.
Tragedy on the Road: At least 30 people were killed and 35 were injured in Nepal when a bus veered off a road and rolled down a mountain slope. Some passengers were traveling on the roof of the bus, a practice that is typically prohibited for safety reasons. A fuel shortage in the country has resulted in a shortage of buses, prompting overcrowding.
To the Polls: Voters headed to their polling stations to answer a slew of important questions: Whether Democrats can cling to control in Kentucky, whether Mississippi's legislature will be required to fund the state's schools, whether Ohio will legalize marijuana, and who will lead some of America's biggest cities. Read up on what's happening today here, and tell us: Which races did we miss? Or is there one we mentioned that you're especially invested in? Once the results come in, what surprised you? How do you think the outcomes will change things for you, your family, or your community? Tell us in an email to hello@theatlantic.com; we'll post the most notable responses.
---
Snapshot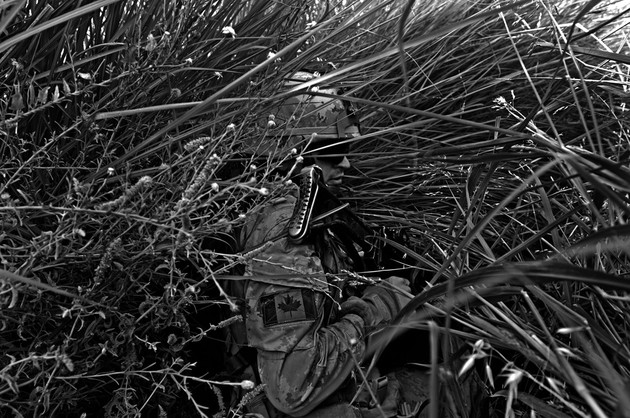 ---
Quoted
Ash Carter, U.S. secretary of defense: "State collapse in the Middle East is the phenomenon of our time."
Tony Haile, CEO of a tech company, on how his team stays safe from hacks: "We do our best to maintain stringent security practices and all internal communications occur entirely in emoji."
Anne Hilborn, who studies wild cheetahs, on how to collect cheetah poop: "I'm wearing gloves, and waddling about the Serengeti, sniffing grass, with an ice-cream scoop and a tube of ethanol."
---
News Quiz
1. Twitter replaced stars as the symbol of "faves" with _______.
(See answer or scroll to the bottom.)
2. Nearly 60 percent of Republicans surveyed in a new poll said the presidential candidate they trust most to manage the economy is _________.
(See answer or scroll to the bottom.)
3. New research suggests that Earth experiences a major extinction every _______ years.
(See answer or scroll to the bottom.)
---
Evening Read
The author Mary Gaitskill, interviewed by Joe Fassler, on how a single moment in Tolstoy's Anna Karenina reveals its characters' hidden selves:
Which is the real Anna, and which is the real Karenin: the people they are at the tender bedside moment, or the people they become afterwards, when the fever subsides?  I don't think you're given a clear answer—that's part of what I like about it. The person Anna reveals when she really believes she's going to die may be in fact the truer part of herself. As in real life, you can't know.

I believe that the truest parts of people can be buried, and for many different reasons. It's very mysterious and strange, and though I don't think about it consciously while I'm writing, I do believe this about people—so it probably does show up in my work.

People sometimes turn out to be almost the opposite of how they present. It isn't because they're trying to fool you, or because they're hypocrites. It's because they badly want to be that thing, and so they'll try to be it. It's not even like they're deliberately pulling the wool over people's eyes. That's their ideal, and that's what they try for. But it's not who they are.
---
Reader Response
A reader joins the discussion about assisted suicide:
For most of her life, my grandmother struggled with chronic depression. It runs in my family, including myself, so I understood the struggle she went through, the dark hole that exists within, even though my depression has so far never run as deep. … As she aged, the drugs stopped working as well and she starting falling to the dark pit again. My grandmother tried everything to run from that dark hole again, including ECT treatments, new drugs, moving to a different state, different doctors, different therapists, different pastors.

Still, despite all of that, my grandmother committed suicide. It was devastating for the whole family. … And personally, knowing what my grandmother went through, knowing what I've gone through, the idea of assisted suicide terrifies me. What happens when someone like my grandmother goes to a physician for an assisted suicide? What happens when that dark hole takes hold and some white coat decides that the pain may as well be considered "terminal"? That dark hole takes your sanity; you cannot make a rational decision when it pulls at you. What happens to me, my family, when it pulls and suicide is available, considered a good thing, a relief?
Read the whole story, and more perspectives, here.
---
Verbs
Jon Stewart-HBO deal inked, baby on Times Square subway tracks rescued, Donald Trump's new book dissected.
---
Answers: HEARTS, DONALD TRUMP, 26 MILLION
---