The Atlantic Daily: Paris and Beirut, Hollande and Obama, Syrian Refugees and American Governors
The world continued to mourn victims of terrorist attacks, world leaders vowed to defeat ISIS, U.S. politicians promised to block the government's resettlement plan for asylum-seekers, and more.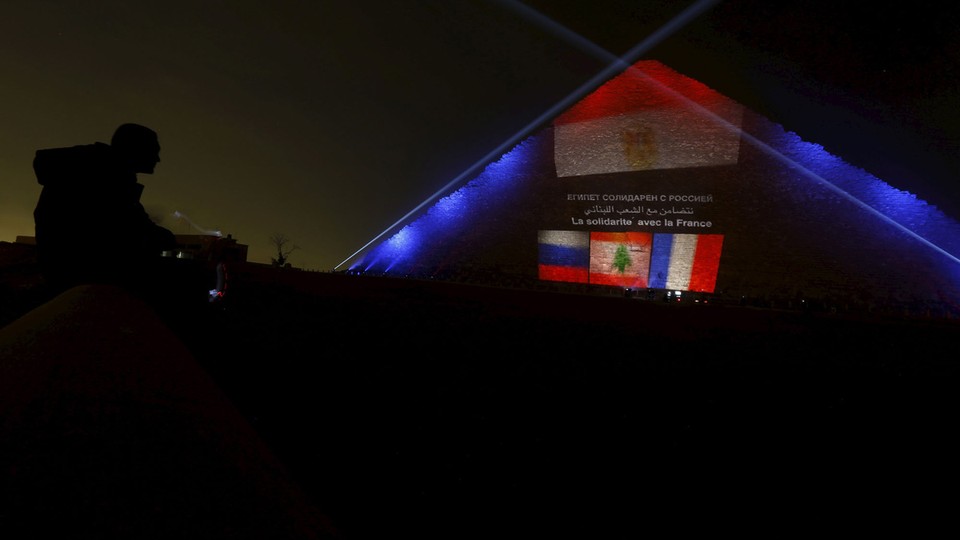 What We're Following: Reaction to Terrorist Attacks
Dozens of people remain hospitalized in Paris days after coordinated attacks across the city killed at least 129 people, marking the deadliest terror attack in Europe in over a decade. French police have carried out more than 150 raids in search of more suspects, and French warplanes struck the Islamic State, which has claimed responsibility for the rampage, in its Syrian stronghold in Raqqa. The terrorist group also took credit for bombings in Beirut last week, which killed 43 people. (Here's a roundup of our coverage over the weekend.)
Presidential Promises: French President François Hollande said his country is committed to "destroying" the Islamic State, and warned that failed European border control policies "would mean the dismantling of the European Union." U.S. President Barack Obama defended his strategy for defeating the Islamic State despite the Paris attacks, and said that it would be a "mistake" to send U.S. ground troops to Syria to fight militants.
Rejecting Refugees: More than a dozen U.S. governors said that they don't want their states to accept Syrian refugees. Arab-American leaders and refugee advocates criticized the announcements as alarmist, and Obama vowed not to "shut the door" to Syrians. In Congress, some Republicans called for restrictions on the U.S. plan to take in 10,000 Syrian refugees next year.
---
What You're Wondering
Friday's attack in Paris is only the latest in a series of atrocities outside of the Islamic State's core territories that have been attributed to the group in recent weeks.
You've seen no shortage of news coverage around the attacks; we'd like your input to make sure ours is helpful. So tell us: What questions do you have about the ISIS attacks in Paris and Beirut?
---
Snapshot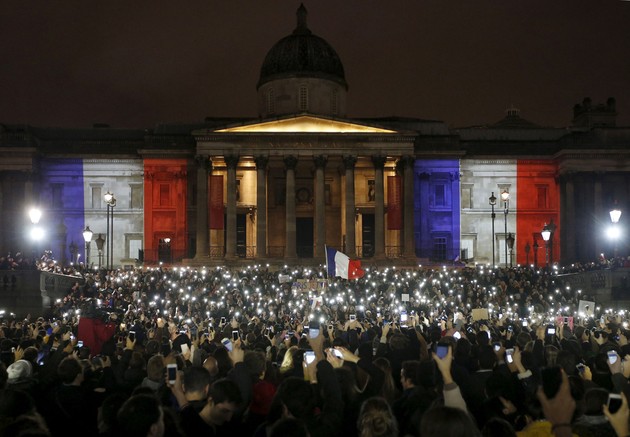 ---
Quoted
Flora Desprats-Colonna, a filmmaker who lives near the site of one of the Paris attacks: "I think the terrorists attacked here because we are all mixing together. They don't like that."
Daniel Hamermesh, a labor economics professor, on increased wages: "You're not going to get this for free."
David Karol, a political scientist, on why presidential polls aren't reliable: "The media don't always report the numbers that say 'not sure' or 'don't know enough.' "
A Paris cafégoer: "I never thought having a drink on a café terrace would be an act of resistance. But I could get used to it."
---
News Quiz
1. Consuming _________ can alter humans' gut microbiomes for up to a year.
(See answer or scroll to the bottom.)
2. The oldest stars in the universe are composed almost entirely of _________.
(See answer or scroll to the bottom.)
3. New research suggests that gourds, pumpkins, and squashes have survived the past several millennia only because of ______________.
(See answer or scroll to the bottom.)
---
Evening Read
David Graham on the empathy gap between Paris and Beirut:
One potential explanation is simple: There were three times more deaths in Paris than in Beirut. Beyond that are a host of other, intertwined reasons. Perhaps chief among them is familiarity. Americans are much more likely to have been to Paris than to Beirut—or to Cairo, or to Nairobi, or to any number of cities that have experienced bloody attacks. If they haven't traveled to the French capital themselves, they've likely seen a hundred movies and TV shows that take place there, and can reel off the names of landmarks. Paris in particular is a symbol of a sort of high culture. Just as a mishap in your hometown hits harder than one two towns over, the average American is likely to relate more closely to violence in Paris than in other parts of the world. There is also a troubling tribal, or racial, component to this familiarity factor as well: People tend to perk up when they see themselves in the victims.
---
Reader Response
A reader continues the debate about the protests on college campuses:
Consider for a minute the controversy over the email Erika Christakis wrote at Yale regarding Halloween costumes: "If you don't like a costume someone is wearing, look away, or tell them you are offended. Talk to each other. Free speech and the ability to tolerate offence are hallmarks of a free and open society..."

This advice strikes me as remarkably detached from the realities young African Americans have grown up with. A discussion of an offensive costume that escalates into a confrontation can end badly, and the record of the American carceral culture gives African American students plenty of reason to believe the police will hold them responsible if it does. Conor Friedersdorf observes that what happens at Yale does not stay there, but the reverse holds also: 40 years of an expanding American carceral culture affects what happens at Yale.
Read more responses, and add your own, here.
---
Verbs
"Jihadi Help Desk" discovered, U.S. presidential candidates illustrated, John Boehner vacuums, life in Paris goes on.
---
Answers: ANTIBIOTICS, hydrogen, HUMAN INTERVENTION
---