The Atlantic Daily: Attacks Across Paris, a U.S. Supreme Court Abortion Case, a Myanmar Opposition Victory
A state of emergency is declared in France, the justices grant a petition on Texas abortion laws, Aung San Suu Kyi's party wins an absolute majority, and more.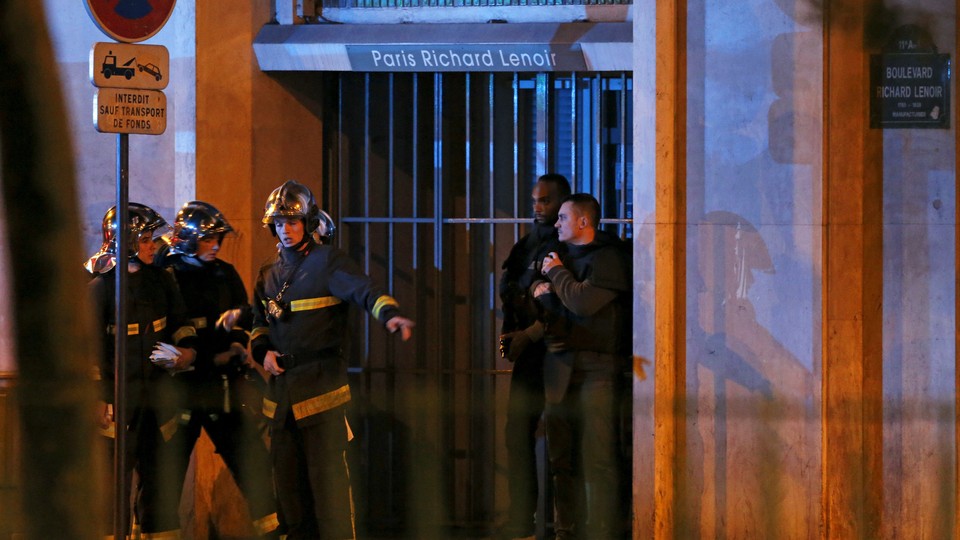 What We're Following: Darkness in the City of Light
President Francois Hollande has declared a state of emergency across France and closed the country's borders after a series of attacks across seven sites in central Paris killed dozens of people late Friday. Multiple reports chronicle a series of shootings, explosions, and a possible hostage crisis in the French capital.
It's unclear at this time who is behind these attacks, but if they were coordinated, it would be the worst violence in Paris since World War II. Follow along with our coverage here as we track this developing story.
SCOTUS Weighs Abortion Laws: The U.S. Supreme Court agreed to hear its first major case on abortion restrictions in almost eight years on Friday, setting the stage for a high-profile showdown on reproductive rights only a few months from the 2016 presidential election. The case, Whole Women's Health v. Cole, challenges a Texas law whose regulations eroded abortion access for women throughout the state.
Myanmar Opposition Wins: The National League of Democracy clinched an absolute majority in parliamentary elections earlier this month in the Myanmar's first free elections in 25 years, according to results announced Friday. The party, led by Nobel Peace laureate and former political prisoner Aung San Suu Kyi, now commands enough votes to choose the country's next president. The result marks a significant shift towards democracy after nearly five decades of military rule.
---
Snapshot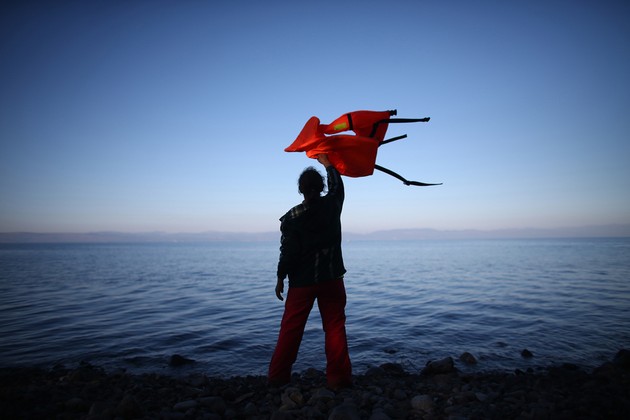 ---
Quoted
Peter King, a representative from New York, on how Congress talks about 9/11: "It's like ancient history, like the Battle of the Bulge or Pearl Harbor."
Larry Young, a psychiatry professor, on the problems with recent research on oxytocin: "The field's in its adolescence, where there's a growth spurt and not a lot of prefrontal control."
Larry Brinker, who works to expand America's drone industry, on how the debate about drones has shifted: "When I go out and talk to the public, instead of getting a question about privacy or killer drones, I get … 'When is Amazon going to deliver my package?'"
---
News Quiz
​1. Profiles on the dating app Tinder will now include information about users' _________________.
(See answer or scroll to the bottom.)
2. In the Hmong language, a single syllable spoken in different tones can have up to ________ different meanings.
(See answer or scroll to the bottom.)
3. An issue of The Farmers Almanac advises eating raisins soaked in gin as a remedy for _____________.
(See answer or scroll to the bottom.)
---
Evening Read
Willy Shih and Henry McGee on China's new answer to Hollywood and the man behind it, Wang Jianlin:
As we drove around the rock-strewn, half-constructed site, we came across a set featuring a life-size segment of the Great Wall of China. A small army of extras was practicing scenes for The Great Wall, starring Matt Damon and directed by Zhang Yimou, the internationally acclaimed filmmaker who staged the opening ceremony of the 2008 Beijing Olympics. The movie, which will be released next November, is the largest Chinese-American co-production in history, with an estimated budget of $150 million. …

Wang wants to make such collaborations routine—and to eventually create one of the world's premier entertainment companies. It may sound like folly. For all the strengths of China's economy, the country has made few successful forays into high-end, globally competitive creative industries. And the government's censorship would seem to limit the creative freedom that the film industry demands. Yet it is hard to dismiss a man with Wang's talent and track record. The enormous bet his company is making at Qingdao mirrors investments made in manufacturing across China in the 1990s and early 2000s. It isn't that hard to envision moviemaking coming to resemble the making of iPhones—with design in California and production in China. But Wang's ambition is larger: He wants to create a cultural platform that is in every sense Hollywood's rival.
---
Reader Response
A Yale alumnus and parent weighs in on the turmoil at his alma mater and other universities:
The ideal of the university is not to simply be a forum for free speech per se. It is to create an environment where the free "marketplace of ideas" can flourish. Free speech is a critical part of that marketplace, but equally critical is that all participants feel secure and valued enough to listen without fear. Turning a blind eye to bigoted or similarly ignorant speech or symbolic conduct conveys a message of its own—that certain people's fears and distress doesn't matter. It conveys that Yale is not theirs, but belongs at its core to the same people who explicitly ran it for their own benefit for most of three centuries.

The Christakises are not racist, and neither are the vast majority of their supporters. They are simply people who lack the experience of being made to feel they don't belong, or that they specifically don't belong at Yale, because of their visible heritage. It simply never occurred to the pair how that kind of disempowerment skews the ability to participate in the marketplace of ideas: The powerless can't hear, and the powerful have no incentive to listen.
But this reader, a public defender, is also worried about the incentive to listen:
In the fight for racial justice, in the fight against poverty, we have limited time and resources to accomplish the things we want to accomplish. So when I hear activists talking about how one professor's alleged insensitivity to Halloween cultural appropriation is causing their friends to have breakdowns; when I see so-called progressives threatening and shoving journalists for covering their story; when I hear friends describe "conservatives" and "Republicans" like Hutus would refer to Tutsis, I see a swiftly emptying hourglass of attention for progressive issues.
Read the full comments, and many more perspectives, here.
---
Verbs
Millennial email investigated, sugar tax recommended, self-driving car pulled over, new emoji announced, dog dates arranged.
---
Answers: jobs and Education, eight,  arthritis
---