The Atlantic Daily: Arrest on Missouri Campus, Israel and the EU, GOP Debate
University police arrested someone over social-media threats against black students, the bloc weighed in on labeling rules, Republican candidates crossed another debate off their list, and more.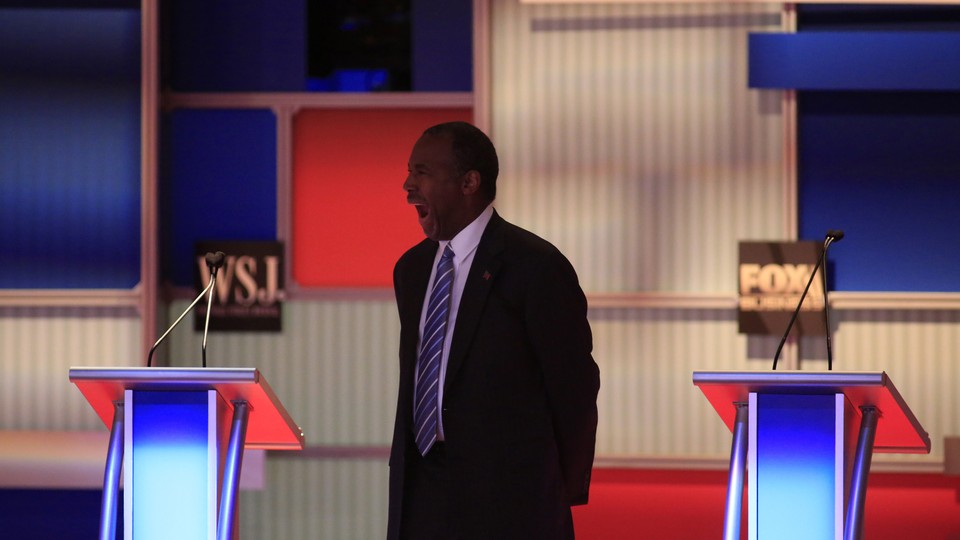 What We're Following: The Latest at Mizzou
It's been an eventful week at the University of Missouri. Its president, Tim Wolfe, resigned following protests over the school administration's response to reports of racism on campus. A graduate student ended the hunger strike he began in protest of Wolfe over a week ago. And now, university police police have arrested a person in connection with threats against black students that were posted on Yik Yak, a social-media network, and had resulted in the cancellation of some campus events.
Country of Origin No More: The European Union declared that goods made in land that was captured by Israel in the 1967 war with Arab states can no longer be labeled "Made in Israel." The international community, the EU argued, does not recognize Israel's sovereignty over the Golan Heights, the Gaza Strip, the West Bank, and East Jerusalem—territory Israel seized in that conflict. The EU, Israel's largest trading partner, pointed out that it doesn't support a boycott against Israel, but Israel Prime Minister Benjamin Netanyahu said the bloc "should be ashamed."
Yes, There Was Another One: Eight Republican presidential candidates took the main stage last night for the fourth debate of this cycle. There was no obvious winner. Marco Rubio, working off his success at the previous contest, led the pack; Ted Cruz gaffed up; Rand Paul fact-checked Donald Trump; Carly Fiorina seemed glued to talking points; John Kasich dominated the clock; Ben Carson gave a mixed performance; and Jeb Bush, the one-time frontrunner, continued to struggle.
---
Snapshot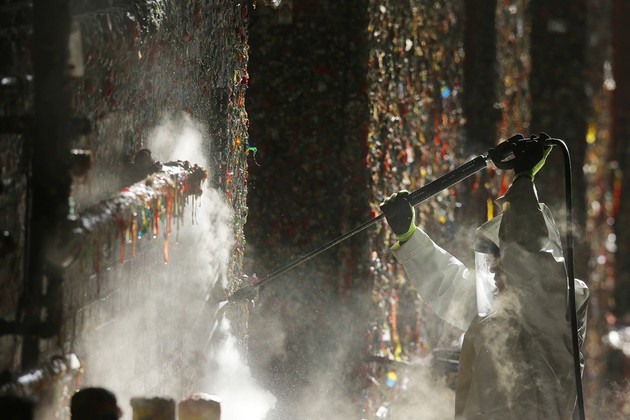 ---
Quoted
Harry Fisch, a urology professor: "For genetic abnormalities, it's not just a woman's problem anymore."
Alice Kelley, who discovered a lost Edith Wharton story, on the author's writing process: "I call it 'Wharton's cut and paste.'"
Eric Carlson, an attorney who advocates for seniors, on what can happen when nursing homes close: "No one's paying attention. You are just placed somewhere else; no one knows where you went."
---
News Quiz
1. _________ held its first free election in 25 years.
(See answer or scroll to the bottom.)

2. Several female lawmakers in __________ were kicked out of the debate chamber for protesting recent remarks by the prime minister that invoked sexual assault.
(See answer or scroll to the bottom.)
3. The FDA announced that Americans should limit their added intake of ________ to 12 teaspoons per day.
(See answer or scroll to the bottom.)
---
Evening Read
Nick Ripatrazone on why writers love to run:
Running affords the freedom of distance, coupled with the literary appeal of solitude. There's a meditative cadence to the union of measured breaths and metered strides. Writers and runners both operate on linear planes, and the running writer soon realizes the relationship between art and sport is a mutually beneficial one. The novelist Haruki Murakami, a former Tokyo jazz-bar manager who would smoke 60 cigarettes a day, started running to get healthy and lose weight. His third novel had just been published, but he felt his "real existence as a serious writer [began] on the day that I first went jogging." Continual running gave him the certainty that he could "make it to the finishing line."

Murakami's sentiment reminds me of the LSD—long, slow distance—of my college track days. My coach sent us on long afternoon runs without prescribed routes, simply giving us the directive of time. Once I built a tolerance for distance my runs became incubators for writing ideas. The steady, repetitive movement of distance running triggers one's intellectual autopilot, freeing room for creative thought. Neuroscientists describe this experience as a feeling of timelessness, where attention drifts and imagination thrives.
---
Reader Response
Many readers wrote in about last week's call by Ian Bogost for programmers to stop calling themselves engineers. Someone with experience in both fields writes:
I am a retired electrical engineer with a degree in electrical engineering. I held licenses in Ohio for electrical and California for nuclear. However, I ended up spending most of my working career in software. I was always "too slow" and "too elegant" in my work because I attempted to apply engineering principles to my work. Our department motto was "good enough is best." Only after I retired did I hear from co-workers that my work was referenced as "how to do it right." It was probably the only satisfaction I got other than constant employment and a decent paycheck.
Another reader has an explanation:
There is an anthropological, cultural side to this as well, that has developed mostly out of Silicon Valley in the last twenty years. Startups, which might grow to immense size, are said to always start out in chaos, not in engineering. So now it is the chaos and not the engineering which is valued, even in startups that are richly funded.
This reader has a different one:
Programmers get no respect. The programmers themselves know it, and management knows it as well. But rather than give programmers the money and respect they're due, they hand out nonsensical titles instead, like "software engineer." It's no different from being a "sandwich artist" at Subway. Corporate America would rather use cheap psychological tricks to motivate workers than pay them and give them time away from work.
And this programmer agrees:
If management respected programmers, they'd pay better wages and time and a half for overtime. Maybe you should blame them instead of looking at programmers like me. I just work here.
Read more perspectives, and share your own, here.
---
Verbs
America's veterans honored, FIFA's Sepp Blatter hospitalized, Finnish emoji prepared, old toenail clippings studied.
---
Answers: MYANMAR, NEW ZEALAND, sugar
---