The Atlantic Daily: Obama's Pipeline Rejection, Putin's Flight Ban, America's Job Growth
The White House nixes the Keystone XL pipeline, Vladimir Putin cancels all Russian flights to Egypt, the U.S. unemployment rate drops to 5 percent, and more.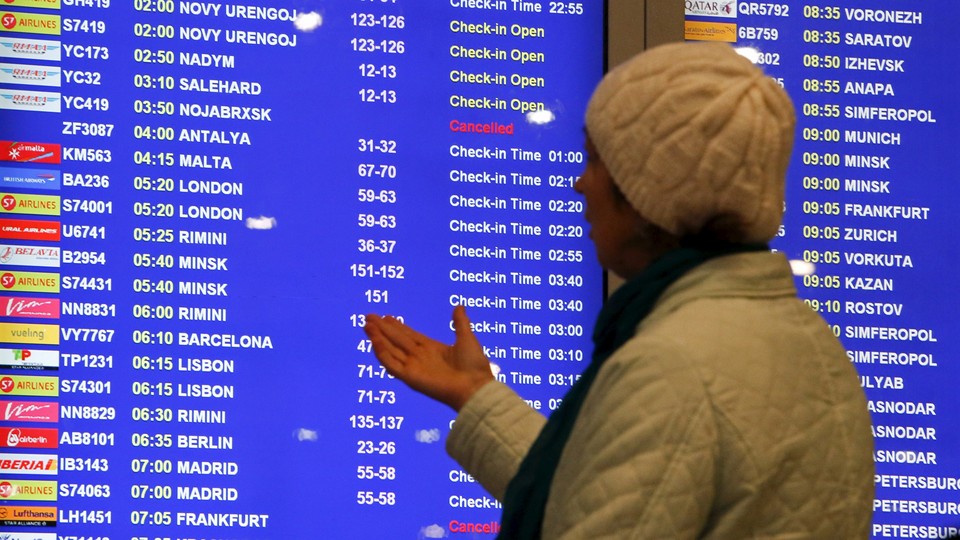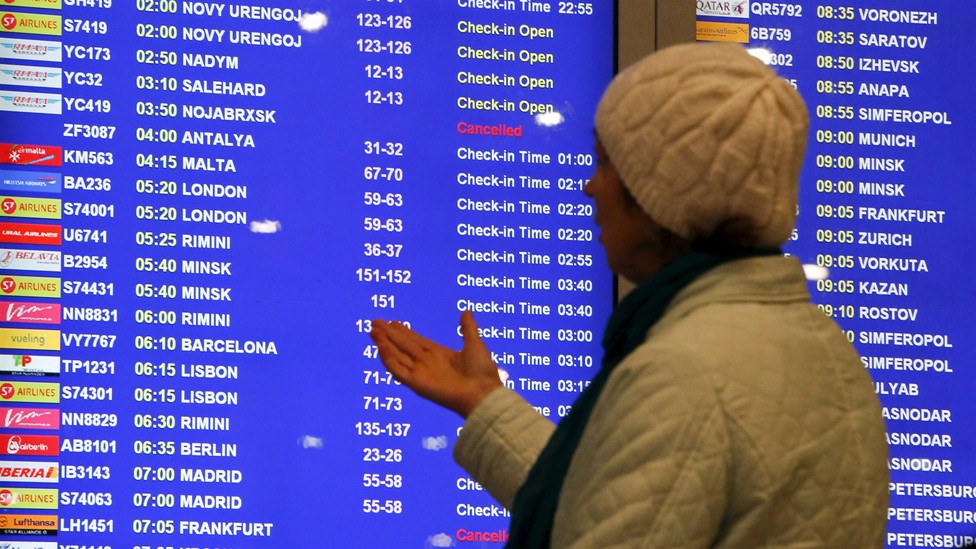 What We're Following: Keystone-walled
President Obama formally rejected the Keystone XL pipeline after more than six years of review by the State Department, he announced Friday. Flanked by Vice President Joe Biden and Secretary of State John Kerry, Obama said he agreed with the department's determination that the controversial pipeline "would not serve the national interests of the United States." Environmental activists applauded the decision, while Republican presidential candidates vowed to overturn it.
Moscow-to-Cairo Flights Halted: Russian President Vladimir Putin suspended flights between Russia and Egypt on Friday as investigators from both countries probe the crash of Metrojet Flight 9268 last weekend. ISIS claimed responsibility for the airliner's downing, which killed 224 people, but Moscow and Cairo called speculation about the cause premature. British Prime Minister David Cameron and President Obama said Thursday that the cause appears to be terrorism.
In the Jobs Report, Hope and Cash: The U.S. unemployment rate dropped to 5 percent in October, according to the monthly Bureau of Labor Statistics jobs report released Friday. The data showed strong employment growth across most sectors, with an average of 187,000 jobs gained per month since August. With increasing signs of vigor in the U.S. economy, observers speculated that the Federal Reserve could make its first interest-rate hike in nearly a decade in December.
---
What You're Wondering
Brace yourselves—there's still a little under a year to go before the actual presidential election is upon us. As we continue our campaign coverage, we want your guidance to help us cut through the noise. We'll use your ideas to plan stories, projects, and videos. So tell us: What do you wish you knew more about going into 2016?
---
Snapshot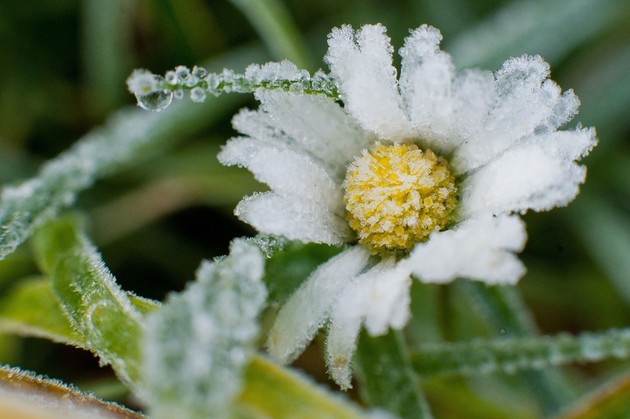 ---
Quoted
Ashton Carter, U.S. secretary of defense, on why Arab Gulf states should change their priorities: "You're not going to protect the integrity of your own state, you're not going to protect from infiltration from outside, by having a bunch of fancy equipment."
Sandow Birk, illustrator of American Qu'ran: "You could make the argument that the Koran is the most important book in the world right now, and it has been for the last 20 years. … For Americans to not know what it says is a mistake."
Dave Brain, a planetary science professor, on the quarter-pound-per-second rate of atmosphere loss on Mars: "I can't help but imagine hamburgers flying out of the Martian atmosphere, one per second."
---
News Quiz
1. 60 percent of inmates in Mexico's prisons are serving sentences for transporting, selling, or possessing __________.
(See answer or scroll to the bottom.)
2. Almost 2.5 million rural ___________ in India have no formal training.
(See answer or scroll to the bottom.)
3. About 20 percent of all Russian tourists traveling abroad visited ________ in 2014.
(See answer or scroll to the bottom.)
---
Evening Read
Alana Semuels on a new "coliving" space, designed to work like a dorm for Millennials:
Millennials are staying single longer than previous generations have, creating a glut of people still living on their own in apartments, rather than marrying and buying homes. But the generation is also notoriously social, having been raised on the Internet and the constant communication it provides. Indeed, more 25-to-34-year-olds live with roommates than have in previous generations, partly because rental prices have climbed while wages have remained stagnant.

But this is also a generation that has grown up with luxury, and may be accustomed to college campuses with climbing walls, infinity pools, and of course, their own bathrooms. Commonspace gives these Millennials the benefits of living with roommates—they can save money and stay up late watching Gilmore Girls—with the privacy and style an entitled generation might expect.
---
Reader Response
Joining the debate inspired by The Atlantic's new project—"What to Do About ISIS?"—a reader lays out a two-point solution:
1) We must make every anti-ISIS country and faction accept that they have to commit the vast majority of the ground troops needed to confront ISIS. It's their neighborhood, not ours. Significant numbers of U.S. boots on the ground only produces negative results.

2) We must compel the current Iraqi Shia government to include the Iraqi Sunnis in the central government. This might save Iraq from eventual political disintegration and keep Iran's influence to an acceptable minimum.
Another reader has a contradictory plan:
Simply defend the remaining lands of the country that has been known as Iraq while ISIS consolidates its territorial gains, then broker some demilitarized zones and ersatz borders with neighboring countries.

Then the region would have what the British and French should have drawn up a century ago: a Sunni country (Islamic State or whatever), a Shiite country (Southeast Iraq or whatever) and ideally a Kurdish State, which may not be allowed officially by Turkey but may exist in a de facto semi-autonomous form for a few decades.

Not exactly what America regards as a win? Not an ego-booster for the country with more power and money than anyone else? Certainly not. But it is the logical end to what America's idiotic invasion set in motion more than a decade ago.
Read the full arguments, and more perspectives, here.
---
Verbs
Panda language decoded, Russian Orthodox wifi offered, Britain's worst speeding offender jailed.
---
Answers:  Marijuana, Medical Practitioners, EGYPT
---