The Atlantic Daily: Terror Warnings in Brussels, Clues in Paris, Fact-Checks for 2016
The Belgian capital remains on near-lockdown, French police discover a weapon related to the attacks, Donald Trump got his numbers on U.S. crime completely wrong, and more.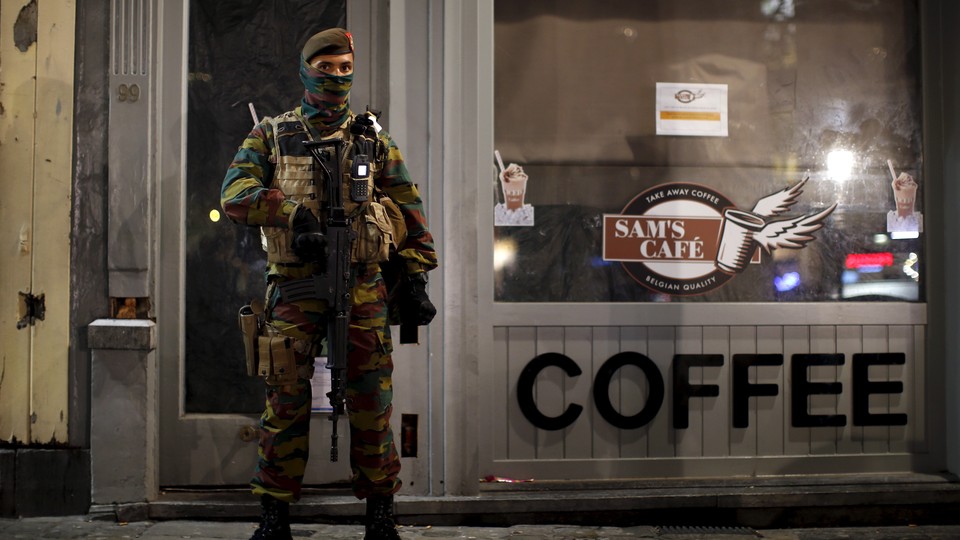 What We're Following: Belgium's Capital on Edge
The city is in its third day at the country's highest terror alert level as security forces search for suspected extremists that government officials believe could stage a Paris-style assault. Belgian authorities arrested and charged one man, whose identity was not released, in connection with the attacks that killed 130 in the French capital. Several others have been questioned and released. The Brussels schools, universities, and metro are all closed, and authorities have warned citizens to avoid large crowds and public places.
A Discovery in Paris: The investigation of the deadly attacks has largely moved to Brussels, but French police are still searching for signs of the attacks in Paris, where a street cleaner found an explosive belt without a detonator in a pile of rubble in one of the city's suburbs. Officials said the location is where Salah Abdeslam's cellphone was used on the day of the attacks. Abdeslam is believed to be the only known survivor from the terrorist team that attacked the French capital, and remains at large.
Quite the Weekend: Presidential candidates are known for playing fast and loose with the facts on some occasions. Same goes with making some inflammatory comments. But Donald Trump set the bar high in the last three days: He twice claimed—despite no evidence that it happened—that "thousands" of Muslims in New Jersey cheered as the Twin Towers collapsed; he backed up the people who beat up a Black Lives Matter protester at one of his rallies; and he tweeted U.S. homicide statistics that were completely incorrect.
---
Snapshot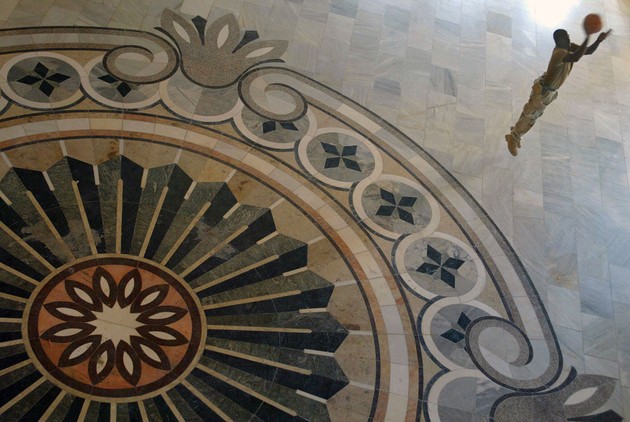 ---
Quoted
Mike Lawler, who gives tours of  a historic sanitarium: "Sure, we have ghosts. But it's a pretty pleasant haunting."
Christopher Vaccaro, a spokesman for the National Weather Service, on forecasting tornadoes: "If you were to go back and tell meteorologists in the 1970s we would be able to forecast these big events three to five days in advance, they would think you were experimenting in witchcraft."
Laila Alawa, a Muslim writer, on the Islamic State: "I don't believe in apologizing [for] or condemning the actions of people who are, frankly, pieces of shit who happen to call themselves Muslims."
---
News Quiz
1. A 1964 memoir by ___________ began selling out of bookstores in Paris after the deadly terrorist attacks.
(See answer or scroll to the bottom.)
2. A project to improve the flavor of ____________ led one scientist to identify the link between trans fats and heart disease.
(See answer or scroll to the bottom.)
3. At top-tier U.S. universities, black undergraduate populations average ____ percent, a statistic that has remained largely flat for 20 years.
(See answer or scroll to the bottom.)
---
Evening Read
William Deresiewicz on The Complete Works of Primo Levi:
Many factors contributed to Levi's survival, most of them matters of sheer luck, but chief among them, by his own account, was the will to bear witness: to transmit the experience, to a no doubt disbelieving world, with scrupulous exactitude. The effort clears his eyes and purifies his language. There are few general ideas in If This Is a Man—life under Fascism, he would later say, had taught him to prefer small, verifiable statements to big, rhetorical ones—but rather a succession of indelible particulars. The way you say never, in the slang of the camp, is "tomorrow morning." Packed together with a mass of other naked men awaiting a "selection," one of the periodic medical inspections that determine who gets to keep on suffering and who will be sent to the gas, he experiences "the sensation of warm flesh pressing all around" as "unusual and not unpleasant." "In German," he tells us, "I know how to say eat, work, steal, die." …

In 1961, 14 years after the book's initial publication, a translation was made into German. In the preface, Levi writes that his one conscious purpose in life has been "to make my voice heard by the German people, to 'talk back' to the SS … to Dr. Pannwitz … and to their heirs." Beasts do not talk back. In the camp, he has told us, you learn very quickly not to ask questions, because you're not entitled to an answer. Communication goes in one direction, by means of shouts and blows. But now he has something to say to the Germans: "I am alive, and I would like to understand you so that I can judge you." We are witnessing a very private interaction.
---
Reader Response
A 2013 graduate of one of the high schools profiled in our December cover story on suicides in Silicon Valley writes:
This article makes the Palo Alto community hurt. It does not give us a clear sense of mind, nor does it give us solutions to the "problems" that are laid out by the author. Now all that other people will think about my alma mater, Gunn High School, is that it is "'the suicide school'" [as conveyed to Hanna from local middle-school kids who call it that]. … These are people's feelings that the author has written and painted to fit her argument. Not only does that limit the validity of our feelings, but it silences us to have to believe that these factors that she's written down are the reasons for these suicides. People are trying to cope, but all this does is expose the wound for people not in our community to make decisions about why we are feeling what we are feeling.  … She did not grow up in the community, she did not go to school here, she did not experience high school like Gunn students have, so how can she write about it like she knows what the problems are, and that our future generations will forget about this when they go to Gunn?
A Palo Alto graduate, who was interviewed for the article, objects:
The main "why" of suicide is mental illness. Stress can heighten mental illness, it can cause depression, but there is no evidence showing that this stress is what led to any of these suicides. Harry Lee was suicidal and depressed. His parents stressed that at his funeral. He had been fighting a mental illness for years, and the depression won. … There are kids who are pushed along by their parents and have their whole lives planned out for them. This happens everywhere across the country. But publicizing this issue using the suicides in my hometown, where there is no connection between this and the kids who committed suicide, is just painful and harmful to this group of people trying to heal.
Read the full comments, and more perspectives, here.
---
Verbs
Makers of Botox and Viagra merge, yogurt's savory roots discovered, single-digit population of world's northern white rhinoceros further dwindles, cheating accusations in Zimbabwe's "Mister Ugly" contest abound, how New York City gets dolled up for the holidays revealed, the future of space toilets considered.
---
Answers: ernest hemingway, frozen turkeys, 6
---