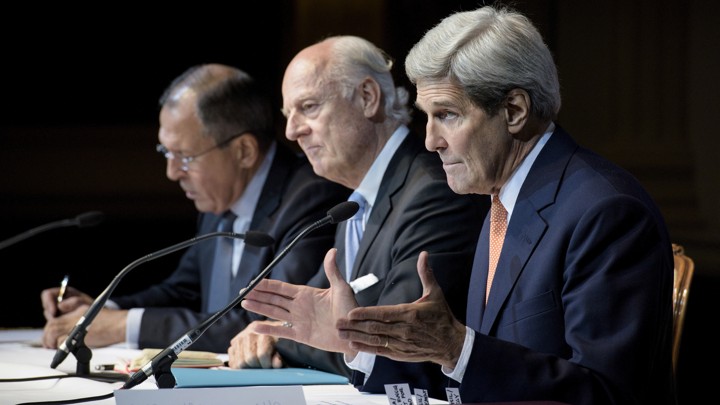 What We're Following: U.S. Special Forces in Syria
In a significant shift in U.S. policy in the Syrian civil war, a small group of U.S. special operations forces will deploy to Syria and coordinate with local groups against ISIS, the White House announced Friday. About 50 soldiers will be deployed to "train, assist, and advise" moderate Syrian rebels. The announcement comes a little more than two years after President Obama said he would not put "boots on the ground in Syria."
Senators Avert Shutdown: The U.S. Senate passed a bipartisan budget deal in the early hours of Friday morning on a vote of 64-35. The bill will prevent a federal government shutdown on November 1, add $80 billion in new spending, and extend the debt ceiling until March 2017. President Obama is expected to sign it into law over the next few days.
RNC vs. NBC: Republican National Committee chairman Reince Priebus suspended his agreement on Friday to host a February presidential debate with NBC News. Priebus's move comes only days after intense criticism of CNBC's moderators and questions during Wednesday's debate from the RNC and the conservative establishment. The GOP candidates' campaigns will also meet without the RNC this weekend to discuss what they perceived as an unfair debate process.
---
Snapshot
---
Quoted
Matt Kaplan, author of The Science of the Magical: "Science and mythology are viewed as completely opposite ends of the spectrum, and yet they are sisters."
Dick Durbin, a Democratic senator from Illinois, on for-profit colleges: "When will our government hold this industry accountable for the damage it is causing students across America?"
Jeff Obafemi Carr, a Tennessee pastor: "So many times, people think they have to get a Ph.D. so they can get grant money to do a study to find out that the number-one thing to do to fight homelessness is to give someone a home."
---
News Quiz
1. Thanks to their highly sensitive whiskers, ________ can hunt prey with GPS-like accuracy without sight or hearing.
(See answer or scroll to the bottom.)
2. Planets come from a pancake-like glob of gas particles and dust called the ____________________.
(See answer or scroll to the bottom.)
3. Most table salt is probably full of _________, researchers recently found.
(See answer or scroll to the bottom.)
---
Evening Read
Adrienne LaFrance on the debate surrounding Hawaii's Mauna Kea volcano, a historically sacred site—and a key place for scientific observation:
Astronomers want to move forward with plans to build their $1 billion observatory, known as the Thirty Meter Telescope, or TMT, near the mountain's summit, while local protesters are rallying against the project in an attempt to reclaim a unique and sacred place for the Hawaiian people. Over the past year, this fight spun out into a lawsuit that's now before the Hawaii Supreme Court.

This is a clash between religion and science, but it is not just that. The battle for Mauna Kea is ultimately a debate about what is truly sacred, what it means to be human, and who gets to decide. Both sides have compelling claims. The astronomers can rightly point out that there are few realms of science that are devoted to questions as lofty and awe-inspiring as those that come from inspecting the swirling, twinkling, origins of the universe. But the Hawaiians and others who oppose the Thirty Meter Telescope have a strong case for their position, too—one that goes much deeper than science versus religion.
---
Reader Response
Responding to this video about a woman struggling to end her suffering with assisted suicide, a reader who nursed his grandfather through a terminal illness reflects:
Too often, it seems, the process of dying in America is bound up in a perverse Christian-inspired narrative that imbues extensive suffering with righteousness, purification, and courage. One does not simply die of cancer or genetic disease in the United States. Instead one "loses a long battle" or succumbs after "a brave struggle." Even outside the context of sincere religious objection to assisted suicide, those who do not wish to spend their last days in agony or a shadow of their former selves are seen as somehow cowardly, weak, or disturbed.

End-of-life care in this country is rife with contradictions. For the terminally ill, suicide is frowned upon, and assisting them is illegal. It is perfectly acceptable, however, for the terminally ill to refuse or stop medical treatment, or to choose to enter hospice care and die at home. Instead of talking about the nasty business of dying slowly from a terminal illness, we talk about slippery slopes, hypothetical mad doctors pressuring their patients to save the state money by ending it all, or the sanctity of life, as if dying slowly of cancer was a blessing compared to these frightening alternatives.
Read the rest of his personal story, and share your own, here.
---
Verbs
Grantland shuttered, baby dinosaur fossil airlifted, 8,000-year-old enigma spotted.
---
Answers: seals, circumstellar disk, plastic
---
We want to hear what you think about this article. Submit a letter to the editor or write to letters@theatlantic.com.
Matt Ford
is a former associate editor at
The Atlantic
.