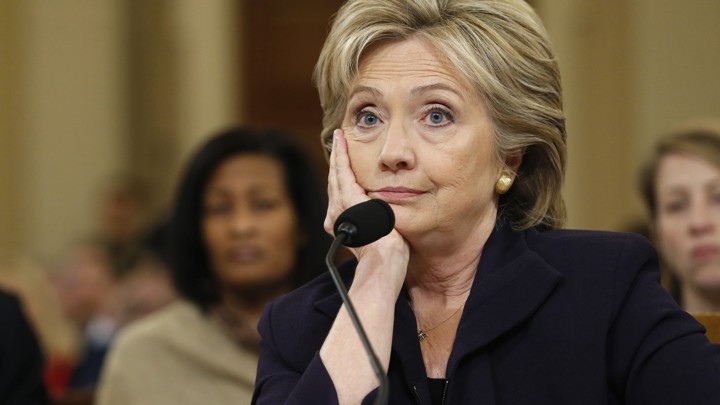 What We're Following: Hillary on the Hill
Hillary Clinton made her long-awaited appearance before the House Benghazi Committee on Thursday after 18 months and almost two dozen hearings. The former Secretary of State and Democratic presidential frontrunner answered questions about the consulate attack, her emails, and other topics during more than eight hours of contentious testimony.
U.S. Soldier Killed in Iraq: An American soldier was killed in a hostage-rescue operation with Kurdish forces on an Islamic State base in northern Iraq, the U.S. Department of Defense announced Thursday. The soldier, who has not been publicly identified, is the first U.S. combat death in Iraq since American forces withdrew from the country in 2011.
Stabbings in Sweden: A masked attacker stabbed a teacher and a pupil to death with a sword at a school in Trollhattan, Sweden, on Thursday and wounded another two students. Swedish police have described the suspect as a 21-year-old man, and local reports have claimed he had far-right political leanings. The school where he allegedly struck has a large number of immigrant students.
---
Snapshot
---
Quoted
Tim Huelskamp, a representative from Kansas, on whether Paul Ryan should be the speaker of the House: "I don't know if I want someone in there who doesn't want the job."
Stefan G. Hofmann, a psychologist, on how to treat social anxiety: "You're going to go in there now, and say the following: 'Hi, I like your face. … Would you like to give me your number?' And she would obviously say, 'No, go away, you freak,' or something. ... That would be perfect."
Maya, who graduated from Cambridge in 2014 after struggling with anorexia and depression related to her autism: "If you can go in two-and-a-half years from being locked in a psych unit to graduating from Cambridge, you can do anything, really."
---
News Quiz
1. Quarterback Peyton Manning won four Most Valuable Player awards with the _________________________ before joining the Denver Broncos in 2012.
(See answer or scroll to the bottom.)
2. The New York Mets reached the World Series on Wednesday night for the first time in __________.
(See answer or scroll to the bottom.)
3. Historians credit the ________________ with helping to create the "Greatest Generation" by sending millions to college who could not otherwise afford it.
(See answer or scroll to the bottom.)
---
Evening Read
Julie Beck on how our friendships change as we get older:
The voluntary nature of friendship makes it subject to life's whims in a way more formal relationships aren't. In adulthood, as people grow up and go away, friendships are the relationships most likely to take a hit. You're stuck with your family, and you'll prioritize your spouse. But where once you could run over to Jonny's house at a moment's notice and see if he could come out to play, now you have to ask Jonny if he has a couple hours to get a drink in two weeks.

The beautiful, special thing about friendship, that friends are friends because they want to be, that they choose each other, is "a double agent," Langan says, "because I can choose to get in, and I can choose to get out."

Throughout life, from grade school to the retirement home, friendship continues to confer health benefits, both mental and physical. But as life accelerates, people's priorities and responsibilities shift, and friendships are affected, for better, or often, sadly, for worse.
---
Reader Response
Kyle Mosurinjohn can relate to this video about coming out to your parents as tattooed:
When I was 18, I got a half-sleeve tattooed on my right arm and hid it for a while, until it became too hot outside to wear long sleeve shirts. When I showed my conservative Christian parents, my mother cried.

The ironic thing about it, though, is that my tattoo is a sinking ship with the word "grace" in a banner beneath it, symbolizing the grace of god as a vast ocean, and humanity being a ship, desperately wanting to stay afloat but inevitably being changed and overcome by grace. Despite the meaning, my mother still hated tattoos, affiliating them with drugs and evil.

Now, the more tattoos I've gotten, the more she has gotten used to them. They are reminders of grace, and reminders of my past, and why I'm here.
But another reader is more cynical:
Tattoos prove you're just one of the sheep.
Read the comments, and share your experiences, here.
---
Verbs
Trump intern blamed, Albert Einstein disproven, Robert Mugabe lauded.
---
Answers: Indianapolis Colts, 15 Years, GI Bill of 1944
---
We want to hear what you think about this article. Submit a letter to the editor or write to letters@theatlantic.com.
Matt Ford
is a former associate editor at
The Atlantic
.