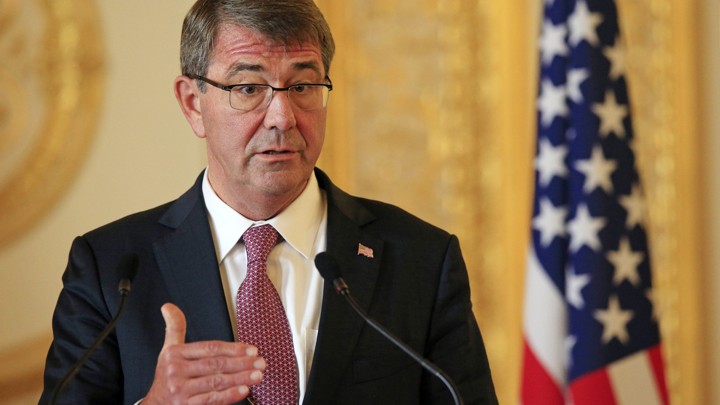 What We're Following: U.S. to End Rebel-Training Program in Syria
The United States will reportedly abandon its efforts to build a new Syrian rebel army and redirect its efforts toward supporting existing groups in the ongoing civil war. The policy shift comes weeks after the Pentagon revealed that a $500 million investment had only produced "four or five" U.S.-trained fighters on the battlefield.
Jasmine Revolution Recognized: The Norwegian Nobel Committee awarded the Nobel Peace Prize to Tunisia's National Dialogue Quartet on Friday, praising the group for "building an alternative, peaceful political process at a time when the country was on the brink of civil war." With the Quartet's help, Tunisians emerged from the tumult of the Arab Spring with a healthy democratic political system and a robust civil society.
Campus Shootings Continue: Two shootings rocked two separate university campuses on Friday as President Obama traveled to Roseburg, Oregon, to meet with victims' families from last week's shooting at a community college there. One person died and three others were injured after a gunman opened fire near a dormitory at Northern Arizona University. A few hours later, another gunman shot one person dead and injured another at Texas Southern University in Houston.
---
Snapshot
---
Quoted
Todd Smithline, a lawyer: "It turns out that an office is a really wonderful piece of technology."
​Marya Gwadz, co-author of a study about high school students' stress levels: "It's not developmentally appropriate for them to work so hard."
Chris Gerdes, an engineer developing self-driving cars: "In those cases where loss of life may be inevitable—and there will be situations like that—we want the car to make a reasonable decision."
---
News Quiz
1. The deadliest day to drive on American roadways is _______.
(See answer or scroll to the bottom.)
2. U.S. Geological Survey sensors detect roughly ____ earthquakes each day.
(See answer or scroll to the bottom.)
3. In November 1995, The X-Files made one of the first TV references to _____________.
(See answer or scroll to the bottom.)
---
Evening Read
Sarah Boxer on the exemplary narcissism of Snoopy:
To his critics, part of what's appalling about Snoopy is the idea that it's possible to create any self-image one wants—in particular, the profile of someone with tons of friends and accomplishments—and sell that image to the world. Such self-flattery is not only shallow but wrong. Snoopy, viewed this way, is the very essence of selfie culture, of Facebook culture. He's the kind of creature who would travel the world only in order to take his own picture and share it with everyone, to enhance his social image. He's a braggart. Unlike Charlie Brown, who is alienated (and knows he's alienated), Snoopy is alienating (and totally fails to recognize it). He believes that he is what he's been selling to the world. Snoopy is "so self-involved,"[critic Daniel] Mendelsohn writes, "he doesn't even realize he's not human." … Snoopy was the polar opposite of Charlie Brown, who had nothing but failures, losses, and flaws.

But were the two quite so radically far apart? … Snoopy may be shallow in his way, but he's also deep, and in the end deeply alone.
---
Reader Response
A reader joins the ongoing discussion of how to prevent sexual assault, and who should take "responsibility" for doing so:
The distinction between the onus for prevention and criminal responsibility is getting muddled: of course the perpetrator is the only person responsible for the crime, and of course, in a specific instance of rape, it is entirely inappropriate to broach prevention at risk of exacerbating the victim's tendency to feel ashamed. But speaking generally, the major point is that the onus for prevention cannot be placed on the perpetrator, any more than the onus for defeating ISIS can be placed on ISIS. It's nonsensical. A rapist is not going to heed a listicle of ten ways to avoid sexually assaulting a person, and a PSA on serial killing will never stymie a future Ted Bundy. Only a decent society and potential victims can take steps to prevent rape.
Another reader counters:
A big part of the modern anti-rape movement is the realization that many people sincerely do not realize they're committing rape—for example, with women who are too drunk or otherwise incapacitated to consent.

That's why you have campaigns like "Don't be that guy," which are actually trying to address rape prevention from the male perspective. Their effectiveness seems to be inconclusive so far, but the premise doesn't seem unreasonable on the face of it.
Read more perspectives, and share your own, here.
---
Verbs
Chinese hackers arrested, Thabo Sefolosha acquitted, captive-orca breeding banned.
---
Answers: July 4, 70, The Internet
---
We want to hear what you think about this article. Submit a letter to the editor or write to letters@theatlantic.com.
Matt Ford
is a former associate editor at
The Atlantic
.