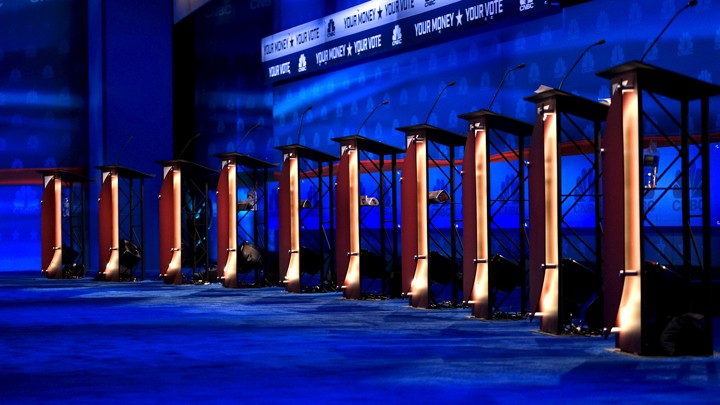 What We're Following: In South Carolina
The school officer who dragged, threw, and restrained a female student on the floor in a South Carolina classroom was fired. "It was the right thing to do," said Richland County's sheriff of the termination of Ben Fields, whose actions have been widely condemned after video footage of the incident emerged and went viral earlier this week. Police said the student, who has not been identified, was being "disruptive" at the time of the encounter.
In Congress: In a secret-ballot election, House GOP lawmakers formally nominated Paul Ryan to be speaker, ending a month-long search to find a replacement. Republicans were thrown into chaos earlier this month when Kevin McCarthy, John Boehner's heir apparent, abruptly dropped out of the race, leading members to turn to the reluctant Ryan to unite the fractious party. The full chamber will vote on the speakership tomorrow, after which Ryan is expected to become the youngest speaker since Reconstruction.
On TV: The third Republican presidential debate is tonight. Look back at what happened at the first and second events, and follow along with our live blog, launching soon.
---
What You're Wondering
We've really appreciated the thoughtful questions some of you have sent our way in response to our themed callouts. In the last few weeks, we've asked what you're curious about when it comes to schools, the global migrant crisis, John Boehner's resignation as House speaker, and a couple other topics.
But if you haven't felt all that inquisitive about those subjects, we've also got a general ask up and running. This is a new endeavor for us, but it ties in nicely with the kind of relationship we've built with Notes. We want you to be a part of our process. Ultimately, The Atlantic exists to serve readers—to answer your questions.
So, tell us (or tweet at us): What are you curious about? What questions do you want to see answered, and what concepts do you want to see explained on The Atlantic?
---
Snapshot
---
Quoted
David Hartgen, a transportation expert, on why it's hard to get people to use public transit: "It's an extremely difficult thing to do because we have this minor detail in this country called freedom."
Tracey Meares, a law professor: "Until we actually have a conversation about what privilege really means, we'll never really understand what racism means."
Jack Gilbert, a microbiologist, on why antibiotics are limited: "They're like nukes. We want to get snipers."
---
News Quiz
1. A _______ became untethered at a military facility in Maryland and temporarily floated away.
(See answer or scroll to the bottom.)
2. Two NASA astronauts spent more than six hours on a __________.
(See answer or scroll to the bottom.)
3. Most of an electric eel's organs are actually located near its ______.  
(See answer or scroll to the bottom.)
---
Evening Read
Mike Mariani on the tragic, forgotten history of zombies:
The original brains-eating fiend was a slave not to the flesh of others but to his own. The zombie archetype, as it appeared in Haiti and mirrored the inhumanity that existed there from 1625 to around 1800, was a projection of the African slaves' relentless misery and subjugation. Haitian slaves believed that dying would release them back to lan guinée, literally Guinea, or Africa in general, a kind of afterlife where they could be free. Though suicide was common among slaves, those who took their own lives wouldn't be allowed to return to lan guinée. Instead, they'd be condemned to skulk the Hispaniola plantations for eternity, an undead slave at once denied their own bodies and yet trapped inside them—a soulless zombie.
---
Reader Response
A reader joins the ongoing discussion of online dating:
Online dating has taught me that love isn't something that comes out of nowhere; it grows and it changes and it is, most importantly, a CHOICE. You choose the person you like being around the most and you make a choice to grow and learn and fight it out with someone. In a world (and especially a city!) where we constantly have what Barry Schwartz terms "the paradox of choice," love is something that is special because it's a choice to commit, and that's hard to find. … So online dating saved me in a weird way. It made me put my priorities in line so that I could articulate them to another person and weed out those who don't want to commit to the same choice I do. It allowed me to realize that I have control of this ship, and sometimes that's half the battle.
Read her story and many others here.
---
Verbs
Former House speaker Dennis Hastert pleads guilty, D.C. cop and teenager nae nae, 1,200-year-old Viking sword discovered.
---
Answers: BLIMP, spacewalk, head
---
We want to hear what you think about this article. Submit a letter to the editor or write to letters@theatlantic.com.