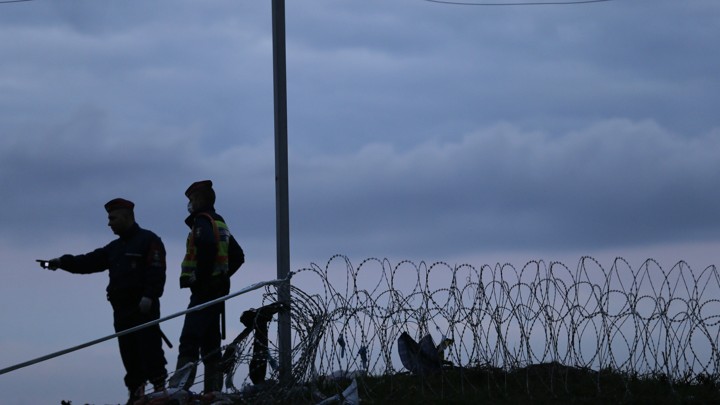 What We're Following: The Flames of Conflict
In the latest sign of escalating tensions between Israel and the Palestinians, Palestinians rioters set fire to Joseph's Tomb, a holy site in the West Bank town of Nablus, by throwing Molotov cocktails at the structure. Palestinian President Mahmoud Abbas called the incident "irresponsible" and vowed to repair the site.
The End of the Line: Hungary completed a 220-mile fence along its border with Croatia and will seal it at midnight in an attempt to prevent migrants from entering the country. More than 378,000 refugees bound for Europe have crossed into Hungary since the start of the year, fleeing war and poverty in their home countries, mostly in the Middle East. Croatia, Serbia, and Romania, along with Western European nations, have criticized Hungary's border policy.
A Different Kind of Drone Strike: Turkish warplanes shot down a drone belonging to an unidentified nation in Turkey's airspace after the aircraft didn't respond to warnings. U.S. military officials suspect the drone was Russian. Airspace over the region has seen increased activity since Russia began carrying out airstrikes against extremist groups.
---
Snapshot
---
Quoted
Eric Scheidler, who leads a group that displays graphic anti-abortion images: "I've never met a child who was traumatized by an abortion picture."
Ronald Sundstrom, a political philosophy professor: "The danger is that when we encounter xenophobia that doesn't look racist we have a hard time understanding it as a problem."
Christopher Bader, a sociology professor: "Everybody would recognize that if they were about to be murdered, that would be a terrifying and horrible thing."
---
News Quiz
1. That mysterious cluster of objects orbiting a distant star that some scientists think could be an alien creation? It could also be a _________.
(See answer or scroll to the bottom.)
2. One thing Baby Boomers and Millennials can agree on: __________.
(See answer or scroll to the bottom.)
3. Lisa Jaster became the third woman in history to complete the grueling training necessary to become a  ____________.
(See answer or scroll to the bottom.)
---
Evening Read
Steve Macone tells a story of friendship, coming of age, and digging for dinosaurs:
Fossils don't want to be fossils. Haven't wanted anything since they were wriggling and trying not to die. A fossil is a little tragedy. And a fossil is a miracle: since there's so much more wriggling than is ever remembered.

A fossil isn't a dinosaur. Or not the bone and collagen at least. I always have to remind myself that, and each time I'm startled at myself for forgetting. That it's the original mineral mixed with the stuff that filled in the dinosaur, sand or whatever was around, then hardened over time, so it's not even really that stuff anymore. A fossil's not really that stuff and it's not a dinosaur. It's something else entirely.

Over and over, I have to re-remember: A fossil's a memory, some of what was mixed with some of what slipped in. That original's a cast of itself. I have to remember that memory is taphonomic. A story can only be checked against other stories. The anecdote becomes artifact. The artifact as anecdote. And if the story is artifact it can be dropped and shattered. And if the stone is a story it can be changed with words.
---
Reader Response
A reader joins the ongoing discussion of adoption:
Sometimes I tell people that I would prefer to adopt because I was adopted, and they become defensive or threatened, like they think I am judging them for not wanting to adopt. A lot of people seem to think that an appropriate response is to say "oh, good for you, but I would worry that my kid wouldn't be like me" or "that's nice but I always worry that parents can never love their adopted children as much as they love their biological children." … It upsets me that people get so defensive, because I have no problem with other people not wanting to adopt; I just want to adopt for myself. If someone tells me, that adoption isn't for them, I respect that. What I don't respect is people feeling like they need to put someone else's decisions down just so they can feel better about their own decisions.
Another adoptive mother who was herself adopted writes:
Many families, adoptive or not, are raising children who do not have secure attachments because the parents did not have a secure attachment, and unless the parents realize it and do a whole heck of a lot of interpersonal work, they "pass" on that insecurity to their children, in how they raise them.  …  It reminds me about the gaps in education on adoption, and how it's much more preferable to blame a gene on a child than to ever question if there was some dysfunction in the parenting of the adoptive parents. And I am an adoptive mother saying this. I do not deny trauma with adoption. I understand it more than most because I've experienced it at depths most don't, with myself, and with my daughter.  
Read the full comments, and many more perspectives, here.
---
Verbs
Lamar Odom wakes up, latest presidential campaign filings dissected, adorable thank-you gift for parents created.
---
Answers: DYSON SPHERE, self-driving cars, u.s. army ranger
---
We want to hear what you think about this article. Submit a letter to the editor or write to letters@theatlantic.com.