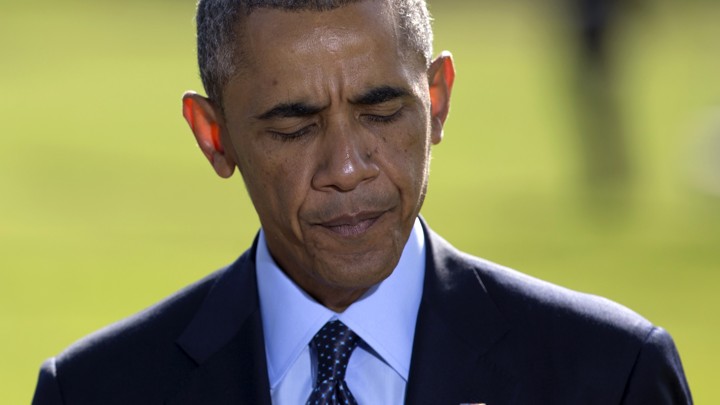 What We're Following: A Presidential Apology
President Obama apologized to Doctors Without Borders for the U.S. airstrike on its medical facility in Kunduz, Afghanistan, that killed 22 people over the weekend. The president promised Dr. Joanne Liu, the head of the organization, a thorough investigation of what happened. This morning, Liu called for a  never-before-used mechanism of the Geneva Conventions to investigate the airstrike. A day ago, the White House indicated the administration would wait for more details about the attack before considering an apology.
Nobel Prize Week Continues: This year's Nobel Prize in chemistry was awarded to Tomas Lindahl, Paul Modrich, and Aziz Sancar for their work on mapping cellular repair of damaged DNA. Lindahl, of Sweden, studied the molecular machinery that keeps human's DNA from collapsing. Sancar, of the United States, researched cells' ability to fix DNA damaged by UV radiation. And Modrich, also of the U.S., studied how cells correct errors that occur when genetic material is replicated. Science!
The Blatter End: FIFA's ethics committee has recommended that Sepp Blatter be suspended for 90 days as Swiss authorities investigate his role in a corruption scandal. Blatter has previously refused to step down as FIFA's president until early next year. A decision is expected Thursday.
---
Snapshot
---
Quoted
Mark Taylor, who studies parasitic diseases: "You get exploding nodules, and scrotal inflammation. You don't want that."
Sherry Turkle, a psychologist who studies communication: "You need to suppress your empathy 'gene' in order to participate fully in the mobile revolution."
Anne Libera, a theater director who studies comedy: "You have to risk, you have to fail—that's how you know where the edge is."
---
News Quiz
1. A U.S. military aircraft flying over Syria was forced to change its route to avoid coming "dangerously close" to ___________.
(See answer or scroll to the bottom.)
2. A study of email habits found that people receive a response to their emails within _______ 90 percent of the time.
(See answer or scroll to the bottom.)
3. Within a few years of the introduction of the G.I. Bill after World War II, more than _____ for-profit colleges were created.
(See answer or scroll to the bottom).
---
Evening Read
R. Owen Williams,  who once campaigned to rename Yale's Calhoun College, which is named after a famous defender of slavery, explains why he changed his mind:
The U.S. should own up to the past; see it for what it was, not brush it away. Most western observers have been horrified by the recent desecrations of ancient sites committed by ISIS, not so much because of what we know about those structures, but because of what they represent—an important connection to our collective history and a vehicle for understanding who we are. Destroying history, good or bad, keeps us from knowing ourselves.

Rather than erasing the past, why not use it? Honoring and remembering are not the same. The soul of a nation is rooted in memory. But memory, like history, is a complicated and fallible narrative, vulnerable to error and manipulation. History matters much less if only the good parts are remembered.
---
Reader Response
A reader reflects on accusations of victim-blaming against Chrissie Hynde, who said recently that she took "full responsibility" for her own sexual assault at 21:
In a perfect world, female students would be able to drink as heavily as they would like with no risk of sexual assault, and no amount of drinking makes them deserve to be raped. In this world, though, alcohol is the most common date rape drug. It shouldn't be considered impossible to tell students that while a woman incapacitated by drinking is in no way to blame for her rape, she still should be aware that controlling her level of intoxication is a vital part of protecting herself.

Rapists exist and will continue to exist for some time. It's clear to any sane person that a rapist is completely to blame for a rape. We are right to disagree with the Hyndes of the world when they seek to remove blame from the correct targets and heap it on those who suffer from their actions. But taking that to an extreme—where we ignore realities and withhold advice that could help women—isn't positive either. We need to find a balance between the two.
Read more readers' thoughts, and share your own, here.
---
Verbs
Operation Sophia launched, pumpkin spice alphabetized, the end of the world scheduled.
---
Answers: RUSSIAN WARPLANES, ONE DAY, 5,000
---
We want to hear what you think about this article. Submit a letter to the editor or write to letters@theatlantic.com.