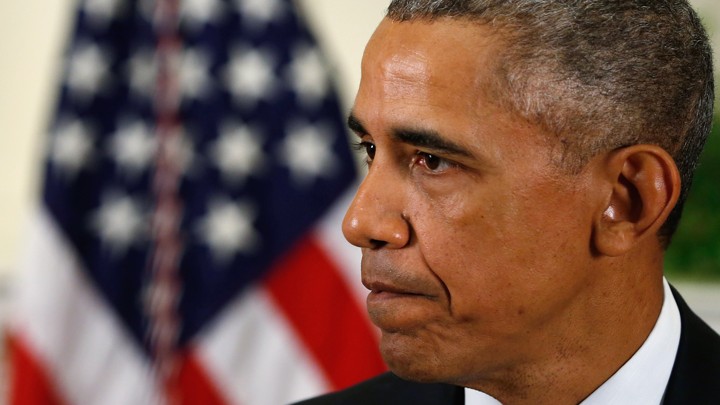 What We're Following: A Slight Change of Plans
President Obama has vowed to withdraw all U.S. combat troops from Afghanistan by the time he leaves office. He revised that promise today, saying that 9,800 troops will remain past 2016 to train Afghan security forces, who are "still not as strong as they need to be." The decision comes after the emergence of the Islamic State and a resurgence of Taliban activity in the country.
To the Courthouse: Former House Speaker Dennis Hastert will plead guilty to a felony later this month for which he could face prison time. The 73-year-old politician was charged in May with violating banking law and lying to the FBI about withdrawals he made of over $1 million, which prosecutors say he used to cover up allegations of sexual abuse.
Cold Case Warms Up: Scottish prosecutors have named two suspects, both of Libya, in the 1988 bombing of Pan Am Flight 103, which exploded over the town of Lockerbie, killing all 259 people on board and 11 others on the ground. Abdel Basset Ali al-Megrahi, a Libyan intelligence officer, was convicted in the bombing, and died in 2012 after serving nearly nine years of a life sentence.
---
Snapshot
---
Quoted
Frank Guido, a student in chef school: "People without a liberal-arts background really have no place to go with their skill sets."
Ashley Jeans, who mentors community college students: "I do have students that are barely able to write a sentence."
Jason Buzi, who wants to crowdfund a new nation for refugees: "Even though it may sound grandiose to create a new country, I actually think it's the most practical, realistic solution there is to the refugee crisis."
---
News Quiz
1. Graffiti artists hired to bring authenticity to the TV show _________ instead painted comments accusing it of being racist.
(See answer or scroll to the bottom.)
2. There is a corn maze in Maryland in the shape of _______________.
(See answer or scroll to the bottom.)
3. A new study found that honeybees enjoy the energizing effects of ________, just like we do.
(See answer or scroll to the bottom.)
---
Evening Read
J. Weston Phippen profiles 16-year-old Guillermo, one of the 68,540 unaccompanied minors who crossed into the U.S. from Mexico last year:
Guillermo says he began his journey with about 30 other people. (It was impossible to corroborate his story with the coyotes or any official source, but this is his recollection of events.) He spent the first night in a house in Santa Ana, a city near the Guatemalan border, staring through a hole in the roof at the stars. In the early morning, he grabbed his backpack, which held a change of clothes, water bottles, his birth certificate, and his grandmother's rosary. Before the group loaded onto the trucks that would drive to the border, the coyote made certain they understood what they'd now become. "From the minute you set foot out of the door, you are now migrants," Guillermo remembered the man said. "If anyone asks, you don't know each other. You don't know us. You don't know anything."
---
Reader Response
A series of photographs capturing the isolating effect of cellphones led this reader to push back:
There were no glory days when family members, lovers, or friends paid attention to each other during every hour spent together. People read books and newspapers, knitted, listened to the radio, watched TV, darned socks, put together jigsaw puzzles.

So let's just let go of this notion that cell phones are isolating people. More often than not, they are conversing with others on the other end of that cell phone conversation, people who in the past would have been out of their lives because it was too expensive to call long distance and letters took ages to get there.
---
Verbs
Santa Claus elected, words forever redefined, another Danish zoo animal publicly dissected.
---
Answers: homeland, TAYLOR SWIFT'S FACE, CAFFEINE
---
We want to hear what you think about this article. Submit a letter to the editor or write to letters@theatlantic.com.