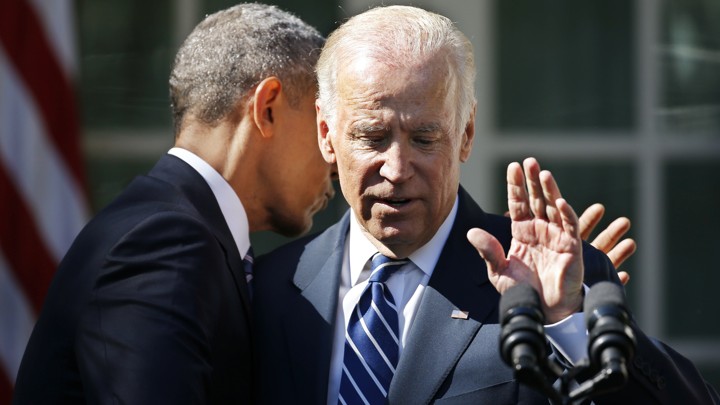 What We're Following: He Was Just Biden His Time for Too Long
After months of anticipation and endless "will he, won't he" speculation, Joe Biden announced that he would not seek the Democratic presidential nomination. Standing between his wife Jill and President Obama in the Rose Garden of the White House, the vice president said he believes "we're out of time" to run a successful campaign. The decision was a reluctant one for the Biden family, who is still grieving the loss of eldest son Beau, who died of cancer this spring.
From Texas to Qatar: The family of Ahmed Mohamed, whose homemade clock recently landed him in police custody, is moving to Qatar, where the 14-year-old has been awarded a full scholarship to study. Last month, officials at Mohamed's school in Texas thought his invention resembled a bomb and called the cops. Their reaction resulted in international headlines, a heated debate over anti-Muslim bias, and an invitation for Mohamed to visit the White House, where he met the president this week.
Pumpkin Spice Tax Deal: The European Commission found tax advantages that  the Netherlands gave Starbucks and Luxembourg gave Fiat Chrysler's financial unit to be illegal. The sums involved are not large, but the decision could have far-reaching implications for companies and the tax agreements they have with countries in the European Union. Some examples: Apple in Ireland, Amazon in Luxembourg, and AB InBev, the world's biggest brewer, in Belgium.
---
Snapshot
---
Quoted
Joe Biden, vice president of the United States: "If I could be anything, I would have wanted to be the president that ended cancer, because it's possible."
Jim Loewen, who studies American history, on what gets taught in history classes: "We're not teaching the forest—we're not even teaching the trees. We are teaching twig history."
Cindy Padnos, a founder of a tech venture capital firm, on being unreachable: "No one should use their communication device in the bathroom, please!"
---
News Quiz
1. Scientists and food companies are experimenting with __________, which trick the brain into perceiving a taste that isn't there.
(See answer or scroll to the bottom.)
2. Syrian President Bashar al-Assad left his country for the first time since 2011 for a trip to ________.
(See answer or scroll to the bottom.)
3. New research on siblings suggests that __________ doesn't matter when it comes to personality or intelligence.
(See answer or scroll to the bottom.)
---
Evening Read
Emma Paling on how Wikipedia is hostile to women:
Interestingly, the more educated someone is, the more likely he or she is to consult Wikipedia. Almost 70 percent of Americans with college degrees read Wikipedia. Google now pulls directly from the crowd-sourced encyclopedia, so even people who never visit the site read it. Today, it's the seventh most-visited website in the world.

But Wikipedia has changed in other ways since its founding, too. [Co-founder Jimmy] Wales said when he created the site it would be based on a "culture of thoughtful, diplomatic honesty" and a "neutral point of view"—but over time, that point of view came to be dominated by whoever joined Wikipedia first and wrote the most. As a result, Wikipedia has become a kind of Internet oligarchy, where those who have been around the longest have the most control.

"Most people look at Wikipedia, and see the text, and assume that it's unproblematically produced by volunteers and always on a trajectory to improvement," said Julia Adams, a sociologist at Yale University who's studying how academic knowledge is portrayed on Wikipedia. "But that is simply not the case."
---
Reader Response
In response to our story about doctors who take women's pain less seriously, a reader shares a traumatic experience:
When I was about 16 years old, I passed out when I got home from school. My period had been going on for longer than two weeks, so my mother thought it might be related. She took me to the emergency room. The doctor, a woman, said she thought I was having a complicated pregnancy. I told her that I was a virgin, that I attended an all-girls school, and that I didn't even know any boys other than my two brothers.

She said I was lying and that teenagers always lie about being virgins. My mother didn't say anything to refute the doctor, I think because she always thought doctors were right. They agreed that I should have a pelvic exam. I never had one before and I wasn't too keen to have one either. My mom wasn't in the room, because they told her to leave. When the doctor started the exam, she roughly jammed her hand in and I started screaming because I was in so much pain. She turned to a nurse in the room, who was holding me down, and coldly said, "I guess she was a virgin."
Read more perspectives, and share your own, here.
---
Verbs
Emoji room service launched, "beast mode" frappuccino released, Neil deGrasse-Tyson fact-checked.
---
Answers: phantom aromas, MOSCOW, birth order
---
We want to hear what you think about this article. Submit a letter to the editor or write to letters@theatlantic.com.