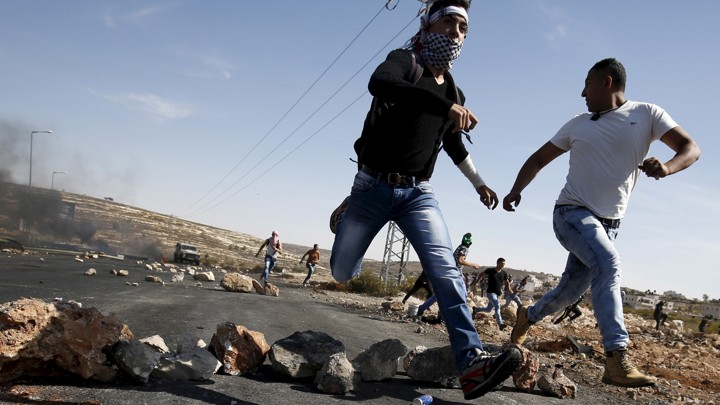 What We're Following: Violence in Israel
Three Israelis were killed and 20 others were injured in multiple attacks in Israel. In Jerusalem, two Palestinian men killed two people and wounded several others on a bus, and another Palestinian attacker drove a van into a bus stop, killing one person and injuring others, before exiting the vehicle and attempting to stab the victims. In the city of Ra'anana, two attackers wounded five people with knives in separate incidents.  
Who's to Blame? A Dutch Safety Board report said that the Malaysian Airlines plane that crashed in eastern Ukraine last summer, killing all 298 people on board, was brought down by a Russian-made missile. The report did not assign blame. Western nations and Ukraine say the aircraft was shot down by pro-Russia rebels, who have been fighting with Ukrainian forces there since last spring. Russia has pinned the accident on Ukraine.
Democratic Drinking Game: Er, debate. Hillary Clinton, Bernie Sanders, Martin O'Malley, Jim Webb, and Lincoln Chafee will take the stage in Las Vegas tonight for the first Democratic presidential debate of this cycle. Joe Biden won't be there, but rumors continue to swirl about a potential bid. The event will lack the pizzazz of the Survivor-style GOP debates, but that doesn't mean it'll be boring. Prepare with a preview of the debate here, and follow along with our live blog later on theatlantic.com.
---
What You're Wondering
Syria is four-and-a-half years into a civil war that has pitted multiple armed opposition groups against each other and President Bashar al-Assad's regime. The dynamics and basic details of this complex conflict can be hard to follow. We're working on a project we hope will help clarify things. We want your input to guide us on that.
What questions, big or small, do you have about the Syrian civil war?
---
Snapshot
---
Quoted
Jason Wright, an astronomer, on a mysterious cluster of objects orbiting a distant star: "This looked like something you would expect an alien civilization to build."
Neil Strauss, author of The Game, a book about pickup artists: "I thought I was a nice guy, I really did, you know?"
Bill Gates, philanthropist and tech magnate: "We need an energy miracle. That may make it seem too daunting to people, but miracles in science are happening all the time."
---
News Quiz
1. New research suggests ____ percent of people who are dependent on heroin or painkillers are not getting treatment.
(See answer or scroll to the bottom.)
2. The Pentagon is scouting potential locations in the state of ________ to house Guantanamo Bay prisoners.
(See answer or scroll to the bottom.)
3. The human genome contains up to _______ genes.
(See answer or scroll to the bottom.)
---
Evening Read
In his cover story for our November issue, Walter Kirn reflects on life in the surveillance society:
Researching modern spycraft for a book I was thinking about writing, … I typed these words into my browser's search bar: Mossad seduction techniques. Minutes later, a banner ad appeared for Ashley Madison, the dating site for adulterous married people that would eventually be hacked, exposing tens of millions of trusting cheaters who'd emptied their ids onto the Web. When I tried to watch the surveillance footage again, a video ad appeared. It promoted a slick divorce attorney based in Santa Monica, just a few miles from the Malibu apartment where I escaped my cold Montana home during the winter months.

Adultery, divorce. I saw a pattern here, one that I found especially unwelcome because at the time I was recently engaged. Evidently, some callous algorithm was betting against my pending marriage and offering me an early exit. Had merely typing seduction into a search engine marked me as a rascal? Or was the formula more sophisticated? Could it be that my online choices in recent weeks—the travel guide to Berlin that I'd perused, the Porsche convertible I'd priced, the old girlfriend to whom I'd sent a virtual birthday card—indicated longings and frustrations that I was too deep in denial to acknowledge? When I later read that Facebook, through clever computerized detective work, could tell when two of its users were falling in love, I wondered whether Google might have similar powers. It struck me that the search engine might know more about my unconscious than I do—a possibility that would put it in a position not only to predict my behavior, but to manipulate it. Lose your privacy, lose your free will—a chilling thought.
---
Reader Response
Last week's story about adopted kids and their parents prompted readers to share their own experiences. An adoptee who was discouraged from seeking out her birth parents writes:
Do I love my adoptive parents? Yes, I do.  But there is a fundamental human need to know who we are and how we fit into the genealogical continuum of mankind. … This is a dichotomy that no non-adopted person will ever face or understand. It is something every adoptee (of a closed adoption) experiences to some degree. … When we have Family Tree projects in school, it cuts deeply. We were grafted onto our tree, we have a deep sense that we don't really belong there, yet we have no idea where our own tree is planted.
A mother who gave her daughter up for adoption writes:
In her mind, perhaps she is better off without her birthparent. In my mind, I am not her birthmother. I am her mother. She is not my "birth daughter." She is my daughter. And to think that your own child is better off without you is excruciating. It's only echoing the fears and insecurities I had in my own head when I made the decision of adoption: "maybe she's better off without me."

But nothing in my heart believes it. And it's painful to be a part of the silenced side of adoption: a birthparent. There is a lot of focus on adopted kids and adoptive parents. But for every one of those, there is a mother out there who gave birth to that child and might be hurting so deeply on the inside for the remainder of her life.
Read more readers' stories, and share your own, here.
---
Verbs
Rand Paul's entire day livestreamed, Pitchfork purchased, 92-year-old World War II veteran skydives.
---
---
We want to hear what you think about this article. Submit a letter to the editor or write to letters@theatlantic.com.