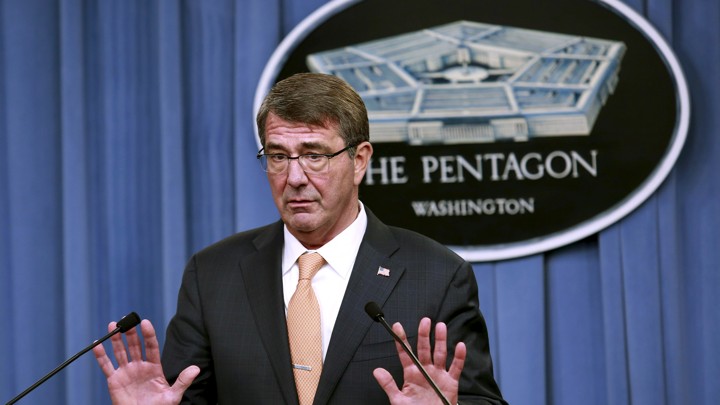 What We're Following: 'Direct Action on the Ground'
U.S. Defense Secretary Ash Carter said during a Senate hearing that the country will step up its operations against the Islamic State in Iraq and Syria, including through "direct action on the ground." The new policy against the terrorist group will focus on what he called the three Rs: Raqaa, Ramadi, and raids. The U.S. will support moderate Syrian rebels near the Raqaa, the Islamic State's stronghold, and work alongside Iraqi forces in Ramadi.
Classroom Incident: The Justice Department has opened a civil-rights investigation into a confrontation at a South Carolina high school between a white officer and an African American female student. The incident was captured on video by students in the room, and has sparked outrage from viewers at the officer's rough treatment of the student, who was dragged from her chair, thrown, and restrained.
We Have a Deal: Congressional negotiators released a two-year budget deal just before midnight that would increase federal spending by $80 billion and protect the nation from a debt default through the end of the Obama presidency. The House will vote on the agreement tomorrow, days before Paul Ryan is expected to be elected speaker and John Boehner is expected to achieve his dream of getting out of Congress already.
---
Snapshot
---
Quoted
John Boehner, the outgoing speaker of the House, on getting a budget deal passed before his successor takes over: "I didn't want him to walk into a dirty barn full of you-know-what."
Chris Shilling, a sociologist who studies the human body: "People's physical appearance serves as a canvas on which they affiliate themselves to their faith."
Girardin Jean-Louis, a psychologist who studies racial disparities in sleep and health:  "We can't have a 35-year-old African American male go to bed and not wake up the next day. That doesn't make any sense."
---
News Quiz
1. In the industrial region of Silesia, Poland, one artist unearths coal to turn it into _________.
(See answer or scroll to the bottom.)
2. Nearly ____ in four U.S. public-school children speak a language other than English at home.
(See answer or scroll to the bottom.)
3. Which well-known Republican said "this process stinks" about this week's fiscal deal in Congress?
(See answer or scroll to the bottom.)
---
Evening Read
Shmuly Yanklowitz makes the case for a regulated kidney market:
Such a market is not just some nebulous item on the world's wish list—a successful regulated market currently exists in Iran, the only country in the world that allows paid donations. (Even though the words "donors" and "donations" may seem out of place in the context of transactions, these terms are commonly used when discussing compensation for organs.) In the 1990s, after years of war and economic slumps, the country decided to pay donors for kidneys rather than incur the health-care expenses of treating people with kidney disease. Within a few years, the program eliminated the national waiting list for kidney transplants and these days, the black market is virtually nonexistent.
---
Reader Response
Last week's story on history class and the fictions about race in America sparked many readers' comments on why history is so difficult to teach. One educator writes:
Simply put, teachers don't have the time to teach every legitimate historical perspective. Hell, this is the same issue professional historians wrestle with when writing their books. One simply can't include every historical perspective in a single work, otherwise the book would take an entire lifetime or more to write! Moreover, teaching too many perspectives at the high school level might be overwhelming to kids who lack even a basic historical narrative. There has to be a happy medium out there.
Another history teacher adds:
I've been fortunate enough to lecture at the collegiate level and teach at the high school level, and the method of instruction at the high school level centers on the memorization of historical facts, a product of unqualified teachers. Similarly I've also seen the tremendous amount of pressure on teachers regarding standardized tests, pressure that people at the collegiate level don't appreciate. Still, the use of rote memorization has been a mainstay in history classrooms long before standardized tests came along.
Read the full comments, and more perspectives, here.
---
Verbs
"Badass" U.S. women's soccer team honored, Bill Cosby's honorary college degrees questioned, everything you ever wanted to know about gourds explained.
---
Answers: JEWELRY, ONE, PAUL RYAN
---
We want to hear what you think about this article. Submit a letter to the editor or write to letters@theatlantic.com.