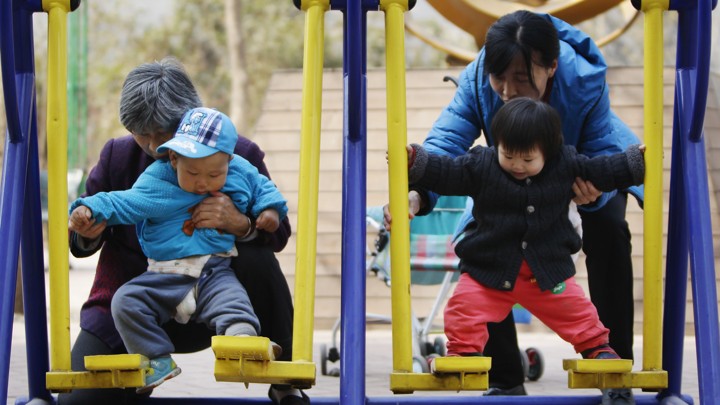 What We're Following: An Historic Day for China
After nearly four decades, China, the world's most populous country, ended its one-child policy, allowing all couples to have two children. The policy was unpopular among ordinary Chinese, and those who violated it faced punishments ranging from fines to forced abortions. It was introduced in 1979 to slow the country's population growth, and appears to have worked too well: State demographers for years have been begging the central government to change the policy for fear of a future labor shortage.
Flames at Florida Airport: The engine of a Boeing 767 caught fire at Fort Lauderdale-Hollywood International Airport as the plane prepared to take off for Caracas, Venezuela. All 101 people on board were evacuated; 15 people were injured, one with serious burns and others with bruises and other minor injuries. The pilot reported that fuel was leaking from the plane just before the fire ignited, emitting large plumes of black smoke that were captured on video by passengers on nearby planes on the ground.
It's Official: Paul Ryan won an election on the House floor to replace the departing John Boehner as speaker, making the Wisconsin Republican, at 45, one of the youngest to hold that position in history. "The House is broken," declared Ryan, who now has a job he never wanted, after an emotional swearing-in ceremony during which Boehner wept. It's so far been a good week for the House; the chamber passed a bill to raise the debt ceiling yesterday, and the Senate is expected to vote on it in the very early hours of tomorrow morning.
---
Snapshot
---
Quoted
Robin Dunbar, a sociologist: "We hadn't expected the Finns to turn out to be the most cuddly people."
Margee Kerr, a haunted house consultant, on why Millennials love zombies: "I think that they were really concerned that the apocalypse was going to happen in their generation."
Matt Frost, who advocates buying up coal to combat climate change: "Let's look at the problem not in the sense of we're burning too much coal, but as: Coal is too cheap. What do you do about that?"
---
News Quiz
1. The Russian space agency is researching the possibility of sending a crew consisting solely of _______ to the moon.
(See answer or scroll to the bottom.)
2. There is enough planet-making matter throughout the universe to create at least __________  more Earth-like planets.
(See answer or scroll to the bottom.)
3. New research suggests that stressful jobs make life ________.
(See answer or scroll to the bottom.)
---
Evening Read
David Ignatius on how ISIS spread in the Middle East—and how to stop it:
In April 2014, two months before the capture of Mosul, I interviewed Iraqi sheikhs from Anbar. One of them, Jalal al-Gaood, told me by phone that in his hometown of Albu Ali Jassim, west of Ramadi, violent extremists had attacked a police building, prompting the Iraqi military to bomb and shell the village, and his entire tribe to move out of the area. Gaood offered a grim prediction: "Everyone tells me they've never seen what's happening on the ground now. Hell has come to these villages and towns. It's far worse than before." Sheikh Zaydan al-Jabari, a tribal leader from Ramadi, told me that day: "Iraq is not now a state. It is led by gangs." ...

I saw Jabari again in June 2015, a few weeks after ISIS had overrun the city of Ramadi (after bland reassurances from U.S. CENTCOM officials that the city would hold). Jabari was seeking support for his tribal fighters. (Like several Anbar sheikhs, he had by now hired his own D.C. lobbying firm.)

"Iraqis don't want to live under the Islamic State, but where are they supposed to go?" he asked me. Shiite militias had blocked the way to Baghdad for Sunnis fleeing Ramadi; ISIS, meanwhile, was offering amnesty to families who came back to the city and turned over their sons to the Islamic State to fight. These tribal leaders simply do not believe U.S. assurances that America is in this fight for real. The sheikhs are selfish and self-interested, but can you blame them? They've been burned too often. The problem with the U.S. anti-ISIS strategy in Iraq is that it depends on a Sunni tribal movement that no longer exists.
---
Reader Response
A teacher responds to the story of the female student who was dragged out of her chair by a high-school resource officer, who was subsequently fired:
Adolescent rebellion is a tale as old as time. The adults involved unnecessarily escalated the situation into a defiant standoff between a student and authority figures. The student didn't want to back down because there was an audience of her peers.

Solution: Remove the peers.

Now the only people left in the classroom are the student and an authority figure. Call a counselor or trusted teacher plus the principal, then give the child the choice to comply now with a lesser consequence or continue the standoff with a greater consequence. The longer the adults have to wait, the greater the consequence. Without an audience, nearly every kid complies sooner rather than later. If she still refuses, call the family.
What do you think is the right way to discipline a student? Read the full comment, and share your experience, here.
---
Verbs
Salem witch sues, National Cat Day celebrated, GOP debate fact-checked, Twitter verification for Republican presidential candidate just not happening.
---
Answers: WOMEN, ONE BILLiON TRILLION, SHORTER
---
We want to hear what you think about this article. Submit a letter to the editor or write to letters@theatlantic.com.