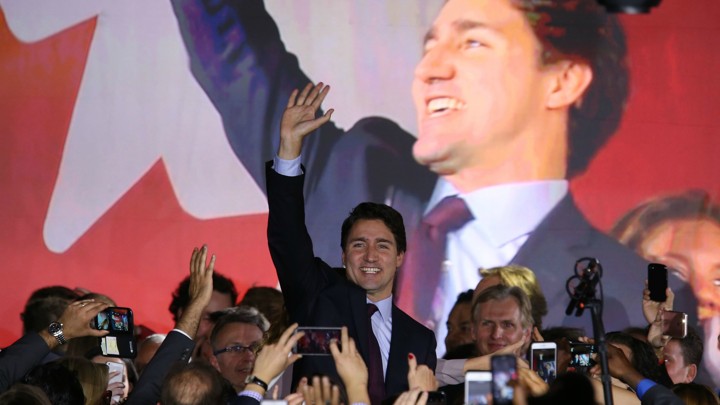 What We're Following: Enter Justin Trudeau
Canada's Liberal Party swept into power for the first time in nine years last night, ousting Stephen Harper and his Conservative government in a big upset in the country's parliamentary elections. Candidates had campaigned for three months, which—believe it or not, Americans—is an unusually long time for Canadian elections. At 43, Trudeau is the second-youngest prime minister in Canadian history. He has pledged to legalize marijuana, take in more Syrian refugees, and more.
Russia's Air Campaign: Russia has been bombing extremist groups in Syria for three weeks now. It has violated Turkish airspace, allowed its warplanes to fly too close to American ones, struck areas where critics say no Islamic State threat exists, and, a new report shows, resulted in civilian casualties. Since the campaign began, 370 people have been killed by airstrikes. Of that number, 34 percent have been civilians—127 people, including 36 children and 34 women.
A Change in Preventive Measures: The American Cancer Society revised its guidelines about when women should have mammograms, suggesting that women at average risk for breast cancer can wait until age 45 to undergo their first test and then alternate years starting at age 55. The new rules go against what many groups have been recommending for years—that women begin screening at age 40 and undergo regular exams by their doctors.
---
Snapshot
---
Quoted
Jill Holland, mayor of a rural Tennessee town, on why a company chose not to open an office there: "They said it looked like an atomic bomb went off, so they just kept walking."
Anna Huffman, who organized a protest against her high school's dress code: "Adults aren't going to be shopping at American Eagle or Forever 21. They don't know that it's not even possible to buy a dress that goes to your knees."
Isabel Solorio, who lives in the San Joaquin Valley: "They call this the golden valley. But where is the gold?"
---
News Quiz
1. The country of _________ has directed its army to manage the flow of migrants and refugees coming through its borders.
(See answer or scroll to the bottom.)
2. According to one sleep study, British people were far more likely than Americans to admit to _____________.
(See answer or scroll to the bottom.)
3. Despite its name, the electric eel is not an eel at all. It's a _________.
(See answer or scroll to the bottom.)
---
Evening Read
John Freeman, interviewed by Joe Fassler for our "By Heart" series, discusses writer Louise Erdrich's narrative magic:
One of the hard things about editing is that it's very hard to find moments like this one that make everything work. Say this same story came in as a submission, but it was just the plot. You can't, as an editor, say, "Why don't you have them weigh a baby?" You can only say, there's something missing. It's up to the writer to have the imagination to figure out what that will be.

One of the amazing things about Erdrich is that she never tries to instruct you about the past or history. Yes, her books are about justice and historical memory and the terrible cost of violence—and mostly about family and love—but she's never didactic about the content. Instead, she just tells stories. She doesn't press her own ideas and interpretations down into her books. Language contains meaning that is greater than our intended meaning—and Erdrich, of all the living American writers, uses that capacity to the greatest ability. Her work feels huge as a result—an entire universe contained inside a North Dakota town.
---
Reader Response
A reader responds to a story about the grim details of America's drone policy:
The use of drones isn't a solution. If the goal is to prevent future terrorism, taking out leaders isn't accomplishing anything. By targeting individuals with drone strikes (especially with so many casualties), we are the best advertisers for more terrorism. Ending terrorism is a war of ideas, and we're giving a lot of people the idea to join terrorist organizations.

Who would you believe? The guy calling for revolution next to you, or the shadowy country dropping bombs on your friends with no clear reason?
But another reader argues that drones are better than their alternatives:
A drone is no more humane or inhumane than a person in a ship firing a missile from 500 miles away or a person in a tank shooting from two miles away or a person dropping a bomb from 30,000 feet.

In fact, I would argue that drones are far more humane than most other distant killing tools, since you can be far more exacting in who is killed. Can they make mistakes? Yes. But which is worse: a bomb from 30,000 feet that kills tens of thousands and wipes out an entire town, or a drone that kills 100 specific people, minimal surrounding damage, and might sadly sadly catch a few innocents?
Read more perspectives here.
---
Verbs
Salary disparity between men and women with MBAs revealed, size of Hershey's Kisses doubled, "Bad Blood" covered.
---
Answers: SLOVENIA, sleeping naked, KNIFEFISH
---
We want to hear what you think about this article. Submit a letter to the editor or write to letters@theatlantic.com.