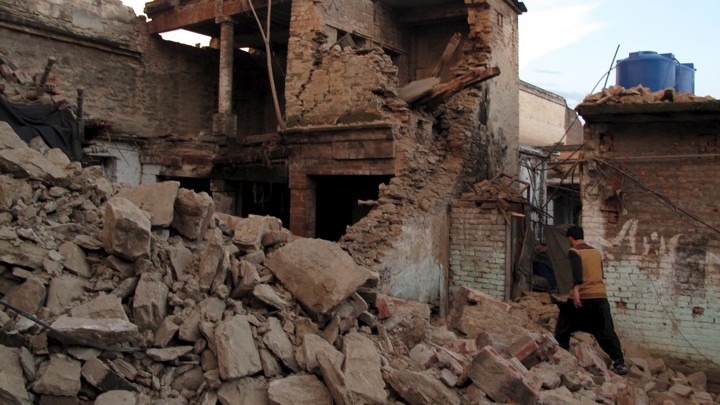 What We're Following: Disaster in Afghanistan
A 7.5-magnitude earthquake struck a remote part of Afghanistan, killing dozens of people and injuring hundreds in the country and in neighboring Pakistan. In one Afghan city, 12 schoolgirls were crushed to death in a stampede as they tried to evacuate their school. The quake knocked out power lines and communications, making the scale of the destruction difficult to determine. The death toll is expected to rise.
Cue the Hot (Dog) Takes: The World Health Organization said that eating bacon and hot dogs increases a person's risk of getting colon cancer, classifying the consumption of red meat as "probably carcinogenic to humans," and processed meats, like ham and sausage, as "carcinogenic to humans." This doesn't mean that eating processed meat is as deadly as smoking, but that it's one food that people could cut back on if they want to be healthier.
On the Campaign Trail: The campaigns of this cycle's favorite outsiders, Donald Trump and Bernie Sanders, are showing some signs of diminishing momentum. Both candidates have begun taking aggressive stands they'd mostly tried to avoid so far. Meanwhile, Ben Carson is burning through his campaign cash at impressive speeds, and Hillary Clinton celebrated her birthday.
---
Snapshot
---
Quoted
Doug Watts, the communications director for Ben Carson's campaign: "We haven't gotten a single damn endorsement and we don't care."
Tom Vilsack, the U.S. secretary of agriculture: "I don't know of another group who's more trusted than in society today than a pediatrician."
Leslie Rogers, a BDSM therapist: "What we're really doing here is teaching adults how to play again."
---
News Quiz
1. There are approximately ______ flavoring materials that are certified as "generally regarded as safe" and permitted for use in foods in the U.S.
(See answer or scroll to the bottom.)
2. The University of Mississippi has stopped flying the state's flag on its Oxford campus because the flag bears the _____________.
(See answer or scroll to the bottom.)
3. It costs tourists ___ to visit Karl Marx's grave in London.
(See answer or scroll to the bottom.)
---
Evening Read
Brooke Harrington, a sociologist, goes inside the secretive world of tax-avoidance experts:
Virtually all of them saw themselves as misunderstood good guys. In our interviews, they portrayed themselves as protectors of elderly clients from rapacious heirs, facilitators of development finance to emerging markets, and quasi-family members to wealthy parents seeking advice on how to prevent their children from being destroyed by idleness and easy access to drugs.

Some of the professionals I interviewed said they viewed their clients as friends, going on vacation with them, attending family weddings, and crying at their funerals. Others expressed contempt for the ultra-wealthy, and embarrassment at the ways in which wealth-management work contributes to their clients' escape from the rule of law. One American I interviewed in Geneva told me of a group of his clients in Monaco who sincerely believed they were descended from the Pharoahs and were destined to inherit the earth; he said their utter boredom and decadence were such that their main sport was sleeping with each others' wives. "I've told my colleagues," he said, "if I ever become like our clients, just shoot me."
---
Reader Response
A reader who came across our article from last year about the limits of online dating had this to say in its defense:
Online dating made me realize you can have casual relationships, then they can end, and the world doesn't end with them. It made me realize that when relationships don't work out, it's almost never the fault of one person. Sometimes people just don't get along, and that's completely normal, because some people are just not your type, or you aren't theirs—and that doesn't mean anyone is a bad person.

It made me realize that, yes, love is great and amazing and whatever, but you can survive without romantic love. And I think it's good to, at times, be able to apply that more scientific, algorithmic representation to love, because then you can take a step back from it and survey it objectively when your idealization of it, and your painful awareness of your imagined failure to achieve it, might be destroying you.
Read more responses, and share your own, here.
---
Verbs
Ukrainian Chewbacca arrested, 3,500-year-old warrior's treasure-filled grave unearthed, blind woman and her heroic guide dog reunited.
---
Answers: 3,800, CONFEDERATE SYMBOL, $6
---
We want to hear what you think about this article. Submit a letter to the editor or write to letters@theatlantic.com.