The Atlantic Daily: A Pope Visits, a Hack Worsens, a CEO Quits
Pope Francis toured D.C., OPM said hackers stole more fingerprints than previously thought, the head of Volkswagen resigned, and more.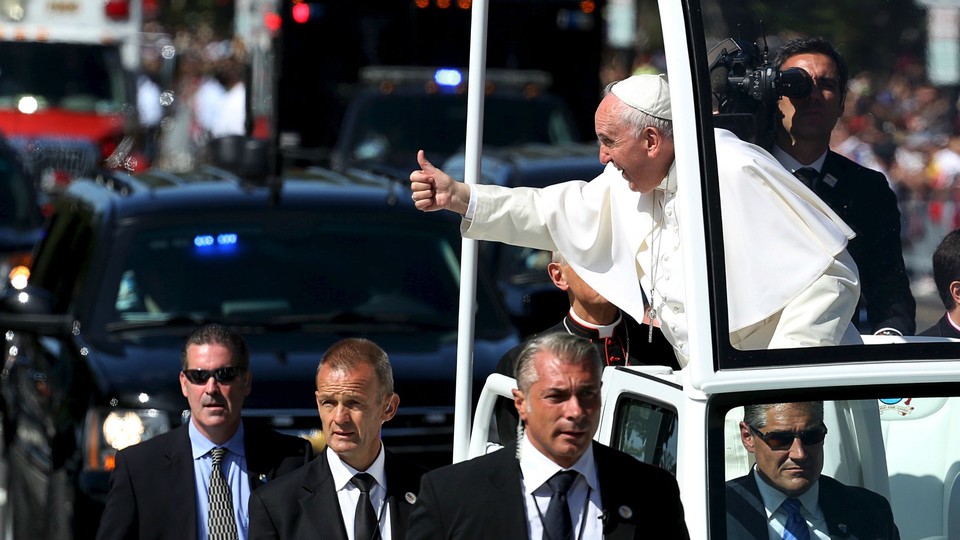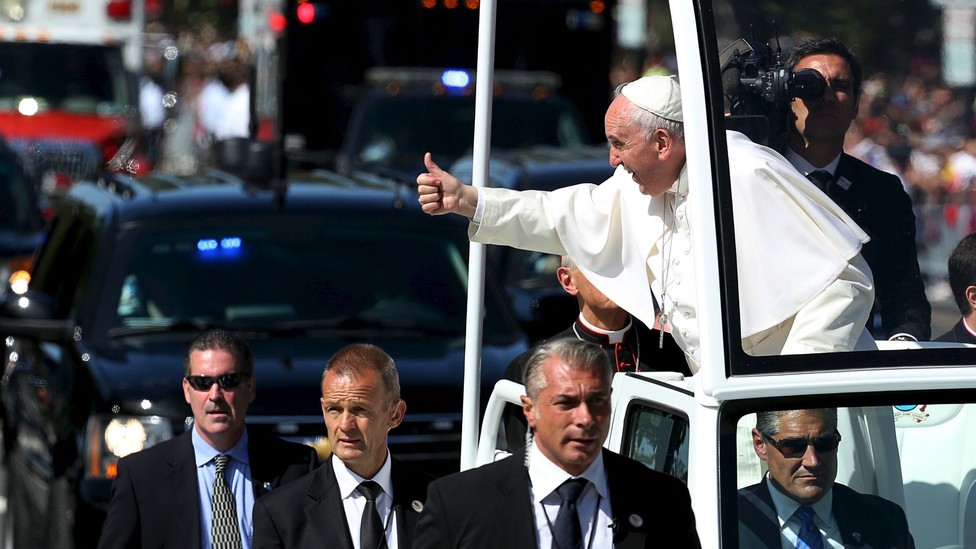 What We're Following: The Pope, Still
Pope Francis rolled up to the White House in a Jeep this morning to greet thousands of supporters, some of whom had been waiting there for hours. He gave a shout-out to the Obama administration's policies on climate change, and then headed inside for a private meeting with the president. Later, he made an 18th-century Spanish missionary a saint, in the first canonization on U.S. soil. Tomorrow: Congress, where lawmakers have actually been advised to refrain from trying to touch the pope as he makes his way through the House chamber.
About That Massive Hack: The government's human resources department said it had underestimated the number of people whose fingerprints were stolen in a data breach by Chinese hackers that occurred last year and was publicly revealed this June. The Office of Personnel Management said 5.6 million people's fingerprints were compromised—not 1.1 million, as previously estimated. The hacking of this particular sensitive information is perhaps more troubling than compromises of types of data: You can change an address or a password, but you can't change your fingerprints.
And About That Massive Deception: The CEO of Volkswagen resigned amid a scandal involving software that allowed 11 million of the German automaker's cars to cheat emissions tests. Martin Winterkorn said he was "not aware of any wrong doing" on his part, but was stepping down in the company's best interests. Volkswagen has said it would spend $7.25 billion to meet regulations and regain customers' trust.
---
What You're Wondering
This week, the European Union settled on a deal to accommodate 120,000 refugees who have fled their countries. This is an ongoing story, and so far, we've touched on some economic elements, as well as the scale of the crisis and human voices involved.
What do you want to know about the global refugee crisis? Tell us here so we can tap your curiosity for inspiration as we continue our coverage.
---
Snapshot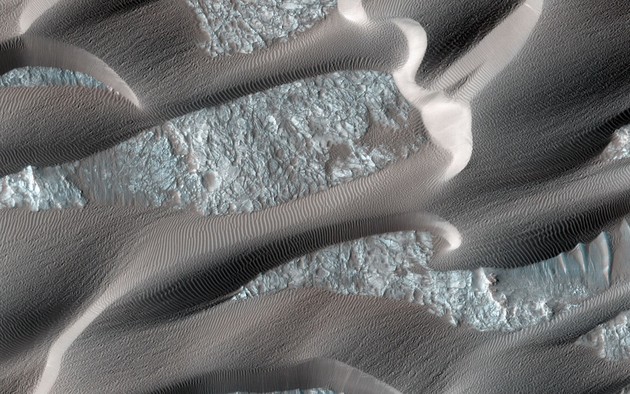 ---
Quoted
Blanca, of Socorro, Texas, on the undocumented immigrants she finds on her property: "Freedom, safety, and a good job … They want what we have and we should be proud others want it."
Tom McMillen-Oakley, who has adopted two children with his husband Tod: "The gay couples come along and pick up the trash that the straight people don't want anymore. We end up taking care of them. It sounds horrible to say, but there are so many kids in need."
Jake Levine, co-founder of Electric Objects, which lets users display GIFs in their homes: "It has no beginning or end. The giraffe appears to be just chewing. It's not a video of a giraffe with a beginning and end, it's just a giraffe."
---
News Quiz
1. The punches doled out by _________ are the fastest in the animal kingdom, and can shatter snail shells and aquarium glass alike.
(See answer or scroll to the bottom.)
2. The state of ________ will host its first-ever presidential debate this year.
(See answer or scroll to the bottom.)
3. A federal judge ruled that the incredibly popular song ___________ is public domain.
(See answer or scroll to the bottom.)
---
Evening Read
Cari Romm investigates the world of professional guinea pigs, who earn a living as subjects in clinical trials:
In guinea-pigging, cooperation can go a long way. Paul Clough runs the website Just Another Lab Rat, a one-stop shop for all things guinea pig. The site has a continually updated list of upcoming studies around the country, a glossary of common lab tests, tips for getting into studies ("If your blood pressure is usually at the upper threshold, a daily intake of garlic can help"), and even a packing guide. (Phones with cameras are usually allowed, but the cameras may be covered with tape; slippers are a plus, since participants may be forbidden from going barefoot in case there's a needle on the floor.) ...

But for all the shared resources and carpools, the world of guinea pigging is also cutthroat. Some of the more lucrative studies can fill up within minutes, Stone told me. Well-paying gigs can be hard to come by. Full-time guinea pigs typically make somewhere between $15,000 and $40,000 a year. [Brian] Stone, Clough, and [Robert] Helms have all supplemented their income from studies with odd jobs or, in Clough's case, the website.

"If there's enough money, you'll throw your standards out the window for it," Stone said. He won't do anything that involves opiates—unless the price is right.
---
Reader Response
An African-American psychiatrist and mother joins the debate on Ta-Nehisi Coates's October cover story with this nuanced perspective on the themes of gender and family we've discussed thus far:
When our black men are disproportionately pushed out of the workforce, black women are less able to join their lives with a partner who might equally share their burdens. And when women are exhausted beyond our limits, our children suffer.

Mass incarceration is an evil which must be stopped. But what else can be done to strengthen the black family? Maybe we shouldn't be so quick to patronize Moynihan for his antiquated views.

Perhaps America should go beyond releasing our brothers from the "Gray Wastes," and even beyond legislative measures to decrease the negative impact of a prison record on employment prospects. Perhaps we can be purposeful about creating a society where black men are particularly supported in finding employment to help provide for their families. Large-scale job creation efforts aimed at black men specifically—not due to some imagined inadequacy on their part, but as a gesture that recognizes this country's great debt to their bodies—would be a welcome development for our nation.
Read the full argument, and join the discussion, here.
---
Verbs
Prisoners in Egypt pardoned, Donald Trump's feud with Fox News reignited, castration of German whisker-less cat court-ordered.
---
Answers: MANTIS SHRIMP, NEVADA, "HAPPY BIRTHDAY"
---