The Atlantic Daily: Europe and Asylum-Seekers, Seattle and Teacher Strikes, Apple and New Gadgets
The head of the European Commission said European countries each must do their share in accepting refugees, teachers went on strike in Seattle, Apple unveiled new products, and more.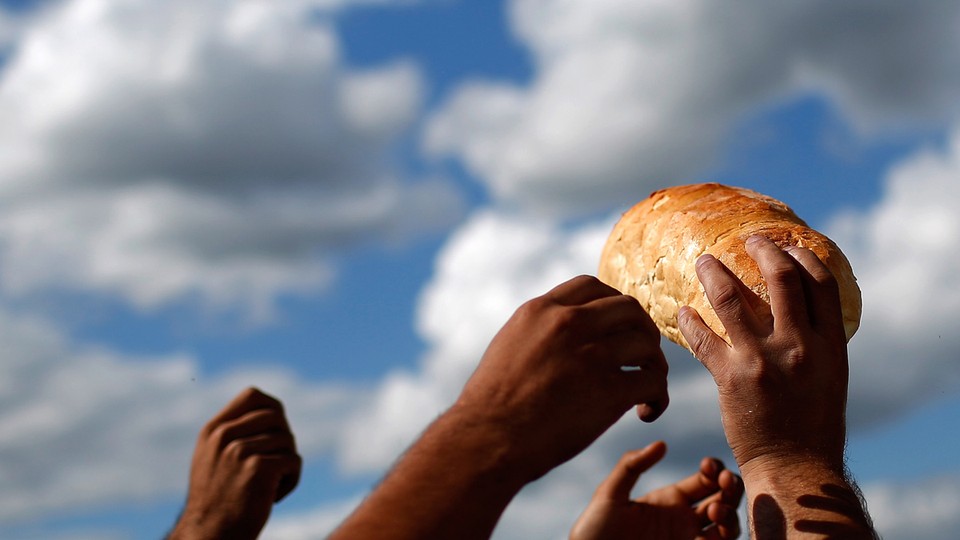 What We're Following: 'We Need More Europe in Our Asylum Policy'
That's what Jean-Claude Juncker, the president of the European Commission, said. In response to the worsening refugee crisis, Juncker has called for the mandatory distribution of about 160,000 asylum-seekers among the EU's 28 member states. So far, some countries have been more welcoming than others: Germany and Austria recently opened their border to thousands of migrants, while Hungary is building a wall along the Serbian border to keep them out.
School's Out for Seattle: The Seattle Education Association, a union that represents about 5,000 teachers, went on strike on the first day of school, citing the state of negotiations with the city's school district over salary, performance evaluations, and the length of the school day. The Seattle School Board, meanwhile, has voted to take legal action against the teachers. Schoolchildren, we presume, are overjoyed, at least for now.
The Next iPhone: At its annual fall reveal, Apple introduced an upgraded iPhone 6 model, now with a pressure-sensitive display and available in rose gold. Also new: a bigger iPad, an Apple TV whose remote control also doubles as a video game controller, and an Apple Watch with more apps.
---
Snapshot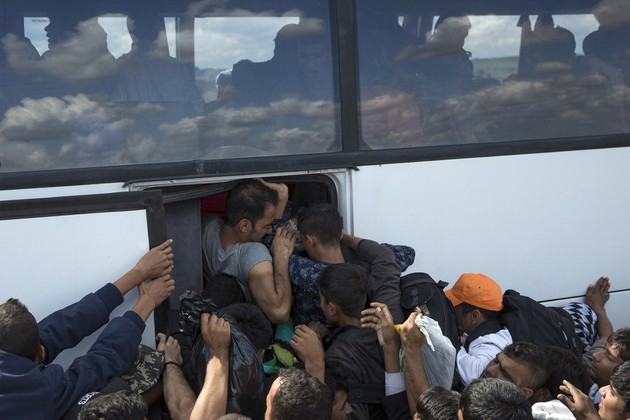 ---
Quoted
Alyssa Dweck, an OB/GYN at Mt. Sinai School of Medicine in New York: "There is no medical reason why a woman has to menstruate every month. And there is nothing wrong with tweaking the system if bleeding is difficult for women."
Burl Cain, the warden of Louisiana State Penitentiary at Angola: "If a person wants to learn, we have a responsibility to help him learn. A lot of these guys had terrible schooling outside, and that's why they're here in the first place."
Timothy Snyder, author of the new book Black Earth: The Holocaust as History and Warning: "The problem is that you don't have to see the world rationally to be very powerful, and in fact certain kinds of circular ways of seeing the world, like anti-Semitism, can inform you day to day. They can keep you going—they can bring in the population—even though they're not really true."
Michael Bennett, psychiatrist and co-author of the new self-help book F*ck Feelings: "I think that's sort of a basic paradox—that to live with pain and still be a decent person and make a living is a much higher achievement. It's what you do when you're not happy that's so telling."
---
News Quiz
1. The Queen of England does not require a ___________ when she travels.
(See answer or scroll to the bottom.)
2. The number of refugees reaching Europe this year has already topped _________, according to the United Nations.
(See answer or scroll to the bottom.)
3. A tongue-in-cheek Instagram account starring _________ shows just how alike people are on the web.
(See answer or scroll to the bottom.)
---
Evening Read
Diana Saverin reflects on the terror and tedium—and occasional joy—of living like Thoreau:
I followed a game trail along the ridge and at some point, looked up from the ground to see a cow moose and her calf some twenty feet in front of me. I locked eyes with the mama for what felt like days. … The fear I felt arrived after they were out of sight and reach. I was scared of losing moments like that—moments when my legs twitched and my heart beat in my ribcage and beauty and terror got all muddled together at once.

With no parliament of owls to wake me and no pair of moose to bring me into the present, my mind got busy. It whirled around from thing to thing, full of to do lists, doubts, other places, other people, other lives I might one day live. I wanted to find that thing I couldn't anticipate or prepare for: an animal, maybe, or a storm, or a view from the top of a ridge where you can see so far the earth rounds at the edges of the horizon. Part of what rendered those encounters vivid and exciting and good was the all-consuming attention that took over. I'd be nowhere else. In the absence of such encounters, I sat alone in the cabin and walked alone in the woods trying to relinquish control and open myself up to the unknown. I was looking for some mandate to be exuberantly and unequivocally alive.
---
Reader Response
Chris Blazier, a reader who has taught SAT and PSAT prep classes for over a decade, shares his informed view on the implications of falling SAT scores:
Standardized testing isn't perfect, but it is consistent, and the material it covers is pretty cut and dried. As a teacher, I focus most on the so-called Writing Section, since it is the easiest to improve students' scores on. We do a thorough review of English grammar: Everyone comes out of the course knowing the difference between a participle and a gerund, how to maintain parallelism, how to avoid mistakes in subject-verb agreement and problems with verb tenses. As much as possible, I draw comparisons with Spanish, which most students learn here in Texas either at home or in school. I see no evil in the notion of anyone "teaching to the test" when the material is basically math, grammar, and critical reading. ...

I'm sure you have more objections to testing, but I have seen no better system than standardized testing for college admissions. The University of Texas tried to admit the top 10% of students from every school in Texas, with disastrous results. The quality of schools in Texas, like in much of the nation, is quite heterogeneous. Students in the top 10% from very bad schools in Texas were being admitted to UT-Austin and doing very poorly, and this was bad for everyone.

Standardized testing provides some standard across our heterogeneous educational system, and I don't know of any other proposed method to do this.
---
Verbs
Caesars Palace fined, cheese emoji finally introduced, Donald Trump and Ted Cruz rallied, and the name of the Welsh village of Llanfairpwllgwyngyllgogerychwyrndrobwllllantysiliogogogoch properly pronounced.
---
Answers: PASSPORT, 380,000, BARBIE
---