The Atlantic Daily: Water on Mars, United Nations in New York, Donald Trump on Taxes
NASA got excited, world leaders got heated, Donald Trump got stale, and more.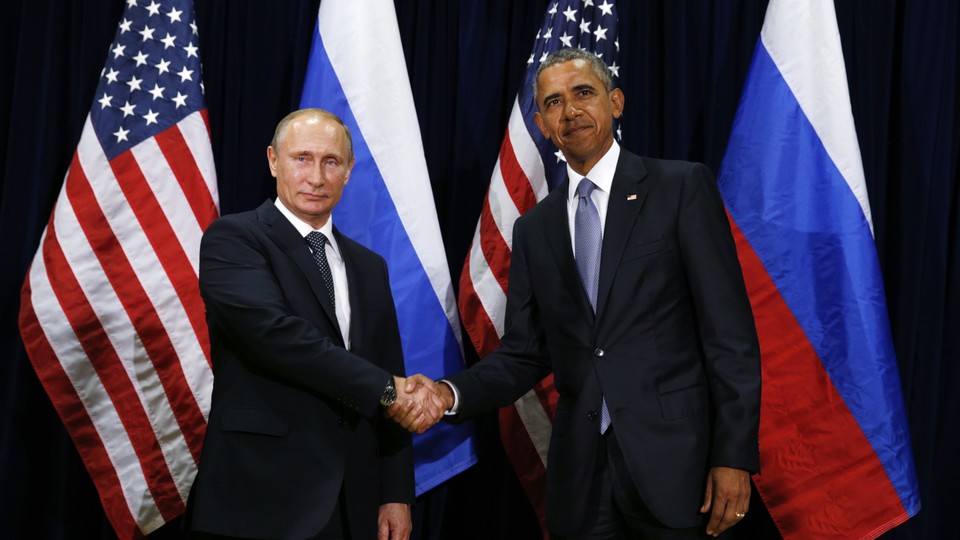 What We're Following: Buzz Aldrin Is Freaking Out Right Now
Because NASA confirmed there is water on Mars. "Not just hunks of ice or evidence of ancient, dried-up oceans—but wet, trickling, salty droplets of water on Mars right now," as Adrienne LaFrance puts it. Scientists don't know yet where it comes from, but you know what water probably means? Life.
Obama vs. Putin: At the annual United Nations General Assembly, the world leaders delivered speeches chock-full of criticisms of each other's plans for driving Islamic State militants out of Syria. Obama asked the room to "imagine if instead Russia had engaged in true diplomacy" in Ukraine. Putin derided the "single center of domination" that believes "if we are so strong and exceptional then we know better than anyone what to do"—and offered his own prescription for handling the terrorist threat.
Is That All? The most outrageous presidential candidate in recent memory announced his tax plan, and it's "utterly plain-vanilla," writes Russell Berman. "Trump's plan would dramatically reshape the tax code by cutting the current seven income brackets to four, slashing rates for the rich, poor, and businesses, and eliminating a host of loopholes and deductions. But that's basically what Republican candidates and lawmakers have been proposing for years."
---
What You're Wondering
On Friday morning, House Speaker John Boehner surprised just about everyone with his decision to hand over the gavel. His last day will be October 30. We'll be digging into this development more, but while we do, we'd like to know what you want to know.
What lingering questions do you have about Boehner's resignation and its implications for Congress? Tell us here.
---
Snapshot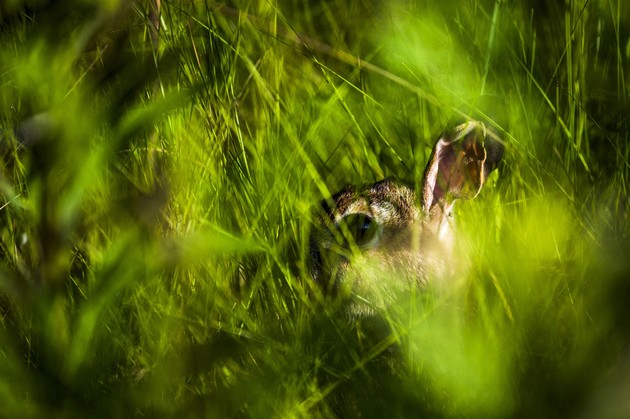 ---
Quoted
Sarah Bernardi, a member of a community-supported agriculture program in Virginia: "I used to see [time] broken up into seasons. Now I see it broken up into fruits and vegetables."
Sandra Butcher, who runs scientific conferences on global problems: "It's amazing how bona-fide scientists, no matter where they are—Pasadena or Pyongyang, Toledo or Tehran—can come together and bond over a common cause."
Ben Miller, a college education expert: "If you're going to enroll someone, you should do the absolute best you can to graduate them, or else don't take their money."
---
News Quiz
1. The Taliban captured the Afghan city of Kunduz, marking the first time the militant group has seized a major city since _____.
(See answer or scroll to the bottom.)
2. Energy company Shell abandoned its controversial drilling operations in the ___________, citing little oil and gas there.
(See answer or scroll to the bottom.)
3. Surprising no one, _____________ announced he would run for the House speakership soon to be vacated by John Boehner.
(See answer or scroll to the bottom.)
---
Evening Read
Emma Green follows Pope Francis on his visit to the Curran-Fromhold Correctional Facility in Philadelphia:
In the United States, incarceration is often discussed in terms of responsibility and choices; imprisonment is the price people pay for their poor decisions. But Francis understands crime through the language of sin. This is an important difference: The thing to remember about sin is that no one is exempt. "Listen carefully to this: Each of us is capable of doing the same thing that that man or that woman in prison did," Francis said in 2014. "All of us have the capacity to sin and to do the same, to make mistakes in life. They are no worse than you and me!"…

"I just hope the message that he brought, that the [correctional officers] and the staff heard his message, and take heed to it," said Ruth Colon, [an] inmate. "Most of 'em really don't treat you fair. They treat us like we're beneath them. I've made mistakes, but I'm human too. They treat us like something's wrong with us—they treat us like dirt."

She also said she was never going to take off the crucifix Francis gave her. "He makes us feel like we're not the scum of the earth."
---
Reader Response
In the wake of John Boehner's resignation from Congress, one reader insists that the Republican "always had an alternative":
Boehner could have chosen to be the Speaker of the entire House, instead of what amounted to a leader of a hopelessly divided party. Had he done so he could have passed compromise legislation on a raft of issues with bi-partisan votes and left his lunatic fringe out there the stomp and scream by themselves. Instead, by sticking to a "majority of majority" framework, he allowed his extremist members to dominate the business of the people's house.
Another disagrees:
Actually Boehner often did craft compromise legislation and utilized Democratic lawmakers to get need-to-pass bills through over the bloody-murder screams of much of his party. Hence why every right-winger in America is jumping with glee right now. I had tremendous respect and sympathy for the man, given what he was working with. He did the best he possibly could while leading a half-mad caucus, short of switching parties.
Read more perspectives, and share your own, here.
---
Verbs
Pumpkin spice lattes scorned, "Dismaland" dismantled, awkward toast shared.
---
Answers: 2001, ALASKAN ARCTIC, KEVIN MCCARTHY
---