The Atlantic Daily: Stock Market Struggles, ISIS in Syria, Americans in France
U.S. stocks had a bad Monday, ISIS reportedly destroyed an ancient Syrian temple, a trio of Americans received France's highest honor, and more ...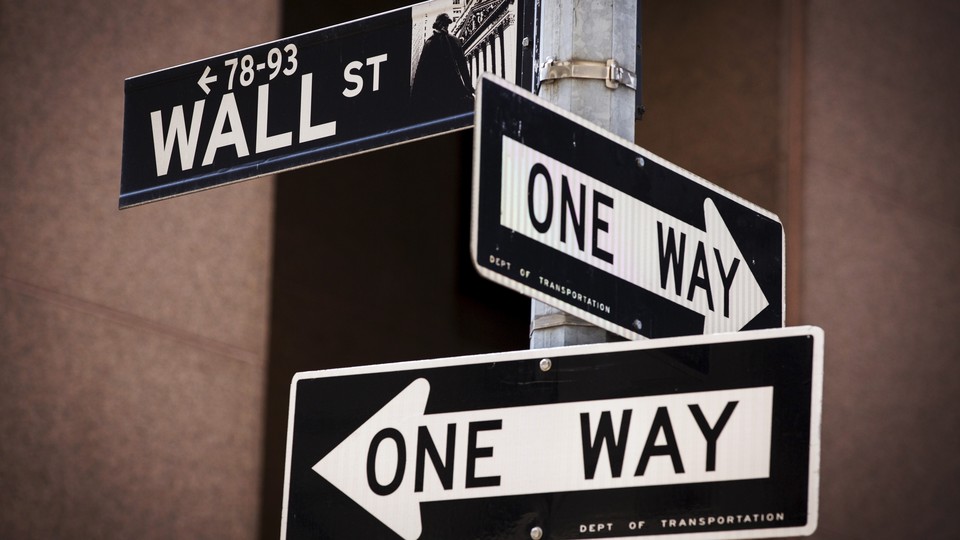 What We're Following: Stocks Tank
U.S. stocks had a roller-coaster day, with the Dow falling more than 1,000 points at the opening bell before recovering dramatically by noon, and then fading again to close down nearly 600 points. The decline was across indexes and sectors, and followed similar falls in Europe and Asia—reflecting growing worries about the health of the Chinese economy.
Ancient Temple Down: ISIS reportedly destroyed the Temple of Baalshamin, an ancient structure in the Syrian city of Palmyra, days after  the group killed an 82-year-old Syrian archaeologist. UNESCO called the temple's destruction a "war crime."
Good American Samaritans: France awarded three Americans the country's highest honor for their role in thwarting an attack on a high-speed train bound for Paris. The Legion of Honor, which is presented for "outstanding merit," was created by Napoleon in 1802.
---
Snapshot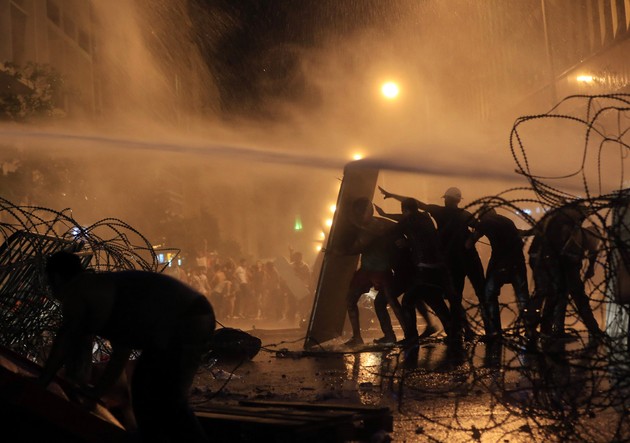 ---
Quoted
Lindsey Graham: "If [Donald Trump] is the voice and face of the Republican party, I think our allies are shaking their heads and our enemies are licking their chops."
Judy Bowman: "I spent three hours at a gas station one day and led five people to the Lord."
Abu Ahmad: "[Khalid al-Asaad] told me he was summoned by [ISIS], who wanted him to reveal where the most precious artifacts are hidden. He knew they would kill him but he said, 'I'm not going to leave the city. I'm staying.'"
---
News Quiz
1. Republican presidential candidate __________ took to Twitter, Instagram, and other platforms to react to the Wall Street plunge.
(See answer or scroll to the bottom.)
2. To study the spread of norovirus, a team of scientists in North Carolina has built a  __________.
(See answer or scroll to the bottom.)
3 New Orleans Mayor __________ said Hurricane Katrina was "not a natural disaster—it was an infrastructure failure."
(See answer or scroll to the bottom.)
---
Evening Read
Steve Phelps reviews Neurotribes, Steve Silberman's new history of autism research:
A disease is easily mistaken for a physical fact, an enduring burden that can be spotted in an X-ray or on a chromosome. But diseases and disorders are ideas, medicine's imperfect attempts to bring order to nature's messy realities. Autism advocates coined the term "neurotypical" to label normalcy as a disorder of social obsession and chatty conformity; this playful inversion is a reminder that sometimes people suffer simply by the numerical accident of rarity. We imagine the healthy mind to be a geological feature whose contours we map to learn its landscape, so we can return if we get lost. Maybe it is more like a disputed land whose borders and flags need negotiation.
---
Reader Response
Commenter Sabotage on the viral video of the black grandmother in Ferguson railing against the Black Lives Matter movement:
Do people not know that there is already a strong movement within the black community that has been staging protests against violence and seeking solutions? I think it's dishonest to act like it's time someone other than Bill Cosby speaks out. During the unrest here in Baltimore, one of the first groups to come out to work for peace and help clean up was the 300 Men March. A group of them recently marched from Baltimore to DC in an effort to bring attention to the growing violence here. And they didn't just start in conjunction with the Freddie Gray protests. Groups like this exist in cities around the country, but lack of attention and support from the media and outside their community limits their ability to act. So let's not focus on one angry person; let's focus on the groups that are working for change rather than just making angry social media posts (he said as he made a social media post).
---
Verbs
Joe Biden leans, a Hungarian border fence rises, and Korean tensions ease.
---
Answers: DONALD TRUMP, Vomiting machine, MITCH LANDRIEU
---