The Atlantic Daily: Nation Mourns TV Journalists, Grisly Discovery in Austria, U.S. Stocks Surge
Friends, family, and colleagues remembered two slain journalists, Austrian authorities discovered a truck carrying the bodies of migrants, Wall Street saw its second straight day of gains, and more.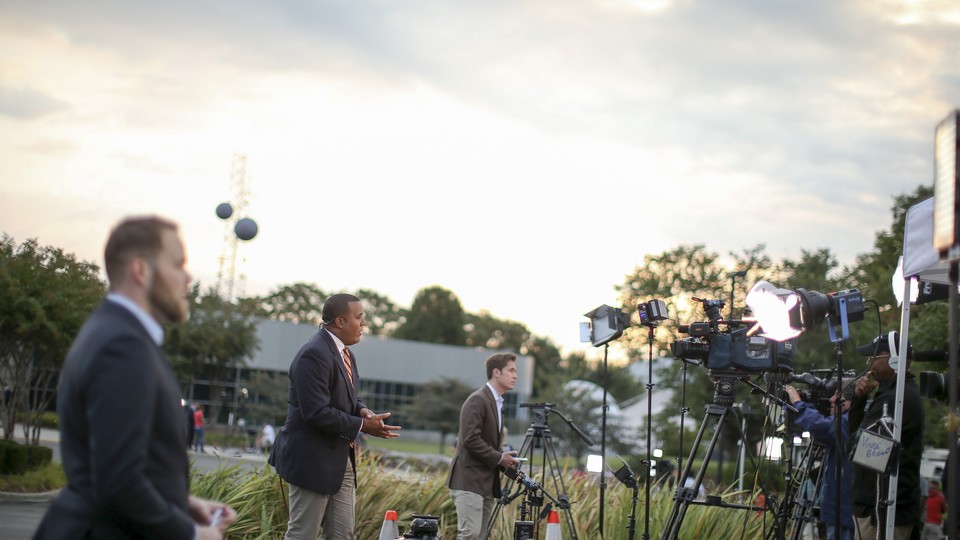 What We're Following: Remembering the Roanoke Shooting Victims
Most of the day's news coverage focused on Wednesday's shooting in Virginia that left two people dead and one injured. WDBJ7 reporters observed a moment of silence during their morning's broadcast for their fallen colleagues Alison Parker and Adam Ward, who died after a gunman ambushed them during a live news segment. "Joining hands here on the desk: It's the only way to do it," one anchor said. "I don't even know how to do weather on a day like this," said the station's weatherman.
The Latest in Europe's Migrant Crisis: The decomposing bodies of 50 migrants were discovered in an abandoned truck in the eastern part of Austria. "We can make no concrete assumptions about the origin or cause [of death]," an official said. "We can assume, however, that they are refugees." Austria and other European nations are in the midst of the worst migrant crisis since World War II.
Another Day of Gains: The Dow closed up more than 350 points, the S&P 500 increased 47 points, and the Nasdaq was more than 100 points higher, marking the second straight day of gains on Wall Street after a rough start earlier this week.
Hello: If you haven't already heard, we just launched a brand-new section of TheAtlantic.com, called Notes. For those of you who've been visiting the site for years, Notes will feel familiar. But there's plenty that's new under the hood. Go here to read what it's all about.
---
Snapshot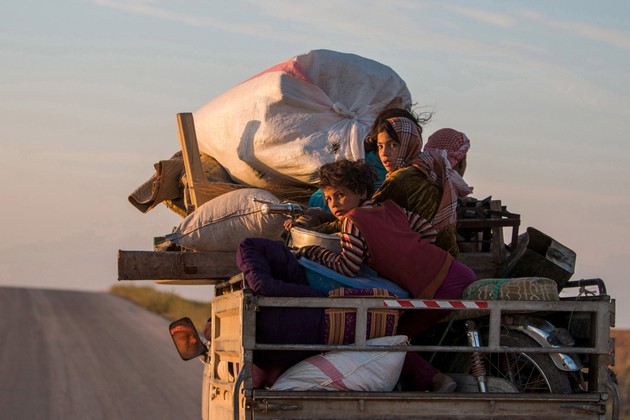 ---
Quoted
Stephen Garcia: "Any time you create a scale or a dimension that's measurable, you also create a kind of competition."
Seth Prins: "Employees in the middle have dual roles that embody aspects of ownership and front-line labor, without the full benefits of being one or the other—they get flak from above and below."
Yanis Varoufakis: "We need to grasp the difference between saying that Greece, and other countries, should not have entered the euro zone, and saying now that we should now exit. Put technically, we have a case of hysteresis: Once a nation has taken the path into the euro zone, that path disappeared after the euro's creation, and any attempt to reverse along that now-nonexistent path could lead to a great fall off a tall cliff."
---
News Quiz
1. Olympic-champion sprinter Usain Bolt was knocked over by a ____________. There's a Vine of it that you need to see.
(See answer or scroll to the bottom.)
2. Utah public health officials said that a resident had recently died of ____________, a life-threatening, flea-borne illness.
(See answer or scroll to the bottom.)
3. A new study on the reliability of psychological studies involved researchers replicating _____ published psychological experiments.
(See answer or scroll to the bottom.)
---
Evening Read
John Meroney recounts how in 1950s Hollywood, the young star Lena Horne stumbled into a plot that made her a pawn in the Cold War:
From the beginning, Horne was troubled by her inability to fit in anywhere. She refused to play the maid and prostitute roles usually reserved for black actresses of her time, which narrowed her prospects in Hollywood. At the same time, many black artists accused her of using her lighter skin to "pass." Horne herself was ambivalent about her looks. "I came from one of the First Families of Brooklyn," she once said, "yet it was the rape of slave women by their masters which accounted for our white blood, which, in turn, made us Negro 'society.'"

In 1941, when she was 23, Horne was hired to perform at a unique club in Greenwich Village called Cafe Society Downtown. It was a "people's nightclub," wrote [Gail Lumet] Buckley, Horne's daughter, in her 1986 book, The Hornes: An American Family—the only place in the city where the races mixed.

What few of the patrons knew was that the club was moving money for the Communist Party.
---
Reader Response
Mark Chappel dropped us an email after our Notes launch last night:
This is a great addition to the website and I really look forward to making use of it. Working in financial services abroad (a UK ex-pat in Zurich), I have often wanted to contribute an opinion that might offer a slightly different viewpoint than perhaps you might usually receive but, as you so politely put it, few people would wish to delve through the murky waters of the Disqus comments, so I saw little incentive.

What I hope this will resurrect is the old newspaper tradition of "letters to the editor," encouraging comments to be directed to and, more importantly, curated by the author and wider staff. Adding that extra step of having to really think about what one would want to say to the editor means that there should be a significant reduction in perhaps the more "low-effort" comments. Thank you for providing a much easier and more accessible outlet and I look forward to contributing now and again.
---
Verbs
Justice Department sued, 1 billion people Facebooked, another Hawaii beach closed.
---
Answers: segway, the plague, 100
---