The Atlantic Daily: Jimmy Carter, Alexis Tsipras, Hurricane Danny
A former president discusses his cancer, a Greek prime minister resigns, a big storm approaches, and more ...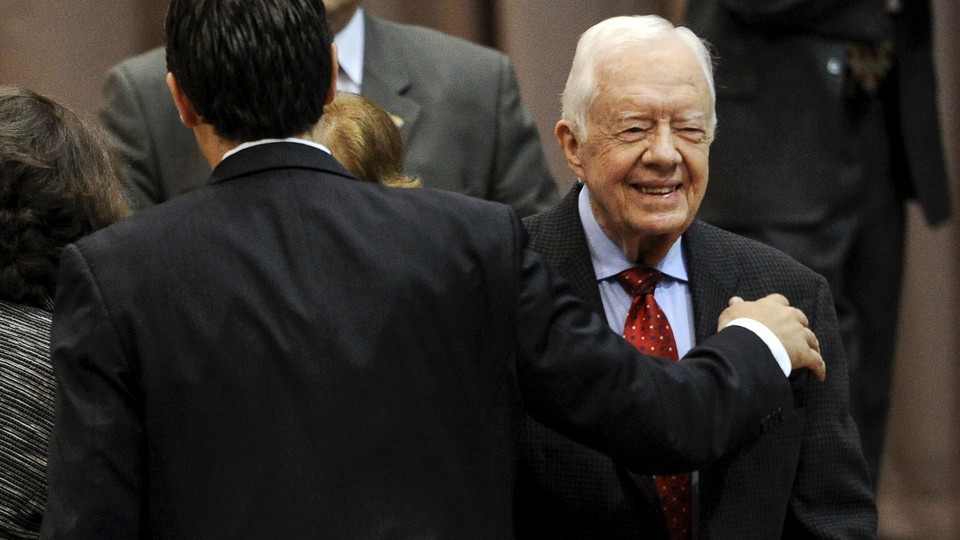 What We're Following: Jimmy Carter Speaks on His Diagnosis
Former President Jimmy Carter seemed relaxed and serene as he told reporters that a scan found four "very small spots" of cancer on his brain. "I'm perfectly at ease with my diagnosis," he said at a Thursday press conference, during which he also reflected on his life and accomplishments. Carter, who is 90, indicated that he plans to begin radiation treatment immediately.
Tsipras Resigns: Greek Prime Minister Alexis Tsipras submitted his resignation Thursday to the president and triggered a new round of elections. In his announcement, Tsipras cited rancor within Syriza, his ruling anti-austerity party, over the eurozone bailout his government negotiated with European leaders last month. The election will be Greece's second in 2015 and fifth overall since 2009.
Danny Forms: Hurricane Danny, the first named tropical storm to reach hurricane status this year, formed 1,000 miles east of the Caribbean on Thursday. Meteorologists measured the storm's winds at a weak 75 miles per hour, just barely enough to be counted as a hurricane. Thanks to a strong El Nino effect that disrupts tropical-storm formation, 2015 has seen an unusually quiet Atlantic storm season overall.
---
Snapshot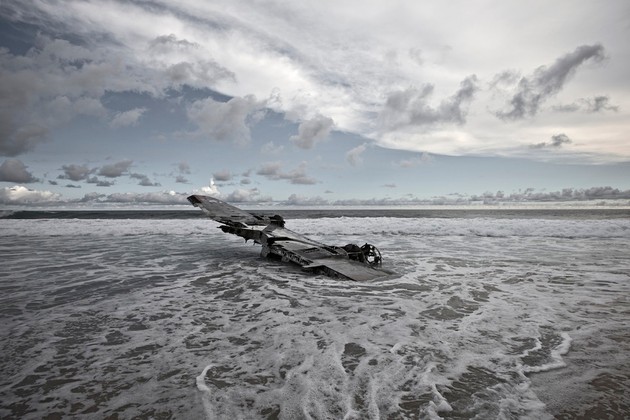 ---
Quoted
Robinson Meyer: "And this is how most non-journalists are using blogging software or even personal websites now, anyway. Few people want to keep a running log of politics, sports, or entertainment stories that interest them, but many people want to keep their friends and acquaintances up on their whereabouts. And why use a blog for that when you can use Facebook? Already, the most popular posts on the social network announce weddings, new jobs, and new children."
Maggie Kilbourne-Brook: "I think when highly effective IUDs became available in the '80s, people started looking at the diaphragm, which had been around for hundreds of years, and it seemed old fashioned and passé. You go to family-planning clinics now and they're not even on the posters anymore."
Olga Khazan: "Nearly one-third of privately insured people have received a surprise medical bill in which their insurer paid less than they expected, according to a nationwide survey of more than 2,000 people conducted by the Consumer Reports National Research Center earlier this year. Balance bills for hospital visits sometimes occur when the doctor sends the patient a second, separate bill, on top of the one from the hospital."
---
News Quiz
1. One of the two Boston men responsible for the beating of a homeless Hispanic man claimed he derived inspiration from presidential contender __________.
(See answer or scroll to the bottom.)
​2. Officials in ___________ claimed that a "foreign man" was responsible for Monday's bombing, but said it was not the work of international terrorists.
(See answer or scroll to the bottom.)
3. Troops exchanged rocket and artillery fire on Thursday along the border of which two countries?
(See answer or scroll to the bottom.)
---
Evening Read
Gillian White on New Orleans's housing crisis a decade after Katrina:
Much of the blight is concentrated in poorer, black sections of the city, where collections of dilapidated abandoned homes can stretch for entire blocks. Blight here is more than an eyesore—it creates a dangerous and unhealthy environment, and encourages poverty, crime, and stagnant home values.  The issues of vacancy and blight are especially troubling as the city faces a continuing housing crisis, with a dearth of affordable rentals, leaving more than one-third of residents using 50 percent or more of their pay for rent.  It's a difficult proposition to wrap your mind around: Tens of thousands of vacant homes languishing as thousands of residents struggle to put a roof over their heads.
---
Reader Response
Commenter Genuine Realist adds his personal perspective to the case of Jerry Hartfield, a mentally retarded man who was found guilty of a murder and rape he was imprisoned for 35 years ago despite an overturned conviction:
One of my children is neurologically disabled. I serve on the board of one of the better local agencies that takes care of these people. I've been a member of the community for thirty years. The notion that a retarded person would not or could not comprehend the gravity of raping and murdering a young woman is actually a rather repulsive, condescending prejudice.

My child and most of her friends function quite effectively in the community, thanks, and they ALL are quite capable of understanding the ordinary moral rules by which we all live—the rubrics against theft, lying, assault, and so on. In a case like this, the victim almost certainly fought for her life, or begged for mercy or yelled for help. You think a mentally handicapped person is so dumb that doesn't register? Those of you who blandly suggest a mental handicap as some sort of mitigating circumstance in an aggravated rape/murder are actually reconfirming one of the oldest bigotries around. Look elsewhere for your mitigating factors.
Verbs
Josh Duggar repents, Jean-Marie Le Pen is expelled, July scorches, U.S. stocks plummet, and a Palestinian hunger-striker eats.
---
ANSWERS: DONALD TRUMP, BANGKOK, THAILAND, NORTH KOREA AND SOUTH KOREA