The Atlantic Daily: California Inferno, Abortion, GOP Debate
Wildfires rage in California, Planned Parenthood gets hit with another video, and the first presidential debate looms.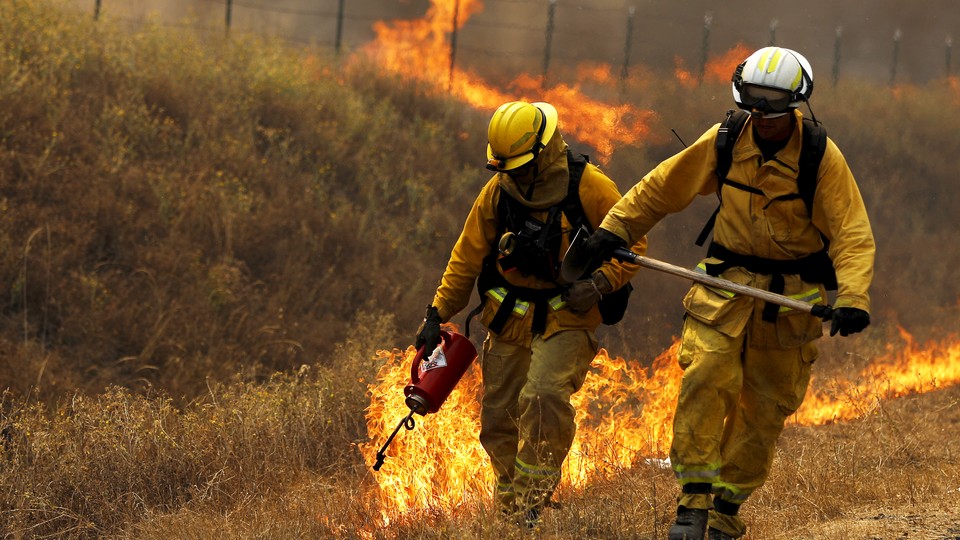 What's Happening: How the West Burned Up
More than 13,000 people evacuated their homes on Tuesday after a 65,000-acre wildfire jumped containment lines in northern California. Record heat and years of drought have fueled a spate of summer blazes, the cyclical terror of the American West, from Los Angeles County to the Pacific Northwest and into Alaska. In 2014, 60,000-plus wildfires of varying sizes burned across the U.S., a number that will likely rise this year.
Planned Parenthood: Abortion rights are back in the national spotlight. The Center for Medical Progress, an anti-abortion organization, released a fifth video on Tuesday revealing more about Planned Parenthood's fetal-tissue research program. Donald Trump urged legislators to close the federal government instead of allowing federal funds for P.P., while Hillary Clinton publicly defended the women's-health organization.
Presidential Debate: Fourteen of the 17 Republican candidates participated in a rapid-fire forum in New Hampshire on Monday night, setting the stage for the first primary debate on Thursday. Fox News, which is hosting the debate, will only permit the top 10 candidates based on poll numbers. With so many candidates and so little room, well-known figures such as former Texas Governor Rick Perry and ex-Senator Rick Santorum could be left out of the crucial primetime clash.
---
Snapshot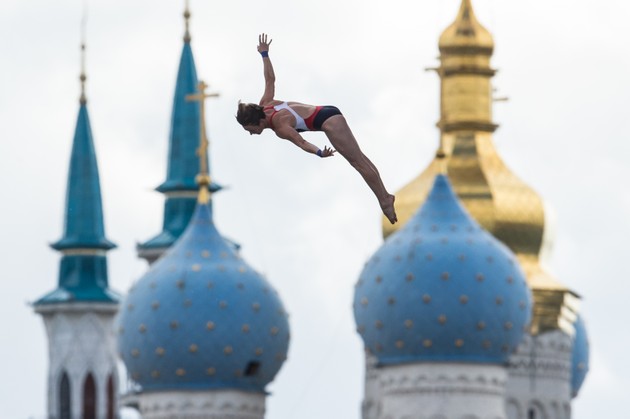 ---
Quoted
Conor Friedersdorf: "Many Americans have conflicted opinions about abortion policy, or do their utmost to look away from the abortion debate entirely, precisely because when they listen to an abortion opponent describing the consequences of its ongoing legality and then an abortion rights proponent describing the consequences of making it illegal, they desperately desire to avoid being complicit in either of those terrible realities."
Emma Green: "If such a 'real America' ever existed in more than Leave It to Beaver re-runs, it certainly doesn't exist now. Gay marriage is legal. Church attendance is down. Most TV shows are less about happy homes than the hectic, diverse tumble of American family life; the cultural preoccupation with perfectionist conservatism has largely come to an end."
Adrienne LaFrance: "NASA engineers are designing a flying 'prospecting robot' designed to travel to remote regions of the moon and Mars to scoop up soil samples for detecting minerals and other resources… Engineers are relying on advances in autonomous flight, laser-guidance, mapping, and 3-D printing to build a prototype."
---
News Quiz
1. Men hold _________ percent of the 2.5 million construction and carpentry jobs in the United States.
(See answer or scroll to the bottom.)
2. Last week, voting-rights advocates scored an important victory in _____________.
(See answer or scroll to the bottom.)
3. In the 18th century, this American Founding Father complained that some of his country's beers were "meagre and often vapid."
(See answer or scroll to the bottom.)
---
Evening Read
Gayle Tzemach Lemmon examines the dearth of cinematic portrayals of female soldiers in combat:
Among the recent spate of war films, hardly any women are seen as service members central to the action. In Afghanistan, women in uniform are widely seen in the airports and across bases heading to work. But watch a war movie and the roughly 300,000 women who have deployed in America's post-9/11 wars are largely missing in action.

These untold stories have consequences both for how America sees its women in uniform and how they see themselves: With women mostly absent from our war stories, Americans find it hard to understand the combat their servicewomen have seen. And the women themselves are loath to explain their experience to a nation that already struggles to connect with the less than one percent of the country that has fought its wars.
---
Reader Comment of the Day
Susan Granade on Cecil the Lion:
Looking over the comments here, I see so much cynicism. I'm not sure why. I believe when the killing of a single wild animal suddenly takes on such huge significance, it's because collective anxiety about the decline of the natural world is finally boiling over. On some level, we know we cannot go on taking for granted that things will remain as they always have been—that we can continue in old patterns.

And another, much simpler, explanation for the outrage over Cecil's death is that he had a name. Any creature with a name becomes one we can love, mourn, and miss.
---
Verbs
Wildlife researchers cash in, Sandra Bland's family sues, Israeli arsonist arrested, Planned Parenthood debate rages, and Real Housewives star shoplifts.
---
ANSWERS: 97, OKLAHOMA, THOMAS JEFFERSON