The Atlantic Daily: Gay-Wedding Cakes, China's Currency, Relief for Western Drought
The Colorado Court of Appeals rules against a Christian baker; the yuan is devalued for a third straight day; and El Nino could provide the West with much-needed drought relief.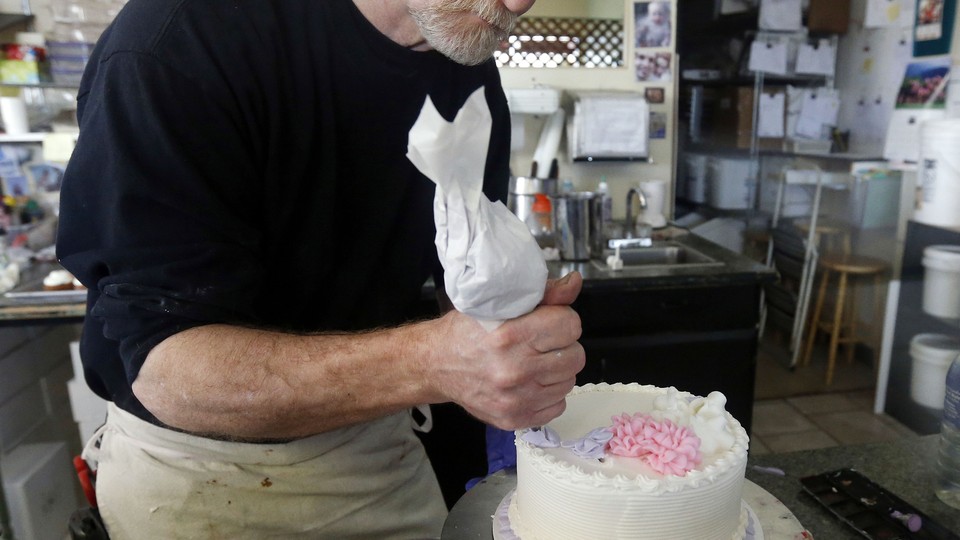 What We're Following: Colorado Wedding Cakes
Is baking a cake a form of free speech? No, said the Colorado Court of Appeals on Thursday. At issue was a Lakewood, Colorado, baker who refused to make a wedding cake for a same-sex couple, citing religious-freedom protections. As the nation adjusts to the Supreme Court's marriage-equality ruling, similar legal battles are likely.
Chinese Currency: It's a turbulent time for the renminbi. In a move that jolted investors, the People's Bank of China devalued the Chinese currency for the third straight day on Thursday. Despite Beijing's reassurances about what Chinese officials called a temporary move, some market observers fear further tinkering could spark a currency war.
El Nino and the West: At long last, the Western United States could see some relief this winter from years of drought. NOAA scientists told reporters Thursday that they saw signs of a powerful El Nino system growing in the coming months. The warming ocean water off the California shore "rivals what we saw with the great Godzilla El Niño of 1997 and 1998," though the researchers cautioned that other factors could diminish its impact.
---
Snapshot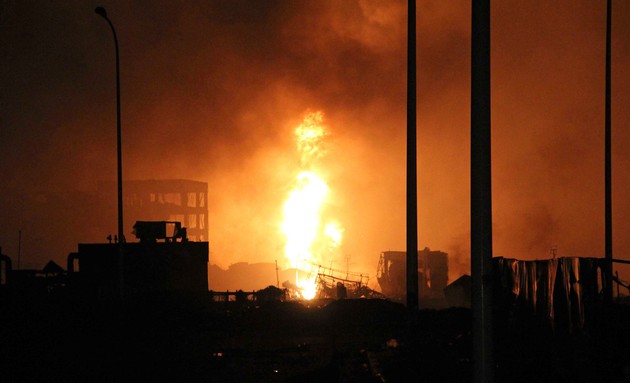 ---
Quoted
Carly Fiorina: "I don't think you get things done by insulting everyone. I have a track record of getting things done, of challenging the status quo, of leading toward results."
Gail Saltz: "We are probably more afraid of death than anything else. The fascination with viewing someone who is [dead] … is driven by that sort of supreme fear of ours which makes us want to know more and to understand the experience and feel like we have some kind of window in."
Kevin Kniffin: "People who were or are relatively among the youngest in their classes shouldn't feel stigmatized or disadvantaged because of their age. We would like to think that [with] this evidence, parents would feel a little less anxiety; it should provide a dose of anti-anxiety medicine for them."
---
News Quiz
1. The ________ meteor shower, which peaked last Wednesday night, occurs each summer when Earth crosses paths with the trail of dust and rock that follow the comet Swift-Tuttle.
(See answer or scroll to the bottom.)
2. According to her lawyer, ___________ is being threatened with indefinite solitary confinement for extremely minor transgressions.
(See answer or scroll to the bottom.)​
3. Newly released documents reveal that ___________ drafted a letter to Congress that apologized for the actions of CIA officers in spying on its Senate overseers.
(See answer or scroll to the bottom.)
---
Evening Read
Molly Ball on how Donald Trump's rise has prompted soul searching within the Republican Party:
Trump, ironically, actually is a Republican in name only. But he's also a professional entertainer, and he has proven better than any of the actual candidates at the performative outrageousness that the GOP base has been encouraged to demand. When and if he finally stalls out or quits, the deep Republican divisions that he has successfully exploited will remain, bedeviling whichever candidate ends up with the booby prize of the nomination.
---
Reader Response
Commenter TR reflects on Julie Beck's piece on how people shape their life narratives:
The older I get, the less my personal narrative resembles reality. The bad parts have all been filed away. A few fictional good parts have been added to help replace all of the parts that have been discarded. All of the endings have been chopped up, rearranged, and pieced back together to create something happy.
It works. A good story is far better for a person's mental health than an accurate one.
Xira thinks of the children:
That's something that's not going to be available to anyone under 20. The Internet keeps *very* accurate records and is perfectly willing to present the good or bad parts in perfect order at the worst possible time.
---
Verbs
Turkey talks fail, Ben Carson sputters, Coca-Cola reshuffles, HBO acquires, and Tom Brady's courtroom artist apologizes.
---
ANSWERS: PERSEID, CHELSEA MANNING, JOHN BRENNAN