The Atlantic Daily: Ferguson, Jason Rezaian, Hillary Clinton
Violence erupts in Ferguson, a jailed Washington Post reporter is on trial in Iran, Hillary Clinton unveils her college-affordability plan, and more…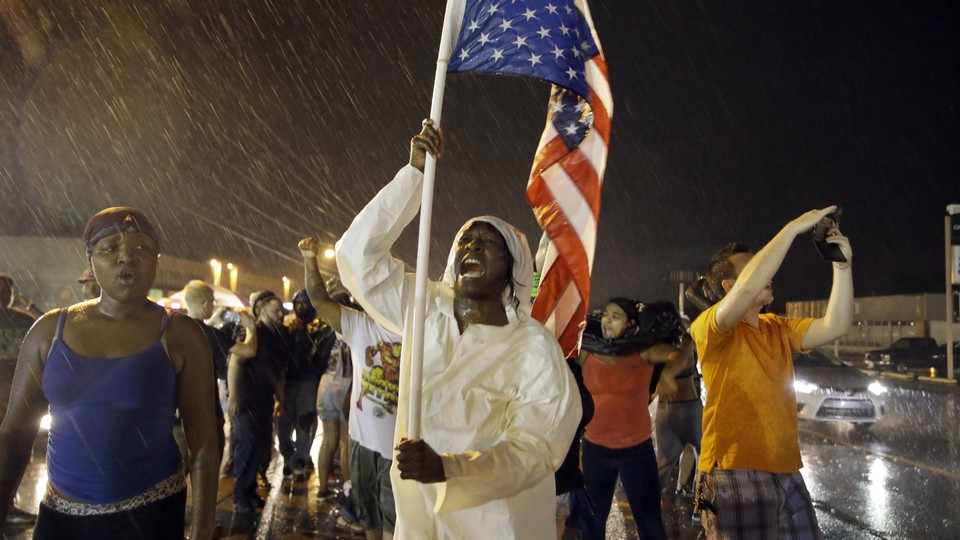 What We're Following: Violence in Ferguson
The St. Louis County Executive has issued a state of emergency following Sunday night's unrest. Police shot and wounded a man who they say fired at them in Ferguson, Missouri. The violence followed peaceful rallies to mark the first anniversary of the killing of Michael Brown, an unarmed black 18-year-old who was killed by Ferguson police officer Darren Wilson. St. Louis County's police chief said the man was not connected to the rallies that marked Brown's killing. Conor Friedersdorf called the weekend's violence a tough weekend for the "Black Lives Matter" movement.
A Trial in Iran: Washington Post reporter Jason Rezaian, who has been jailed in Iran for over a year, had his fourth and possibly final court appearance in Tehran on Monday. If convicted, Rezaian, who has been charged with espionage, will face 10-20 years in prison. According to Iran's news agency, a verdict in the case is expected within weeks. The Post  has called the closed-door trial a "sham."
Clinton in New Hampshire: Hillary Clinton, the Democratic presidential front-runner, wants undergraduate students to be able to go to public college without taking out a single loan. The details of Clinton's plan, which she unveiled Monday in Exeter, New Hampshire: $175 billion in grants to states that guarantee students don't need loans to cover tuition at four-year public colleges. The plan would lower student interest rates. It would make community colleges free. It would take 10 years and $350 billion in federal funds, which would come from limiting the value of itemized deductions for high-income taxpayers.
---
Snapshot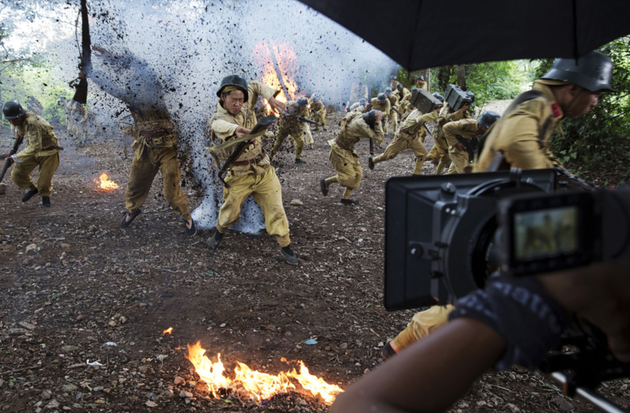 ---
Quoted
Scott Beauchamp: "If Sanders is a rhetorical populist, then Clinton is one in a different, and more literal sense: She actually tries to cater to the majority of likely voters… But isn't this barometric sensitivity just a sophisticated method for responding to the largest possible coalition of voters? It's a coldly efficient way of giving the people what they want, calculated to upset as few as possible."
Bourree Lam: "While children increased a man's earnings by 6 percent, a woman's earnings decreased by 4 percent for each child she had. Last year, OPM found in a study that the starting salaries of female federal employees were 10 percent lower than those of male federal employees."
Conor Friedersdorf: "Some members of the public will wrongheadedly conflate Black Lives Matter activists and the criminals who used the cover of Sunday's anniversary and the accompanying protests to fire guns, beat up and rob a St. Louis Post-Dispatch newspaper reporter, and smash the window of a small business that serves Ferguson."
---
News Quiz
1. Bobbi Gibb was the first woman to run this major American marathon.
(See answer or scroll to the bottom.)
2. According to a Pew study, states collectively owe ___________ in pension promises and retiree health care.
(See answer or scroll to the bottom.)
3. Justice Department statistics show that ________ percent of sexually abused children are victimized by family members or acquaintances.
(See answer or scroll to the bottom.)
---
Evening Read
Julie Beck on how the narrative you create about your life shapes your personality:
In the realm of narrative psychology, a person's life story is not a Wikipedia biography of the facts and events of a life, but rather the way a person integrates those facts and events internally—picks them apart and weaves them back together to make meaning. This narrative becomes a form of identity, in which the things someone chooses to include in the story, and the way she tells it, can both reflect and shape who she is.  A life story doesn't just say what happened, it says why it was important, what it means for who the person is, for who they'll become, and for what happens next.

… But life rarely follows the logical progression that most stories—good stories—do, where the clues come together, guns left on mantles go off at the appropriate moments, the climax comes in the third act. So narrative seems like an incongruous framing method for life's chaos, until you remember where stories came from in the first place. Ultimately, the only material we've ever had to make stories out of is our own imagination, and life itself.

Storytelling, then—fictional or nonfictional, realistic or embellished with dragons—is a way of making sense of the world around us.
---
Reader Response
Commenter Manioc on the derailing of a Bernie Sanders rally by a dozen activists from Black Lives Matter:
Playing devil's advocate here, but I think there's an argument to be made that BLM is actually being strategic by largely ignoring the prohibitive Democratic front-runner and confronting the segment of the party that's to her left. In that way they avoid weakening the campaign of the obvious nominee while possibly forcing Bernie to add racial justice to his well-publicized agenda, while he's still a media darling. That in turn will likely pull Clinton further to the left, if recent history is any guide.

Kilpatrick Kirksimmons replies to Manioc:
Interesting. Though if that is what they are doing, they did it in the least artful way imaginable. If they end up alienating Sanders, i.e. turning the far left ambivalent or even hostile, then there isn't the slightest hope of turning the centrist Clinton onto the issue. And you know the Republicans sure as hell aren't taking up that mantle.

Obviously these are a dozen activists from one chapter, so we can't draw too many conclusions. But if this becomes common, Black Lives Matter will end up howling themselves into the wilderness.
---
Verbs
Trump doubles down, Clinton college-affordability plan proposed, EPA mine spill worsens, U.S. consulate in Turkey attacked, and a football great remembered.
---
Answers: THe Boston Marathon, $1.4 trillion, 93
---