The Atlantic Daily: Bangkok, Amazon, Heroin
A massive explosion rocks Thailand's capital, Jeff Bezos defends Amazon's workplace practices, the Obama administration wants to fight rising heroin use, and more...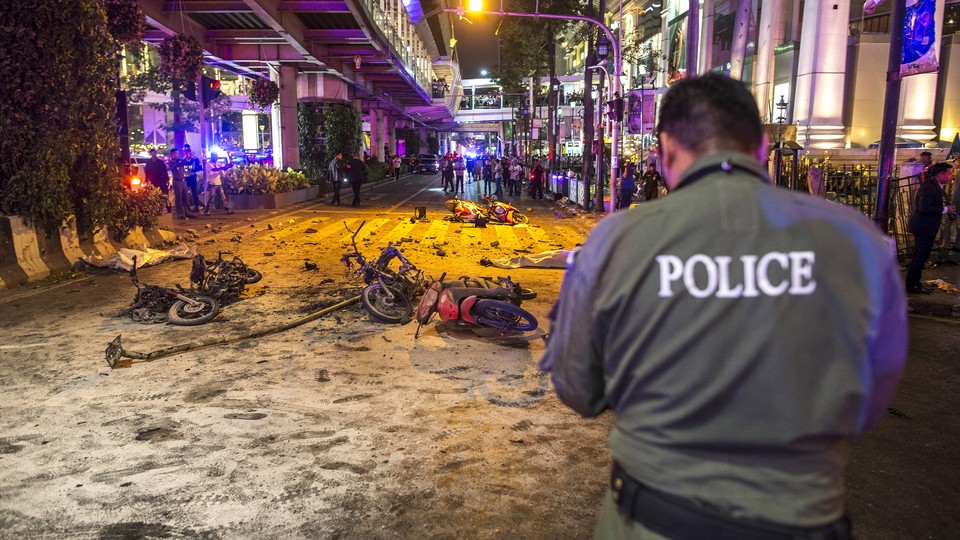 What We're Following: A Bombing in Bangkok
A massive explosion ripped through the Erawan Shrine in Bangkok on Monday, killing 16 people and wounding dozens more. The Hindu shrine is a popular tourist attraction in Thailand's capital, attracting pilgrims and visitors from around the world. No group has claimed responsibility for the attack yet.
Amazon's Workplace Woes: CEO Jeff Bezos is defending Amazon in the wake of a bruising New York Times report about the company's workplace culture. Times reporters interviewed over 100 Amazon employees, who described a merciless and emotionally fraught environment that fueled nervous breakdowns and miscarriages. In an all-staff email, Bezos urged employees who had witnessed such treatment to report it to him directly.
The White House Takes on Heroin: President Obama announced a $5 million program Monday to fight rising rates of heroin use throughout the nation. Among the statistics that prompted action: a fourfold rise in heroin-related overdoses over the past decade. Unlike previous drug-fighting efforts, the new program will address it as a primarily public-health issue instead of a criminal one.
---
Snapshot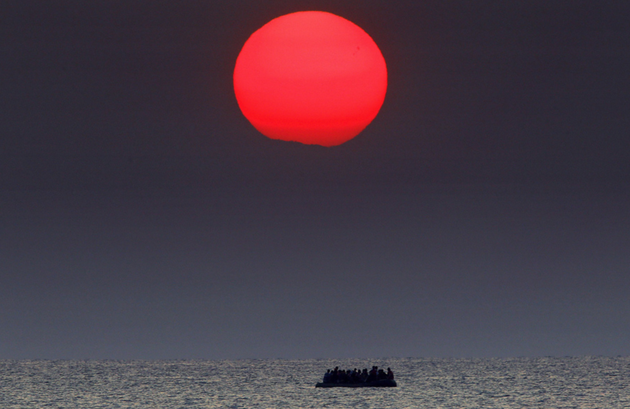 ---
Quoted
Robinson Meyer: "Since the technology debuted on the national stage last August, one of the most critical questions asked of police departments adopting body cameras has been: Who gets to see?… Is it a public record created by the government and available to the people, or is it personally identifiable information that's confidential and off-limits? The government, after all, can release town-hall-meeting minutes but not personal tax returns."
Bourree Lam: "Unlike other flash-sale sites, such as MyHabit or Gilt, Zulily isn't focused on high-end designer goods, but rather on Millennial moms. That might shed some light on why this deal might be audience expansion for QVC: The company's image in our collective memory is one of old-school shopping for housewives and people who stay up all night buying stuff they don't need. In some ways, that resembles the definition of the new shopping mom."
Emma Green: "In books and movies and television shows, there's a certain stereotype about religion in prisons—that people often find God from their cell. There have been a handful of high-profile cases of this in recent memory, like Karla Faye Tucker and Kelly Renee Gissendaner. The stereotype, [prison chaplain, Kelly Raths] said, isn't entirely untrue."
---
News Quiz
1. In more than 40 states, at least 75 percent of public schools start earlier than __________, according to a CDC report.
(See answer or scroll to the bottom.)
2. In a sample of roughly 2000 Americans, Republicans were ________ percentage points more likely than Democrats to say they are "very happy" in marriage.
(See answer or scroll to the bottom.)
3. Civil rights Julian Bond, who passed away on Sunday at the age of 75, co-founded this major legal advocacy organization.
(See answer or scroll to the bottom.)
---
Evening Read
Simon Cottee on the life of Syrian refugees in the French port town of Calais, just across the English Channel from the United Kingdom:
I noticed that Ahmad's hand was heavily bandaged. He had wounded it trying to jump over a nearly seven-foot-high iron fence surrounding a parking area near the port—with the aim of hiding in a shipping container or truck bound for Britain. It was his fourth attempt to escape Calais in as many weeks. The injury to his hand was severe and would require surgery. For the time being, he was resigned to stay put, though he planned to try again once his hand healed. He had been in Calais for six weeks, having arrived after a months-long journey that had taken him first to Turkey, then to Italy via ship, and then on to France—at the cost of his life's savings of roughly $10,000.

Last October, Mouaz al-Balkhi and Shadi Kataf, two Syrian refugees, bought wetsuits from a sports shop in Calais and tried to swim across the channel to England. They never made it. Ahmad mentioned this in passing. "They were from here. … Every two to three days you hear about someone dying."
---
Reader Response
Commenter MindOverMatter on the refusal of a county clerk in Kentucky to issue marriage licenses to anyone, in religious protest over same-sex marriage:
As Jesus Christ once preached: Give unto Caesar what belongs to Caesar and God what belongs to God. In this instance, issuing a marriage license to gay couples does not make one less a Christian; it's like giving to Caesar.

Moreover, it's a government job that rejects discrimination against its citizens, and whoever is not willing to carry out the mandates of the government for religious purposes should quit the job and devote themselves to practicing their religion as they see fit.
---
Verbs
U.S. drone flights increased, Indonesian plane debris spotted, Tracy Morgan booked, college unionization efforts thwarted, and Trump goes to court.
---
Answers: 8:30 a.m., six, the southern poverty law center
---