The Atlantic Daily: A Reluctant Greece Chooses Austerity
Greece accepts Europe's bailout plan, F.A.O. Schwarz shutters, and more ...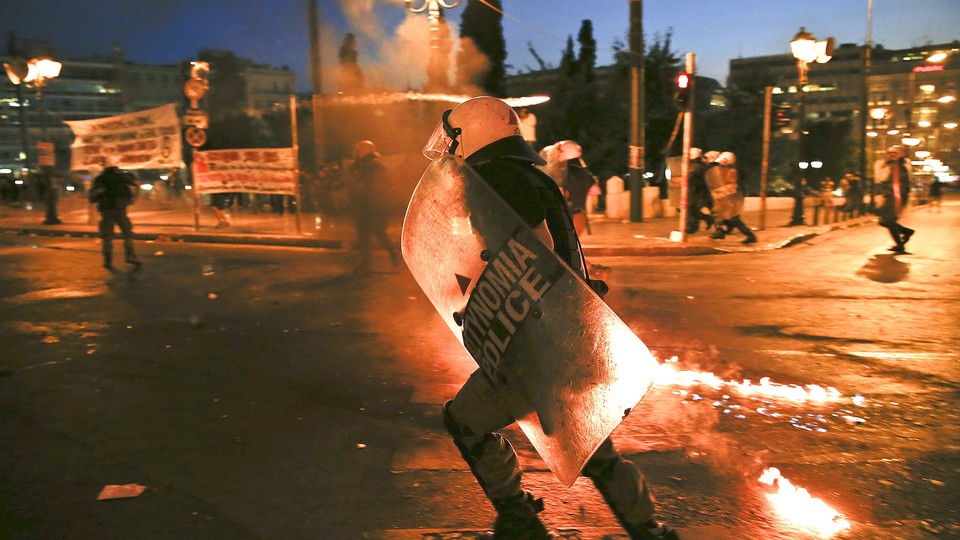 What's Happening: Will Germany and Greece Ever Repair Their Relationship?
Even after Greek leaders reluctantly voted to accept a tougher bailout plan from Europe, German Finance Minister Wolfgang Schäuble said that Greece should probably still leave the euro. It was hardly the note needed as Greeks set Athens on fire to protest the new austerity plan. While Germany may have won big in the negotiations with Greece, many say the German government's approach has badly damaged its image along the way.
Terrorism in Tennessee?: A gunman killed four people and wounded several others during incidents at two separate military facilities in Chattanooga. A number of those dead and injured are thought to be members of the armed forces. The shooter, who was later identified as Muhammad Youssef Abdulazeez, was also killed in a shootout. "We will treat this like a terrorism investigation until we determine that it is not," an FBI representative told reporters at a news conference.
New support for the Iran deal: President Obama got some vocal support on the nuclear agreement from House Minority Leader Nancy Pelosi on Thursday. The California lawmaker called the accord the "best possible option" to stop Iran from developing a nuclear weapon. A new CIA assessment also suggested that sanctions relief for the Islamic republic will most likely be devoted to the Iranian economy rather than the funding of terrorist groups.
---
Snapshot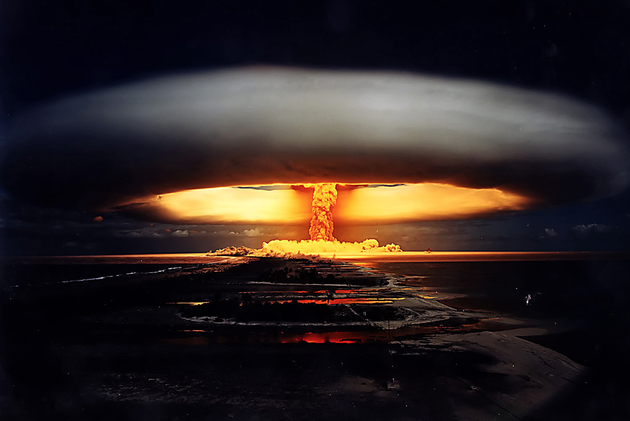 A 1971 photo of a nuclear bomb detonated by the French government at the Mururoa atoll in French Polynesia. For more images from the first 30 years of nuclear testing visit The Atlantic Photo. (AP)
---
Quoted
Megan Garber: "Schwarz's toys were not just toys, but also helpful primers for planned-upon lives of wealth. They were playthings that doubled as performances, instructing the kids who owned them in often unspoken and yet often all-powerful modes of luxurious living."
Robinson Meyer: "It will take many years before scientists understand the full import of the science that New Horizons did… But on Wednesday, scientists seemed exhausted, surprised, and overjoyed."
James Hamblin: "People with the most self-control and resilience have the highest likelihood of defying odds—poverty, bad schools, unsafe communities—and going on to achieve much academically and professionally. Except that even when that is possible, those children seem to age rapidly during the process."
---
News Quiz
1. In 2014, this Republican turned Democrat lost the Florida governor's race to unpopular incumbent Rick Scott.
(See answer or scroll to the bottom.)
2. When Sesame Street first premiered in ___________ , it was viewed as extremely revolutionary for its time.
(See answer or scroll to the bottom.)
3. A 2014 World Economic Forum report ranks the United States __________ out of 131 countries in terms of gender pay equity.
(See answer or scroll to the bottom.)
---
Evening Read
Olga Khazan on how the group Americans United for Life is reshaping abortion laws in states around the country:
[Americans United for Life] has scored its legal checkmates by breaking ranks with the other, more idealistic branch of the pro-life movement—the one that aims to end abortion entirely. This more absolutist flank has faltered, since the majority of Americans think abortion should be legal in at least some circumstances, even if they disagree with the practice on moral grounds. (For example, two so-called "personhood" initiatives, which would have established that human life begins at conception, failed last fall at the polls.) The AUL, meanwhile, pursues a more pragmatic "incrementalist" strategy, in which pro-lifers chip away at the total number of abortions by helping to enact new constraints.

And they are virtuosos at that: According to the Guttmacher Institute, so far this year states have enacted 51 new abortion restrictions, bringing the total passed since 2010 to 282. Many of these laws originated in Defending Life, a compendium of about 50 pieces of legislation written by AUL and its nine staff lawyers. According to the "legislative victories" sections of the group's annual reports, the group has helped enact 38 pro-life laws in various states since 2013.
---
Verbs
Israel worries, McDonald's franchisees fret, Obama visits jail, Emmy nominations announced, Duggars dropped, and Polish cow celebrated.
Answers: CHARLIE CRIST, 1969, 65th
---