The Atlantic Daily: John Kasich, Iran Deal, Trump Brawl
The Republican field grows, Iran mimics Congress, and more ...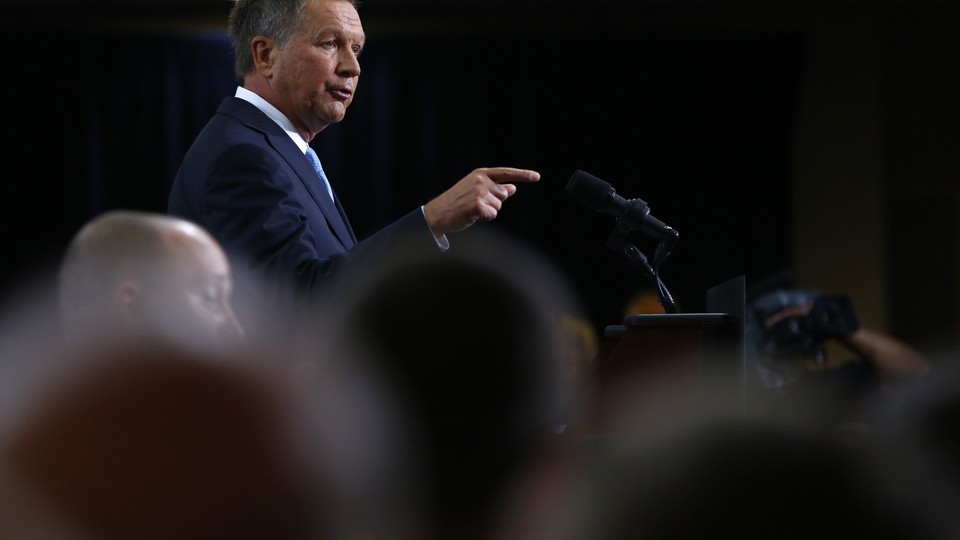 What's Happening: A Republican Firebrand Joins the Presidential Race
Ohio Governor John Kasich's bid for the Republican presidential nomination appears to be both late and unlikely. With 16 total candidates in the mix—and limited space to hold them—Kasich has enviable credentials for a national candidate. He's the well-experienced, popular governor of swing state with a record of bipartisanship and a knack for the common touch. But as Molly Ball writes in The Atlantic, rather than standing out, Kasich is more likely to stand alone in a Republican field where such bona fides are primary poison.
Iran trolls the United States: Mimicking their American counterparts, Iranian lawmakers decided that they will take 80 days to review the nuclear accord signed last week in Vienna before voting to approve it. Congress, which empowered itself to reject the deal earlier this year, formally received the agreement on Monday and will have 60 days to look it over. Meanwhile, Secretary of State John Kerry took aim at Iran's Supreme Leader Ali Khamenei for a sermon in which he said that Iran would continue to counter American policies in the Middle East.
Calling Carolina: Donald Trump's war of words with fellow Republican candidate Lindsey Graham took a new turn on Tuesday. One day after Graham called Trump a "jackass" for his remarks about Senator John McCain, Trump announced Graham's private phone number to a crowd of hundreds during a rally in South Carolina. Graham later tweeted, "Probably getting a new phone. iPhone or Android?"
---
Snapshot
---
Quoted
Peter Beinart: "Although it's too early to declare Trump's political career over, the last few days resemble McCarthy's descent in 1953 and 1954. Even before last weekend, Republican elites increasingly viewed him as a political liability. Then, on Saturday, Trump ventured beyond his previous 'soft' targets—immigrants, blacks, and President Obama—and claimed John McCain was not really a war hero."
Emma Green: "In the lead-up to the Obergefell decision, same-sex-marriage supporters often invoked the language of the civil-rights era, comparing their fight for marriage equality to the fight to end legally protected racial discrimination. But in turn, some conservative, religious Americans—and particularly those in the South—are also calling back to that era in U.S. history to defend their beliefs."​
Megan Garber: "The most progressive thing about Trainwreck might well be not just, as Amy's standup puts it, the sex stuff. It might also be the other stuff: Amy's aggressive, and character-defining, assholery.  The movie is, by way of its star and its plot, giving a woman permission to do something that many a movie-dude has done before, by default: be a jerk, and be loved anyway.
---
News Quiz
1. In May, 177 people were arrested in connection with a biker gang shootout in this Texas city.
(See answer or scroll to the bottom.)
2. According to a 2013 study, not being able to buy________was a leading cause of mental-health problems among new moms.
(See answer or scroll to the bottom.)
3. On Monday, longtime host Garrison Keillor announced his intentions to leave this public-radio variety show next year.
(See answer or scroll to the bottom.)
---
Evening Read
Amie Ferris-Rotman on the Russian influence in the Donetsk People's Republic:
Across the Donetsk People's Republic, traces of Ukraine were successfully being extinguished. Most Ukrainian businesses along the capital city's birch-lined boulevards were fading into oblivion—shops shuttered, ATM screens and cell-phone top-up booths covered in a thick film of dust, untouched for months. Many foreign firms had also pulled out of the region due to security concerns. On the city's yellow mailboxes, the Ukrainian word for "post"—poshta—had been changed to Russian—pochta—in crudely drawn marker, a divisive difference of one letter. Ukrainian license plates were gradually being replaced with ones belonging to the DPR. The Russian ruble, with its tributes to Czar Peter the Great and Moscow's Bolshoi Theatre, was omnipresent, fast replacing the Ukrainian hryvnia and its depiction of Kiev's Saint Sophia Cathedral. In a sprawling, covered outdoor market, rubles and hryvnia were quickly interchanged, as traders made fast mental calculations.
---
Verbs
Homeland Security officials scrutinized, Citigroup fined, flags lowered, Chattanooga shooter's uncle detained, and earth photographed.
---
Answers: waco, DIAPERS, A PRARIE HOME COMPANION
---