The Atlantic Daily: Greece Stays in the Euro Zone—but for How Long?
Reaching an "agreekment," Scott Walker jumps into the U.S. presidential race, and more ...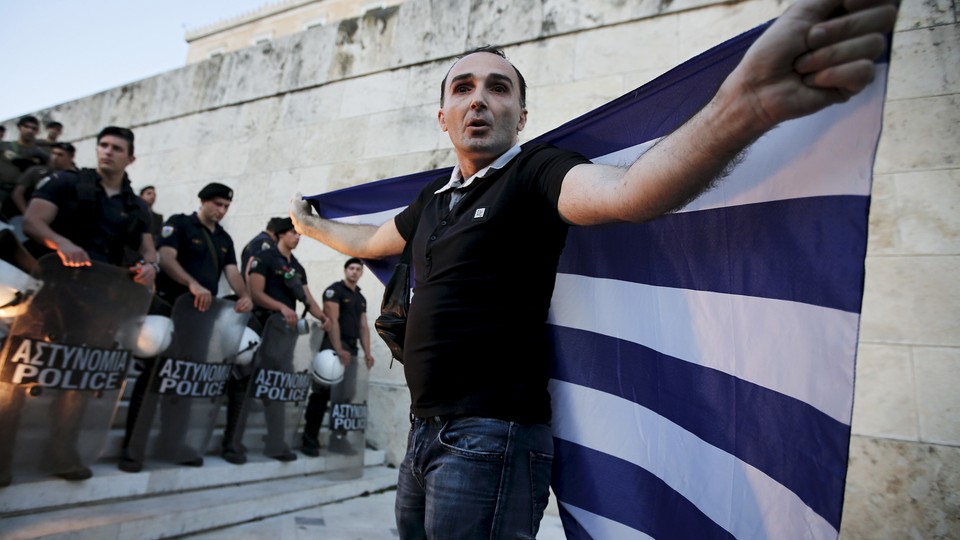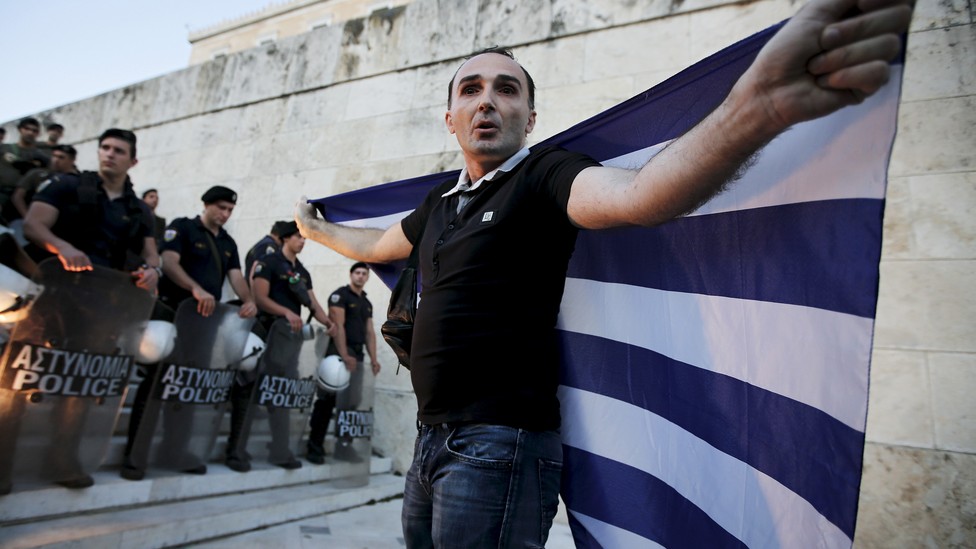 What's Happening: Greece Gets Its Bailout
Months of drama about Greece's future in the euro zone ended after a 17-hour negotiating session yielded a third bailout agreement between the Greeks and their European creditors. In exchange for some reforms to its tax and pension systems, Greece will get an €86 billion loan. The three-year program will allow Greece to help out its banks, which have essentially run out of cash.
An Iran deal is announced, then unannounced: Iran's President Hassan Rouhani was set to appear on state television to announce a nuclear deal on Monday. With a comprehensive agreement seemingly set, he even tweeted out a note of self-congratulation. And just like that, the appearance was canceled and the tweet deleted. After nearly two-and-a-half years of negotiations, what's a few more hours? An agreement is expected to be announced on Tuesday.
El Chapo's escape: More details about a prison break by Joaquín Guzmán Loera, the most notorious drug baron this side of Pablo Escobar, have emerged. The kingpin known as "El Chapo" tunneled out of Mexico's most secure prison through a shower over the weekend. His escape is a stinging embarrassment to Mexican officials, who refused to extradite him to the United States and promised that his 2001 escape would not be repeated.
---
Snapshot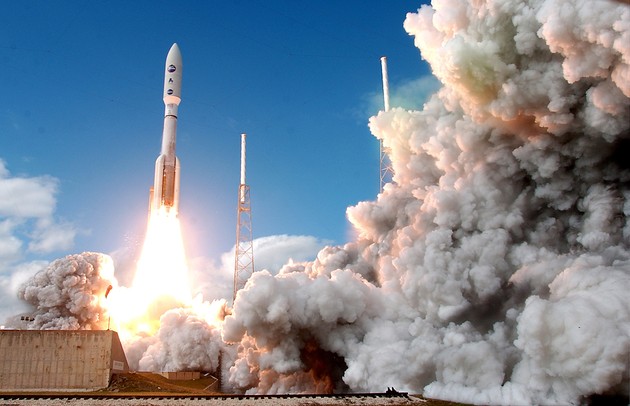 ---
Quoted
Bourree Lam: "Should the measures pull Greece out of recession (so they can start making repayments), then everyone wins. If not, Greece will likely need further bailouts. For now, at least it seems the possibility of introducing a devalued drachma has been averted."
Lenika Cruz: "The Gallows didn't need to reimagine found-footage horror films, but it could have at least tried harder to exceed the super-low expectations typically set for such cookie-cutter fare."​
David Graham: "While Clinton promised more detail on many of her ideas in the coming weeks and months, this speech seemed mostly geared at situating herself against her rivals and presenting herself as a steady, wonky hand on the tiller."
---
News Quiz
1. Jimmy Carter entered the Oval Office when he was _________ years old.
(See answer or scroll to the bottom.)
2. In 2008,  Donald Trump said____________was "maybe the worst president in the history of this country?"
(See answer or scroll to the bottom.)
3. The United States holds ________ percent of the world's prisoners.
(See answer to scroll to the bottom.)
---
Evening Read
Alana Semuels on how racial segregation sent the black suburb of Lincoln Heights, Ohio, into decline:
When it incorporated in 1947, this village, called Lincoln Heights, was the first primarily black self-governing community north of the Mason-Dixon line. (Today, the city has one of the highest concentrations of African American residents in the state of Ohio—according to the Census, 95.5 percent.) Lincoln Heights thrived for a while, producing poet Nikki Giovanni, songwriters the Isley Brothers (who wrote "Twist and Shout"), and scholar Carl Westmoreland, who now helps run the National Underground Railroad Freedom Center…

But today, Lincoln Heights is struggling. Its median household income of $25,568 is less than half that of Blue Ash, a nearby majority-white suburb. About 16 percent of residents are unemployed, and one-third of families earn below the poverty level.
---
Verbs
Drug sentences commuted, baseball sued, lawyers detained, Massachusetts ISIS sympathizer charged, Finch fans flinch, and 50 Cent files.
---
Answers: 52, George w. Bush, 22
---