The Atlantic Daily: Terrorism in the American South
An investigation begins in Tennessee, the anniversary of Eric Garner's death, and more ...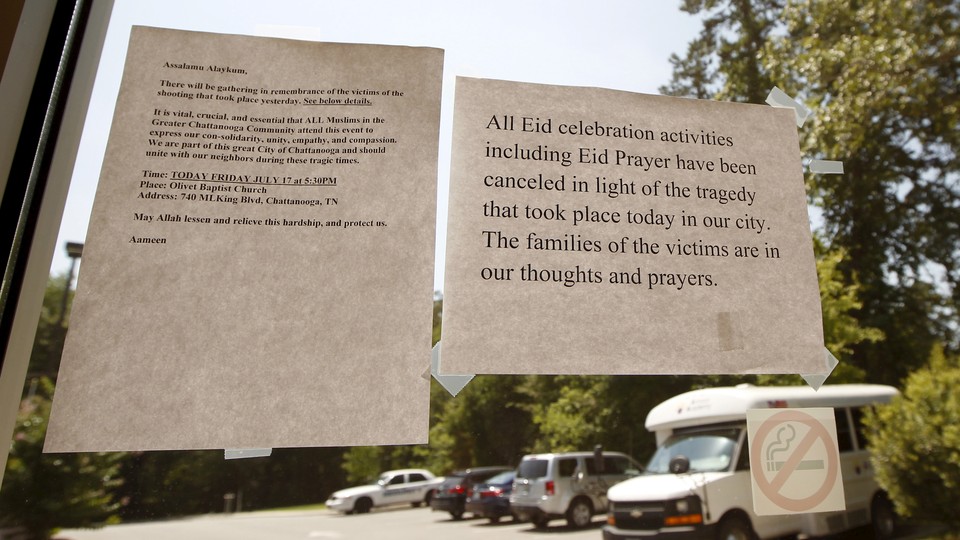 What's Happening: The Aftermath of a Shooting in Chattanooga
On Friday, we learned more about the attack that killed four Marines in Tennessee. The shooter was identified as Muhammad Youssef Abdulazeez, a 24-year-old American citizen who was born in Kuwait. American officials are focusing on a seven-month trip he took to Jordan last year for possible terrorist links. Meanwhile, the four men killed on Thursday were revealed to be Gunnery Sgt. Thomas Sullivan, Staff Sgt. David Wyatt, Sgt. Carson Holmquist, and Lance Cpl. Squire "Skip" Wells. The men ranged in age from 21 to 40 and collectively served five tours of duty between Iraq and Afghanistan.
A year after Eric Garner's death: Marking an anniversary is one thing, but learning a lesson is another. One year after Eric Garner died in a police chokehold, the list of black men, women, and children killed by police steadily grows. This week, a woman named Sandra Bland died under disputed circumstances while in police custody in Texas. As David Graham writes in The Atlantic, "Bland's death shows why the anniversary doesn't offer any closure."
A year after the shooting down of MH 17: One year ago, a Malaysia Airlines plane carrying 298 people was shot down in eastern Ukraine, almost certainly by pro-Russian rebels. International monitors have been kept from investigating, in part because fighting continues in the region despite a ceasefire. Investigators remain hopeful that someday someone will be prosecuted.
---
Snapshot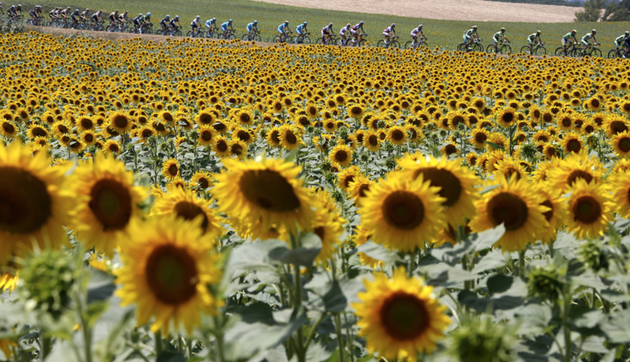 ---
Quoted
Sophie Gilbert: "For all its flaws—a meandering, distinctly unfinished style; stilted dialogue; an unsatisfactory ending—Go Set a Watchman is worth welcoming… The book offers what's become increasingly difficult and necessary in the five decades since Mockingbird was published: an unflinching attempt to wrestle with racial prejudice."
Alana Semuels: "Companies located in the suburbs couldn't find entry-level service workers, and when they did, those workers would have hours-long commutes through heavy traffic, and would have problems getting to work in inclement weather. The Regional Housing Initiative was founded with the goal of creating more affordable housing for low-income workers in the suburbs."
Christopher Orr: "This exquisitely rude rom-com [The Trainwreck] is the most flat-out hilarious film to hit screens in many moons, a big-screen breakout for Schumer and a return to form for Apatow after the disappointment of This is 40."​
---
News Quiz
1. In 1995, 8,000 Bosnian Muslim men and boys were murdered in the town of ____________.
(See answer or scroll to the bottom.)
2. The Chattanooga gunman, Muhammad Youssef Abdulazeez, was a naturalized U.S. citizen, but was born in ____________.
(See answer or scroll to the bottom.)
3. The actor Paul Rudd stars as a superpower with the ability to make himself miniature in this new Marvel release.
(See answer or scroll to the bottom.)
---
Weekend Read
Peter Beinart, David Frum, and Jeffrey Goldberg debate the merits of the nuclear agreement with Iran. Here's Goldberg:
Within the political and moral framework the Obama administration and its allies created for themselves, this deal has many positive features. As an arms-control initiative, it seems as if the Vienna agreement could keep Iran from reaching the nuclear threshold for many years (20 years is President Obama's provisional measure of success, at least when I asked him in May). This deal could also prevent an eventual military confrontation between the U.S. and Iran, or Israel and Iran. I put great stock—sorry, David—in the argument that opponents of this deal should be forced to come up with a better alternative. I haven't come up with anything. I do think, in the absence of a deal, we would be looking at an Iran soon at the threshold, or at a military operation to delay the moment when Iran could cross the threshold. (Delay, not defeat, because three things would happen in the event of an American military strike: Sanctions would crumble; Russia would become Iran's partner; and the ayatollahs would have their predicate to justify a rush to the bomb. Only more bombing could stop them, and then, of course, we would be talking about a never-ending regional war.)
---
Verbs
Chattanooga victims identified, Nigerian holy sites bombed, Trump surges, former Congressman sentenced, chicken recalled, and British Open played.
---
Answers: SREBRENICA, KUWAIT, "ANT-MAN"
---