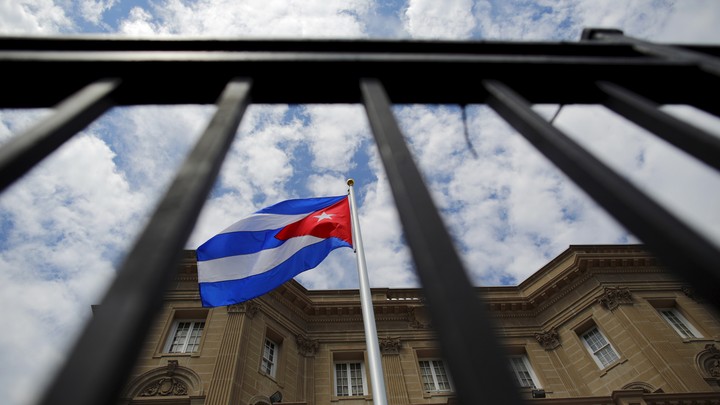 What's Happening: Cuba and the United States Restore Ties
President Obama was still seven months from being born when the United States severed ties with Cuba. On Monday, the two countries reopened embassies in each other's capitals after announcing a diplomatic thaw last December. The fanfare, however, was limited. Following the ceremony in Washington, D.C., Cuban Foreign Minister Bruno Rodriguez asked that the American economic embargo against Cuba be lifted. Meanwhile, a White House spokesperson called on Cuba to improve its human-rights record.
Blessing the Iran deal: On Monday, both the United Nations Security Council and the European Union signed off on the nuclear accord struck last week in Vienna. Both measures were more than formalities—they kicked off the process of ending sanctions against Iran. In part, the votes were seen as a nod to the U.S. Congress, which still has to approve the agreement. Lawmakers in Washington, D.C., were not pleased that the votes preceded the congressional review.
An ISIS bombing in Turkey?: A suicide bomber killed over 30 people and wounded 100 others in a city near the border with Syria on Monday. The attack took place at a rally where activists were advocating for the rebuilding of the Syrian town of Kobani. Kurdish forces wrested much of Kobani from ISIS earlier this year. Turkey's government, which has stepped up efforts against the Islamic State in recent months, believes ISIS is responsible for the attack.
---
Snapshot
---
Quoted
James Fallows: "Virtually every opponent of the new Iran deal was also a proponent of invading Iraq 12 years ago. In both cases, Iraq and Iran, the very same people thought that the threat was imminent and grave, that diplomacy was ineffective, and that a hard line was called for."​
Bourree Lam: "While there's little legal ramification of marrying someone with a massive amount of student-loan debt (debt incurred before marriage is not joint debt), Karen Carr, a certified financial planner who teaches and advises at the Society of Grownups, says that differing amounts of loans can be stressful for couples—particularly if the amounts are extreme."
Conor Friedersdorf: "While GOP moderates will assert themselves eventually, as they did in 2012 by nominating Mitt Romney and in 2008 with John McCain, farcical candidacies are difficult for the GOP to avoid or end quickly because the party is averse to certain truths that would help inoculate it against demagogues."
---
News Quiz
1.  In a ceremony in Washington, D.C., on Monday, the Cuban foreign minister re-inaugurated the embassy ___________  years after it closed.
(See answer or scroll to the bottom.)
2. Tom Hanks played Uncle Ned in the hit 1980s sitcom ____________.
(See answer or scroll to the bottom.)
3. Wilco's new album took its name from this popular sci-fi movie franchise.
(See answer or scroll to the bottom.)
---
Evening Read
Adrienne LaFrance writes on the evolution of the computer from person to machine and beyond:
As the computers of the near future help humans adapt to larger piles of data, they'll also learn by observing human behavior. "So far, we have learned to adapt to computers," said Dharmendra Modha, the founder of IBM's Cognitive Computing group. "We use keyboards. We use our thumb to type into the smartphone. But given the advent of the brain-inspired computing and how it's going to integrate into modern computing infrastructure, computers will begin to adapt more and more to human beings."

That's a key point and one that contains a pleasant irony: As the definition of "computer" changes, it may soon evoke the older, more human definition of computing. Because while the computers of the future will still be machines, they'll be more human-like than ever before.
---
Verbs
Trump and McCain feud, wine-country tourists killed, Lockheeds loads up, adultery website hacked, and Zach Johnson wins.
---
Answers: 54, Family TIES, Star Wars
---
We want to hear what you think about this article. Submit a letter to the editor or write to letters@theatlantic.com.
Adam Chandler
is a former staff writer at
The Atlantic
. He is the author of
Drive-Thru Dreams: A Journey Through the Heart of America's Fast-Food Kingdom
.
David Ludwig
is a former editorial fellow with
The Atlantic
​.