The Atlantic Daily: Same-Sex Marriage, an American Right
A historic Supreme Court ruling, a moving eulogy in Charleston, and more…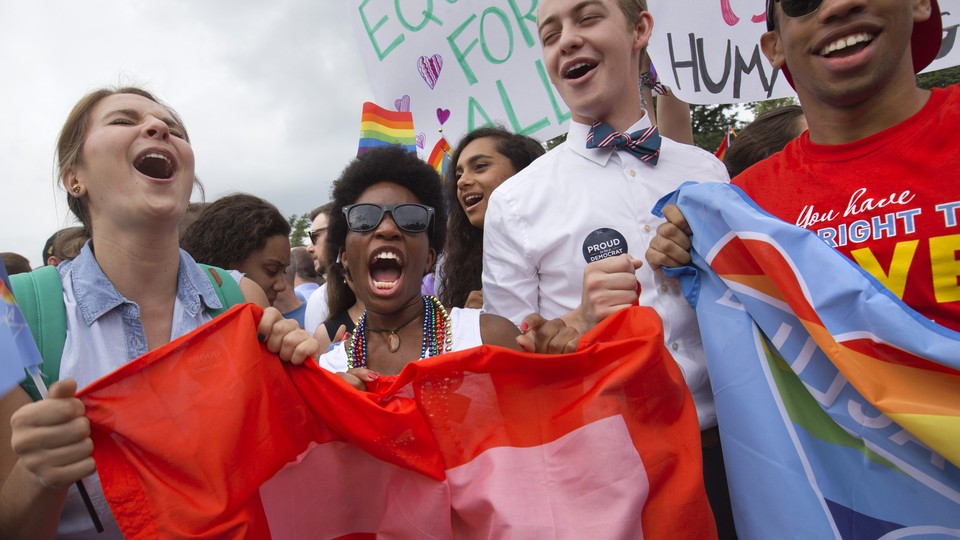 What's Happening: A Historic U.S. Supreme Court Ruling on Gay Marriage
After decades of political struggle, debate, and acrimony, the Supreme Court delivered a historic 5-4 ruling, affirming same-sex marriage as a Constitutional right in the United States. The majority opinion, written by Justice Anthony Kennedy, states: "Rising from the most basic human needs, marriage is essential to our most profound hopes and aspirations." The four dissenting opinions from Alito, Roberts, Thomas, and Scalia were written individually and are all scathing, claiming the decision will limit the religious freedom of those who oppose same-sex marriage.
A Ramadan attack on three continents: Three deadly attacks in Tunisia, Kuwait and France have left dozens dead and authorities searching for answers. A mosque was hit by a suicide bomber in Kuwait, gunmen opened fire at a beach resort in Tunisia, and a man slammed his car into an American-owned gas factory in France, with a decapitated man later identified as the driver's employer found nearby. Earlier this week, Islamic State spokesman Abu Muhammed al-Adnani called on ISIS members to execute attacks during Ramadan. It remains unclear if all three attacks are connected, though ISIS has claimed responsibility for the attack in Kuwait.
A eulogy for Charleston's murdered pastor: President Obama delivered a moving tribute at Clementa Pinckney's funeral in Charleston today. Pinckney, a state senator and pastor at Emmanuel African Methodist Episcopal Church, was killed in a shooting at the church last week, along with eight others. "What an example he set," said Obama. "What a model for his faith. And then to lose him at 41. Slain in his sanctuary with eight wonderful members of his flock." During the speech, Obama called for the Confederate flag to be removed from South Carolina's capitol building, saying, "By taking down that flag, we express God's grace." He also touched on gun control, noting "the unique mayhem that gun violence inflicts upon this nation," before ending his eulogy by singing the first verse of the hymn "Amazing Grace."
---
Snapshot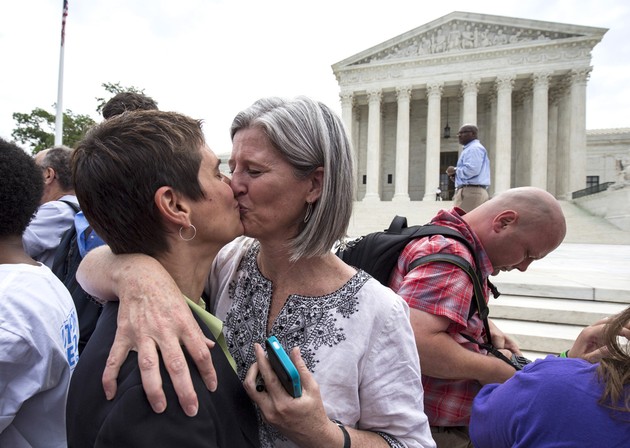 ---
Quoted
Spencer Kornhaber: "AMC's new show Humans underlines the simple fact that most people will get no say in whether the robots arrive, just as it's always been with socially transformative technology."
Julie Beck: "According to the Food and Drug Administration, in the U.S., 20 percent of the fresh vegetables people eat are imported, along with 50 percent of fresh fruits, and a whopping 80 percent of seafood. It's not unthinkable that an outbreak of food poisoning in China could make its way around the world."
Gwendolyn Oxenham​: "Athlete moms are up against more than the physical challenge of mounting a comeback. In the fledgling National Women's Soccer League, where players make as little as $6,800 a year, they face sacrifice, instability, and uncertainty—circumstances that become much more difficult to navigate when you're no longer thinking only of yourself."
---
News Quiz
1. According to a global survey, the United States and _______ are tied for the country where workers say they are the most engaged in their jobs.
(See answer or scroll to bottom.)
2. Nearly _______ public high schools across the United States have a large disparity in the number of male and female athletes who participate in sports and could be in violation of Title IX.
(See answer or scroll to bottom.)
3. A disorder known as polycystic ovary syndrome affects up to _________  percent of women of reproductive age.
(See answer or scroll to bottom.)
---
Evening Read
Writer Alana Semuels rides along with Ron Zanazzo, a city employee in Malden, Massachusetts, who checks to make sure citizens are throwing their trash out in city-approved trash bags:
"We have heard quite a few complaints concerning litter in our streets, unkempt trash and illegal dumping during this winter season," the city told its residents, on its Facebook page.

That's where Zanazzo comes in, whose job it is to sleuth through the bags' rubbish, write tickets, and levy fines. I spent a morning with him, following the garbage truck route and looking for suspicious trash and households who have tried to leave out recycling that can't be recycled. To the untrained eye, Malden's trash collection system seems well-organized. Trash cans are marked with bright stickers that say "trash." Cardboard boxes are folded neatly in bins, clearly meant to be recycled. The blue "Malden" bags give an aura of team spirit to the town, as if everyone is getting ready for homecoming simply by neatly disposing of trash.

But Zanazzo knows better. Humans are slobs.   
---
Verbs
Magic Kingdom selfie sticks banned, France and Uber square off, new Harry Potter play announced, Screech sentenced, and Inside Out screening accidentally terrifies.
---
Answers: China, 4,500, 10 percent
---