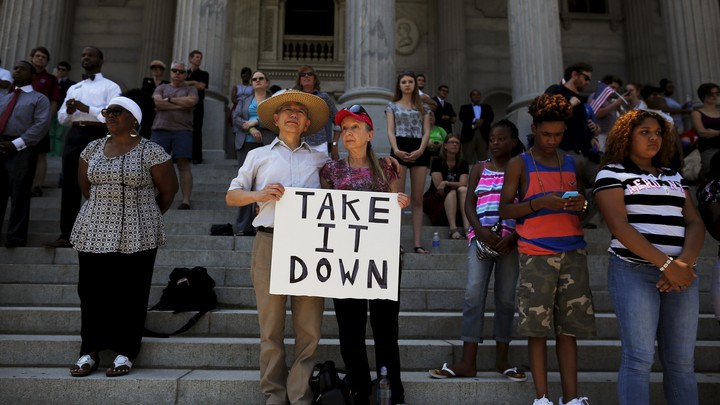 What's Happening: Watch Out for Falling Confederate Symbols
The days of the Confederate flag as both a political emblem and a readily available pop-culture tchotchke may be ending. On Tuesday, one day after South Carolina Governor Nikki Haley called for the flag to be removed from the grounds of the state capitol, a slew of elected officials and retailers echoed her stance. Among those scrapping or reconsidering: Virginia, eBay, Amazon, Walmart, Sears, and flag-makers.
Talking tough in Eastern Europe: On a trip to Estonia, Defense Secretary Ash Carter announced that the United States will deploy heavy-artillery equipment in the country, along with Bulgaria, Latvia, Lithuania, Poland, and Romania. The move comes as NATO responds to Russia's continued activity in Ukraine.
South Sudan buckles: High hopes for the world's youngest country are faltering as hunger, violence, and political instability push the African nation to the brink. With poverty and a civil war crippling the four-year-old country, millions have been internally displaced.
---
Screenshot
---
Quoted
---
News Quiz​
1. The average completion rate for the University of Pennsylvania's massive open online courses [MOOC] was just___________.
(See answer or scroll to the bottom.)
2. Non-religious circumcisions are typically done in the hospital around___________hours after the baby's birth.
(See answer or scroll to the bottom.)
3. On Tuesday, the Senate made surprise progress on the ____________legislation, which would authorize the president to negotiate international trade agreements.
(See answer or scroll to the bottom.)
---
Verbs
Hostage policy revised, skinny jeans stigmatized, Chipotle cups preserved, Trump soars, Tidal CEO waves, and UN peacekeepers indicted.
---
ANSWERS: 4 PERCENT, 24-48 HOURS, TRADE PROMOTION AUTHORITY.
---
We want to hear what you think about this article. Submit a letter to the editor or write to letters@theatlantic.com.
Adam Chandler
is a former staff writer at
The Atlantic
. He is the author of
Drive-Thru Dreams: A Journey Through the Heart of America's Fast-Food Kingdom
.